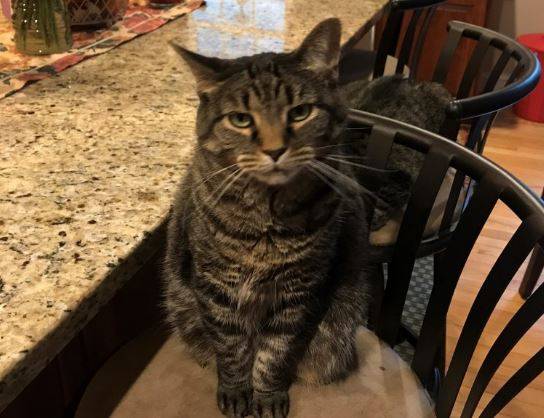 Meet  Dexter, Tabby Cat For Adoption in Chesterfield VA
Dexter is a brown tabby male Tabby Cat for adoption to a very loving home in or near  Chesterfield VA. This very special Cat is 18 months old and weighs 10 pounds. Chesterfield is within a short drive of Washington DC,
Dexter is a very laid back and friendly guy. He gets along well with other cats and dogs, too. Dexter is also great with children. He would fit in well in almost any situation, so long as he receives his daily requirement of lots of love.
Dexter's owner is faced with the very heart wrenching choice of having to rehome Dexter due to severe cat allergies in her fiance. He has such severe allergies that being around cats poses a real health risk. As much as it breaks her heart to do so, Dex's owner is looking for a very loving home for this sweet boy. She will provide all supplies, and will even help with the cost of vet visits for the next year, if needed.
Dexter is a magnificent feline, and deserves to have a happy forever home. Please help bring about a happy ending to this difficult situation and offer him a loving home today. He can't wait to purr his way into your heart.
There is a $25 adoption/rehoming fee. Supplies and veterinary records will be included.
---
All About Dexter – Tabby Cat For Adoption in Chesterfield VA
Name of Pet:  Dexter
Location: Chesterfield, VA, 23838
Type of Pet: Cat
Breed of Pet: Tabby Cat
Sex of Pet: Female
Age of Pet: 8
Spayed/Neutered?: Yes
Health Problems: No
Behavior Issues: No
Up To Date on Vaccinations: Yes
Gets along with cats: Yes
Gets along with dogs: Yes
Good with Children?: Yes
Litter Trained?: Yes
 
Accessories Included: anything you need – happy to provide including help with vet bills for a year. They all go to Banfield and get seen by vet every 6 months
Dexter's Personality
All my animals are so well adjusted and sweet natured. I love that they can be introduced to anyone including young children
Dexter's Current Home Environment
We have dogs, cats and even a parrot.
Dexter's Current Family:
I am now an empty nester as children have left for college. I am moving from a house to the DC area and need to find good homes as my fiancée is allergic
Dexter's Favorite Toys, Foods, Activities?
they love lasers
cat nip
balls
love to play
Why is Dexter Being Rehomed?
getting married – fiancé is allergic
 Dexter's Perfect Adoptive Home Will Be:
A great home with loving people
How To Adopt Dexter
If you are interested in adopting this special Tabby cat  in chesterfield va, please fill out our online meeting request here. Once received and reviewed, our staff will ask the pets owner to reach out to you and arrange a meeting to determine for certain if Dexter is a good fit for you – and you are a good fit for this sweet Tabby cat.
If you have any questions about our careful pet rehoming process, feel free to get in touch.
Dexter – Tabby Cat For Adoption in Chesterfield Va
Dexter is a brown  Tabby Cat for adoption in chesterfield va, near Norfolk, Chesapeake, Virginia Beach and Washington, DC.  Dexter is also close to the following Virginia towns and cities:
Chester, VA
Colonial Heights, VA
Bon Air, VA
Petersburg, VA
Richmond, VA
Hopewell, VA
Tuckahoe, VA
East Highland Park, VA
Highland Springs, VA
Lakeside, VA
Mechanicsville, VA
Laurel, VA
Glen Allen, VA
Williamsburg, VA
Roanoke Rapids, NC
Chesterfield Court House, VA
Courthouse Green, VA
Deerfield Estates, VA
Salem Woods, VA
Hunting Creek Hills, VA
Autumn Oaks, VA
Centralia Gardens, VA
Edenshire, VA
Chesswood, VA
Patromdale, VA
Lost Forest, VA
Brittonwood, VA
Kendale, VA
Carver Homes, VA
Centralia, VA
Chesterbrook Farms, VA
Fendley, VA
Adopt this sweet brown tabby Tabby Cat in Chesterfield VA today.