Stunning Longhaired Tuxedo Cat For Adoption Near St. Paul Minneapolis MN – Supplies Included – Adopt Cinder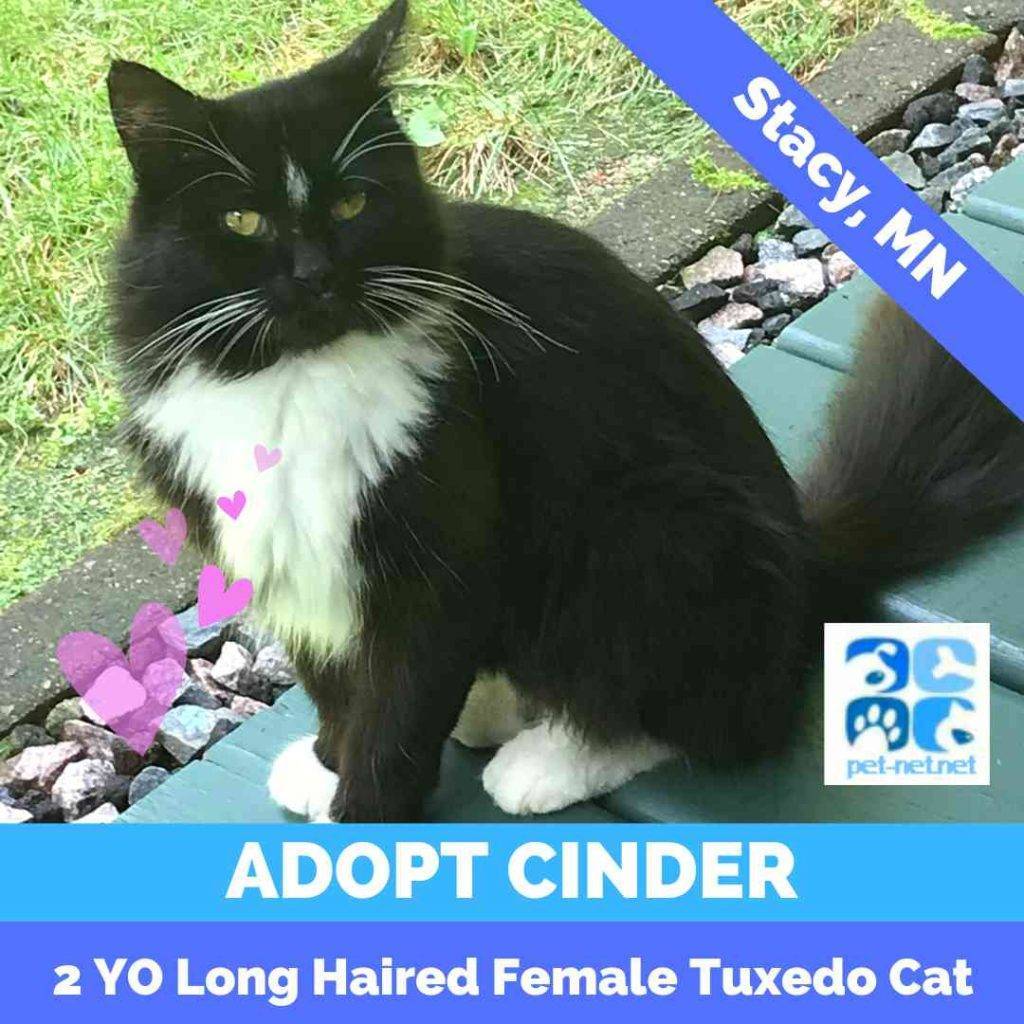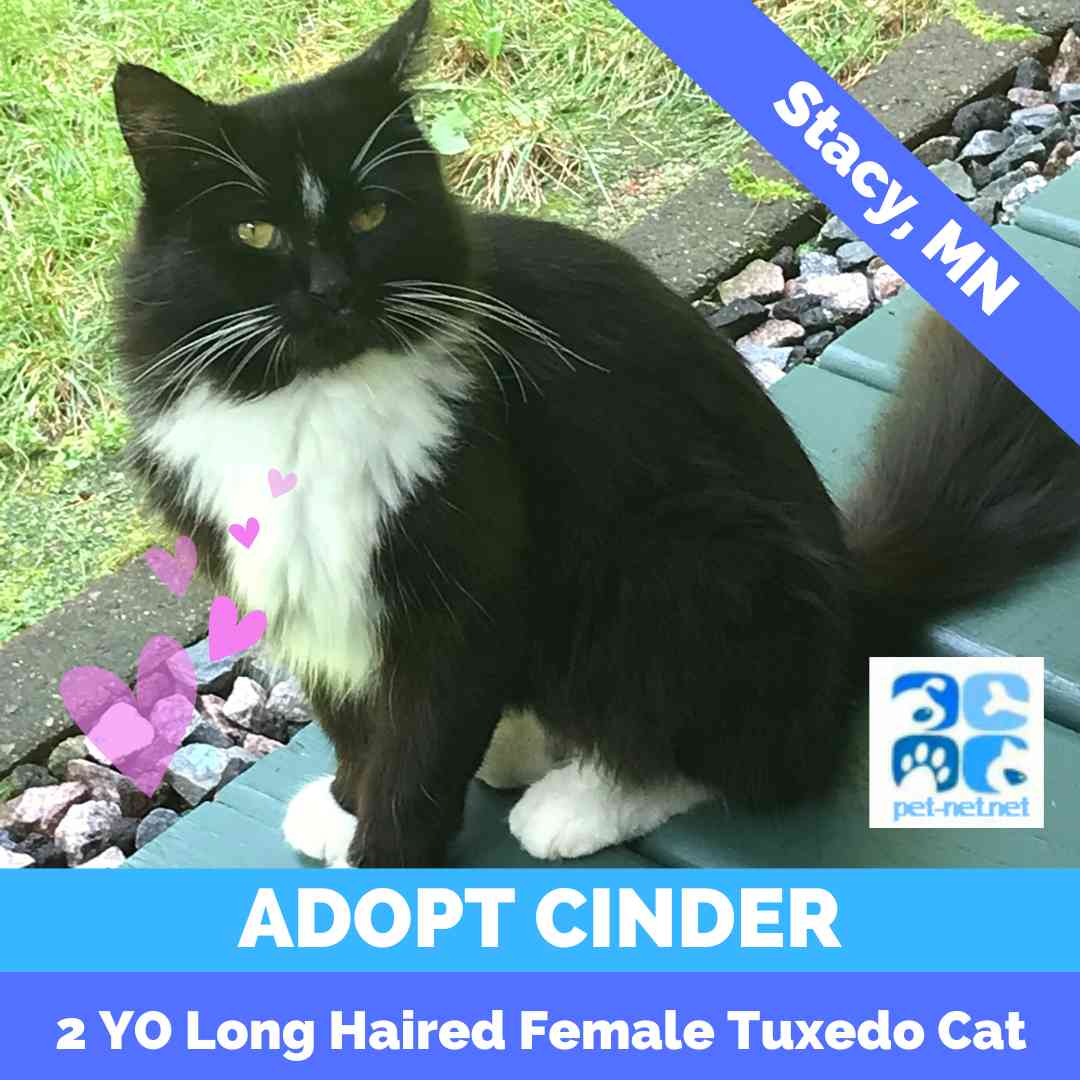 Looking for a longhaired Tuxedo cat for adoption in Minneapolis St Paul Minnesota and area? Cinder is waiting to meet in you Stacy, MN.
Meet Cinder – Pre-Loved Long Hair Tuxedo Cat For Adoption by Owner in Stacy MN
Have you been waiting for a very special adoptable female cat to come along? Your wait is over! Cinder is about the most precious cat you will find. This absolutely stunning green-eyed beauty has a long, flowing tuxedo cat and a personality so full of love for her forever family. She is just 2 years old, very healthy and weighs just 8 pounds.
Cinder is what we call a "ready to love" cat. She is spayed, fully vaccinated, and litter box trained. Clean and well behaved, Cinder is very good with cat-friendly children and welcoming of visitors. She's a social butterfly cat.
There are so many things that make Cinder so very special:
She loves to accompany her humans on nature walks.
She is very gentle and sweet.
She is playful and cute.
She is very well behaved – wouldn't think of scratching furniture or jumping on countertops.
She is a good mouser.
She is absolutely gorgeous.
Cinder's owners love her very much, but she is under so much stress living in a home with other pets, about which she is very anxious. She feels constantly threatened by the other cats and dogs, and feels like she has to chase them and show aggression towards them to stay safe.
On the other hand, when it is just Cinder and her beloved humans, you will not find a more laid back, happy, sweet, playful and gentle little soul.
As much as it breaks their hearts and they will miss her terribly, Cinder's owners feel that she must be placed in a home where she can be the cherished only cat. Whether she goes to a family with sensible children who have longed for a special kitty to adore, or to a retired couple or single person, Cinder will thrive providing she is given the playtime, care, love, quality nutrition, and companionship that she needs and very much deserves.
If you have room in your heart and home for this deserving Longhaired Tuxedo cat, then please offer Cinder her forever home today. Cinder can't wait to show you the true meaning of unconditional love. Adopt her today.
How To Adopt Cinder
Please fill out our online meeting request below. Once received and reviewed, our staff will ask the pets owner to reach out to you and arrange a meeting.
There is a $35 adoption/rehoming fee. Supplies and veterinary records will be included.
Questions about Cinder? Contact our Minnesota cat rehoming team today.
Text "CinderTUXEDOMN" to (888) 833-2128
We look forward to hearing from you.
---
All About Cinder – Longhaired Tuxedo cat For Adoption in Stacy MN
Name of Pet: Cinder
Location: Stacy, MN, 55079
Type of Pet: cat
Breed of Pet: Long Haired Black and White Tuxedo Cat
Sex of Pet: Female
Age of Pet: 2 years old
Spayed/Neutered?: Yes
Health Problems: No
Behavior Issues: Anxiety around other pets. Simply needs to be an only pet.
Up To Date on Vaccinations: Yes
Gets along with cats: No
Gets along with dogs: No
Good with Children?: Good With Children aged 8 and up
House Broken or Litter Trained?: Yes
Cinder's Personality
Cinder is sweet, loving, affectionate, and intelligent. She is sociable, playful and comical.
Cinder is an Amazing Companion Because She is:
Her Looks
The way she plays
Her gentleness
She uses the scratching post
She doesn't jump on counters
Cinder's Favorite Toys, Foods, Activities?
Cinder loves the fishing pole toy, little mice and Pom pom balls. She enjoys catnip too! She likes "Fancy Feast" and "Tasteful's blue buffalo"canned food. I also feed her "Fromm" kibble. All kinds of treats.
Cinder loves to go on trail walks.
Loves to walk everywhere with you. When she's feeling playful she loves to wrestle with your foot or hand but very gentle when she plays. She likes her belly rubs and full body massages. She prefers to be in the house but still wants to play outside when she wants to. She loves to mouse and hunt.
Cute Cinder Story:
Trouble making big strange tomcat tried picking on one of her kittens and when he saw her come running he couldn't reverse fast enough! I saw her chase him all the way down the driveway! He was twice her size!
Why is Cinder Being Rehomed?
She is anxious and aggressive towards the other pets. We have 2 dogs and 3 cats all rescues.. including her. She swats and chases them. She would be her happiest to be in a home where she is the only pet.
Cinder's Perfect Adoptive Home Will Be:
A stress free environment where she is the only pet. I want someone who will go on walks with her and give her attention and love. Let her live in the house but let her out when she wants. Someone who will not give her the cheapest food on the shelf but spend a little more for the better quality food.
Cinder is a Longhaired Tuxedo cat for private adoption by owner near Minneapolis St. Paul in Stacy MN. He She is located close to the following towns and cities in Minnesota:
North Branch MN,
Forest Lake MN,
East Bethel MN,
Ham Lake MN,
Hugo MN,
Lino Lakes MN,
Andover MN,
Blaine MN,
White Bear Lake MN,
Coon Rapids MN,
Mahtomedi MN,
Mounds View MN,
Shoreview MN,
Anoka MN,
Vadnais Heights MN,
Adopt this deserving Longhaired Tuxedo cat in Stacy MN today.