ADOPTED – Moose – Maltese Shih Tzu Dog in Utah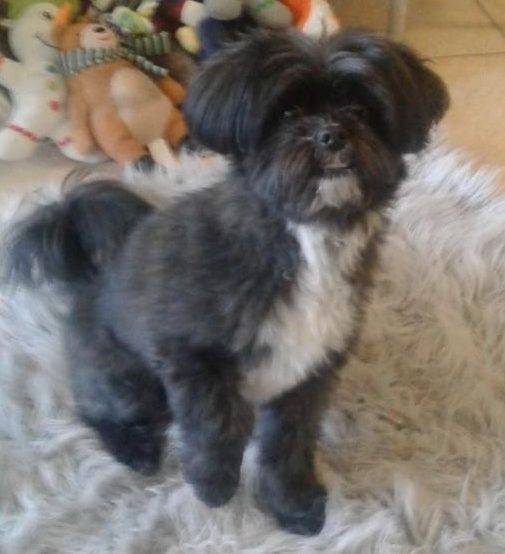 Moose Has Been Adopted
Meet Moose, Maltese Shih Tzu Dog ADOPTED in American Fork UT
Looking for a loveable lap dog to adopt in Utah? Moose is a very sweet 8 year old male Shih Tzu Maltese mix dog ADOPTED near Provo and Salt Lake City in American Fork, about mid-way between Provo and Salt Lake City.
Moose is good with children and other pets, and has been house trained. He is healthy, fixed and up to date on shots – a ready-to-love dog. He has a dark grey coat accented in white.
Moose is a 10 pound bundle of love, and is looking forward to finding his forever family. Adopt Moose today. He can't wait to charm his way into your heart and home.
---
All About Moose – Maltese Shih Tzu Dog ADOPTED in American Fork UT
Name of Pet: Moose
Location: American Fork, UT, 84003
Type of Pet: Dog
Breed of Pet: Maltese Shih Tzu
Sex of Pet: Male
Age of Pet: 8
Spayed/Neutered?: Yes
Health Problems: No
Behavior Issues: No
Up To Date on Vaccinations: Yes
Gets along with cats: Yes
Gets along with dogs: Yes
Good with Children?: Yes
House Broken or Litter Trained?: Yes
Crate Trained?: No
Accessories Included: Carrier, airplane carrier, food, toys, leash, shirts, clothes, treats etc. everything we have can come with Moose.
Moose's Personality
Smart
Soft
Good with kids
Even tempered
Kisses
Moose's Current Home Environment
One young son and two working parents.
Moose's Current Family:
My wife and I adopted moose in 2010. We both work full time and don't have time to give him the love he needs anymore.
It breaks our heart to leave for activities with our son and have to leave him at home. We have a lot of allergic siblings in our family making it difficult for family to visit.
Moose's Favorite Toys, Foods, Activities?
He has two of his original toys (squeaker toys) that we can provide.
He loves fetching toys and having you chase him to get the toy back. He loves doggy treats and leftover steak when our son throws it on the floor.
Cute Moose Story:
When Ethan our son was crying because he lost a toy, Moose instinctively came over to him and licked his face as if to say "it's going to be ok".
He also loves playing in warm laundry and rolling around in it.
Why is Moose Being Rehomed?
We are relocating to a rental home which doesn't allow pets.
Moose's Perfect Adoptive Home Will Be:
Loving family that has time to care for Moose more than we can.
Additional Comments:
We'd like him adopted as soon as possible because the job/house change is coming June 1st.
Moose – Maltese Shih Tzu Dog ADOPTED in American Fork UT
Moose is a Brindle (Grey and White) Maltese Shih Tzu Mix Dog ADOPTED in American Fork UT, close to Salt Lake City and the following towns and cities:
[one_third]Lehi, UT
Pleasant Grove, UT
Lindon, UT
Highland, UT
Orem, UT
Draper, UT
Provo, UT
Riverton, UT
Sandy, UT
South Jordan, UT
Cottonwood Heights, UT
[/one_third] [one_third]Wing, UT
Pleasant Grove, UT
Lehi, UT
Cedar Hills, UT
Hardy, UT
Lindon, UT
Highland, UT
Alpine, UT
Bunker, UT
Saratoga Springs, UT
Saratoga Resort, UT
Vineyard, UT
Orem Station, UT [/one_third] [one_third_last]Geneva, UT
Orem, UT
Snow, UT
Olmstead, UT
Midvale, UT
Springville, UT
West Jordan, UT
Spanish Fork, UT[/one_third_last]
Maltese Shih Tzu Dog in Utah today.