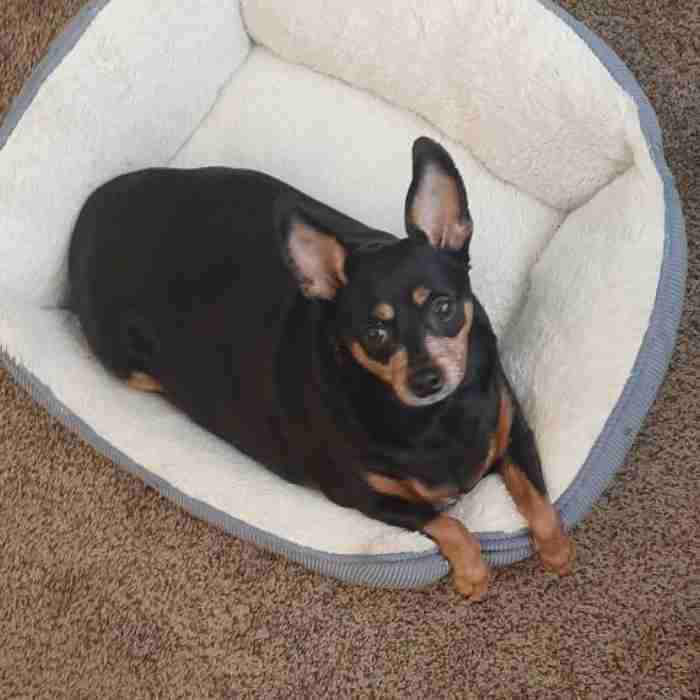 Sweet Miniature Pinscher (MinPin) Dog For Adoption in Dayton Ohio – Supplies Included – Adopt Pepper

Minpin Dog for Adoption in Dayton, OH
Looking for a Miniature Pinscher Dog to adopt in Dayton, Ohio? Just 8 years old and weighing 25 pounds, Pepper has been fixed, fully vaccinated, housebroken, and microchipped. This sweet older dog is good with babies and small children, older children, new people, other dogs, and small animals.
Pepper is a quiet but very sweet girl who loves to be around her people. She will become your new best friend if you give her lots of ear scratches and belly rubs. Pepper is happy to take a nap with you and to laze around the house all day, earning herself the title "Snuggle Butt Supreme"! She is also partial to treats and is sure to make you smile when she begs.
Pepper's owners are very sad to have to rehome their cherished dog. They are hoping to find a new home for Pepper where this special dog will be cherished and kept safe, happy, and healthy for life.
This very lovable and deserving Miniature Pinscher has so much love to offer her new family. Offer Pepper a loving, forever home today.
Adopt Pepper by Deborah Moore
How To Adopt Pepper the Minpin in Dayton Ohio
If you have room in your heart and home for Pepper, please complete our online meeting request form. Once received, our Miniature Pinscher Dog Rehoming team will make arrangements for you to meet Pepper and her owners. Adopt Pepper today!
There is a $50.00 adoption processing fee. Supplies, accessories, and veterinary records will be included.
Questions about adopting Pepper?
Text PepperDayton to (888) 833-2128. We look forward to hearing from you!
---
All About Pepper – Miniature Pinscher Dog For Adoption in Dayton OH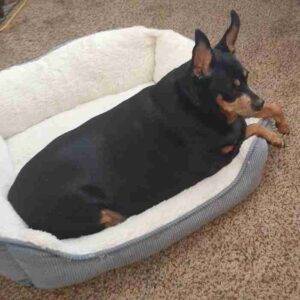 ♥ Name of Pet: Pepper
♥ Location: Dayton, OH, 45424
♥ Type of Pet: Dog
♥ Breed of Pet: Miniature Pinscher
♥ Color / Coat Type: Black
♥ Age of Pet: 8 yrs
♥ Size of Pet: 25 lbs
♥ Health Problems: None. Her teeth were checked and cleaned about two years ago.
♥ Behavior Issues: None
♥ Gets along with: Babies and small children, older children, new people, dogs, small animals
♥ Pet is: Fixed, fully vaccinated, housebroken, microchipped
♥ Food: Other – Ground Purina
Pepper – MinPin For Adoption in Dayton OH
---
Pepper's Personality
Pepper is a quiet dog. She likes to sleep a lot but also loves to play.
Why is Pepper Being Rehomed?
Financial situation has changed.
Nearby Locations
Pepper is located in Dayton, OH, close to the following towns and cities:
Riverside OH,
Kettering OH,
West Carrollton City OH,
Huber Heights OH,
Trotwood OH,
Beavercreek OH,
Vandalia OH,
Centerville OH,
Miamisburg OH,
Englewood OH,
Fairborn OH,
Clayton OH,
Tipp City OH,
Springboro OH,
Xenia OH,
Cincinnati OH,
Columbus OH.
Thank you for your interest in this deserving Miniature Pinscher Dog for Adoption in Dayton OH.