1 Amazing Pembroke Welsh Corgi Puppy For Adoption Near Philadelphia PA – Adopt Tucker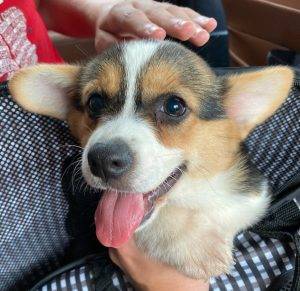 Tucker is an absolutely gorgeous tri-color Pembroke Welsh Corgi puppy for adoption in Philadelphia and area. Learn all about this gorgeous little fellow and how you can offer him a loving forever home today.
Pembroke Welsh Corgi Puppy for Adoption in Willow Grove, Pennsylvania
Looking for a Pembroke Welsh Corgi puppy to adopt near Philadelphia in Willow Grove, Pennsylvania? Tucker would love to be considered for the position of cherished family pet.
Just 1 year old and weighing 18lbs, this deserving 12 month old Corgi puppy is looking for a loving forever home anywhere within a reasonable distance of Willow Grove, which is near Philadelphia.
Tucker is what we call a " ready-to-love" dog. This adorable adoptable Pembroke Welsh Corgi puppy has been fixed, fully vaccinated, housebroken, and rate-trained – all you need to add is lots of love, care, companionship, and some daily activity. Tucker gets along well with respectful children, adults, new people, and other dogs. What a great little dog!
Tucker's owner describes him as follows:
"Social, friendly, loves to play, cuddle, and give kisses. A very good dog. Doesn't chew up the house. Thrives on attention. Loves dogs and the dog park."
Unfortunately, Tucker does not respect cats one little bit. He terrorizes them, and a cat in his home  has developed some health and behavior issues as a result. For this reason, his owners are hoping to find a new home for Tucker where this special puppy will be cherished and kept safe, happy, and healthy for life.
How To Adopt Tucker
If you have room in your heart and home for Tucker, please complete our online meeting request form. Once received, our Philadelphia Dog Rehoming team will make arrangements for you to meet Tucker and his owners. Adopt Tucker today!
There is a $150.00 adoption processing fee. Supplies, accessories, and veterinary records will be included.
Questions about adopting Tucker?
Text TuckerCORGI to (888) 833-2128. We look forward to hearing from you!
---
All About Tucker – Pembroke Welsh Corgi puppy For Adoption in Willow Grove Pa
♥ Name of Pet: Tucker
♥ Location: Willow Grove, PA, 19090
♥ Type of Pet: Dog
♥ Breed of Pet: Pembroke Welsh Corgi
♥ Color / Coat Type: Tri colored black tan white
♥ Age of Pet: 1
♥ Size of Pet: 18lbs
♥ Health Problems: No
♥ Behavior Issues: Doesn't get along with cats
He chases, barks at, and jumps on cats. Causes stress to one of my cats. Loves and gets along well with dogs and at the dog park. Loves kids. Will nip if someone gets near him with a bone (doesn't do that with the main owner).
♥ Gets along with: Children, Adults, Strangers, Dogs
♥ Pet is: Fixed, Fully Vaccinated, Housebroken, Crate-trained
♥ Food: Other
Pedigree small dog formula
Tucker – Pembroke Welsh Corgi Puppy For Adoption in Willow Grove PA
---
Tucker's Personality
Social, friendly, loves to play, cuddle, and give kisses. A very good dog. Doesn't chew up the house. Needs a lot of attention. Loves dogs and the dog park.
This is the perfect dog for a social individual or family who enjoys a lot of interaction and playtime. This dog is extremely friendly, always ready to greet you with a wagging tail and a warm nuzzle. Its playful nature means it's always up for a game of fetch or tug-of-war, and it's not uncommon for this dog to initiate playtime on its own.
Being a cuddler, this dog loves to curl up next to its family members, whether it's during a movie at home or a relaxing afternoon. This dog doesn't just stop at cuddling, it also has a special love for giving kisses. It's sure to shower you with affectionate licks, a sure sign of its love and attachment.
Despite its energetic and playful nature, this dog is very well-behaved. Unlike some dogs that may chew up furniture or shoes, this dog respects its home and knows what toys belong to it. It relieves its energy through play and exercise instead of destructive behaviors.
However, as a social creature, this dog needs a lot of attention. It thrives on companionship and interaction, so it's not a dog that can be left alone for long periods of time. It needs a family or individual who can dedicate time to play, exercise, and simply spend time with it.
This dog is also a big fan of other dogs. It's not the type of dog that gets aggressive or scared around its peers. On the contrary, it loves engaging with other dogs, making it a great companion for trips to the dog park. At the park, it's likely to be one of the dogs joyfully running around, engaging in play with other dogs, and generally having a blast.
In summary, this dog is a bundle of joy, full of love and excitement. It's perfect for those who want a loyal, affectionate, and playful companion and are ready to give it the time and attention it needs. As Pembroke Welsh Corgi puppies for adoption in Pennsylvania go, Tucker is one of a kind.
Why is Tucker Being Rehomed?
Due to one of my cats being stressed out and not using litter box which caused a urinary blockage for the cat.
Nearby Locations
Tucker is located in Willow Grove, PA, close to Philadelphia and the following towns and cities in Pennsylvania and New Jersey:
Horsham PA,
Lansdale PA,
East Norriton PA,
Croydon PA,
Norristown PA,
Cinnaminson NJ,
Ardmore PA,
Pennsauken NJ,
Philadelphia PA,
West Norriton PA,
Burlington NJ,
Bristol PA,
Willingboro NJ,
King of Prussia PA,
Maple Shade NJ,
Thank you for your interest in this deserving Pembroke Welsh Corgi puppy for adoption near Philadelphia, Pennsylvania.  We look forward to hearing from you. Be sure to bookmark this section and come back every day to see the new dogs puppies cats and kittens that we have added to our adoption roster. And please be sure to share our site on all of your social media channels so that other animal lovers can learn all about us and help us find great homes for pre-loved pets near you.