Adorable Brown Tabby Cat for Adoption in Washington DC – Adopt Tora
Looking for a Brown Tabby cat for adoption in Washington, DC? Tora would love to be considered for the position of your cherished family companion.
---
Meet Name | About Pet | Personality | Why Rehoming? | Location | Adopter Requirements | How to Adopt
---
Meet Tora – Pre-Loved Brown Tabby cat For Adoption by Owner in Washington DC
Tora is a Female Brown Tabby cat for adoption to a very loving home in or near Washington, DC. She is the epitome of all things cat! Although she is 9 years old, she still loves to play and get all the affection she can.
5 Amazing Things About Tora:
1)  She will always explore every box & bag that comes home.
2)  She will be a snuggle bug & sometimes just watch from her own comfy spot.
3)  She has perfect hygiene (using the litter) and is not destructive (your couch's safety is assured).
4)  Is very creative in finding the perfect nap spot.
5)  She gives kisses for the right scritches!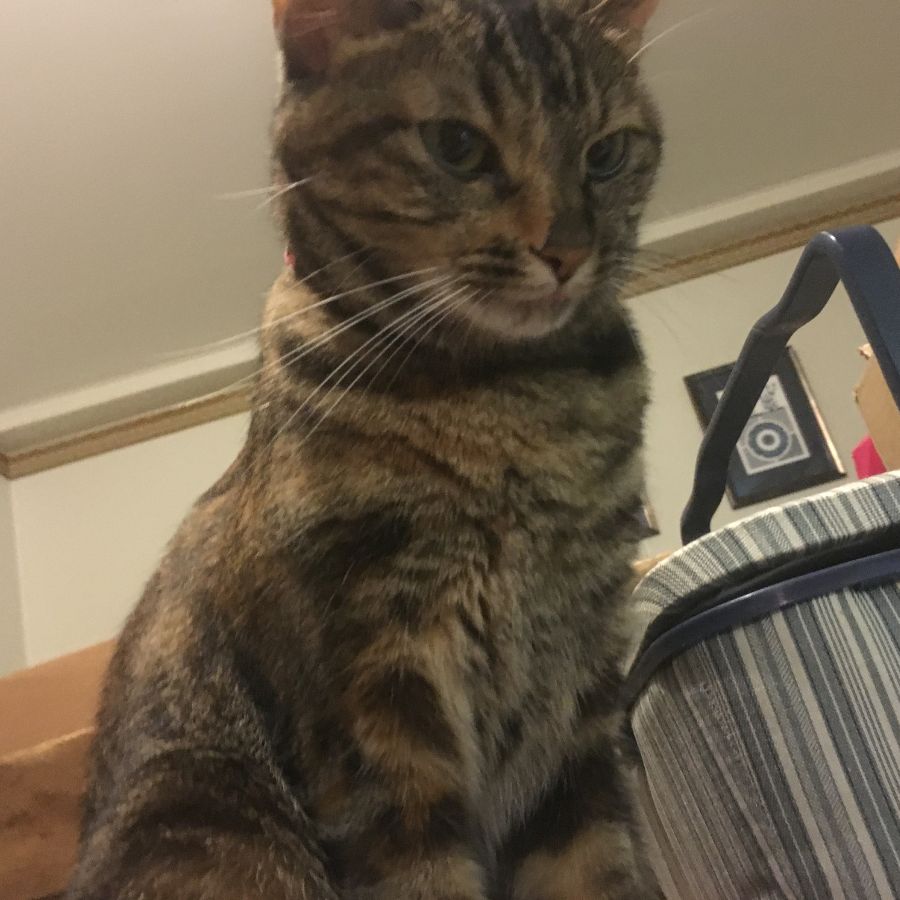 Tora is a good cat, whose has lived with her family for 6 years, but circumstances beyond their control have made rehoming a must-do. Tora prefers to be the star of the show; she'll tolerate other cats/dogs/human children if she must.  She's happy to sleep alone all day then greet you with full body rubs as soon as you get home. And she even cuddles in bed at night!
Tora has an interesting history. She was born in Japan on the 4th of July, and subsequently moved with her family to Germany and ultimately Washington D.C. What a well traveled kitty! She has an airline crate, small travel bag (for the vet or other trips), and other things that she'd like to keep with her to help her adjust in her new home.
Tora's owners are hoping to find the right home for their cherished cat, where this deserving cat will be loved unconditionally and kept safe, happy, healthy and well-cared-for. She will thrive in a quieter home with an established routine.
If you have room in your heart and home for this deserving Brown Tabby cat, then please offer Tora a loving, forever home today. She is a sweet kitty with top-shelf purrs to share! Tora can't wait to show you the true meaning of unconditional love.
---
How To Adopt Tora
Please fill out our online meeting request form via the button below. Once your application is received and reviewed, our staff will ask the pets owner to reach out to you and arrange a meeting.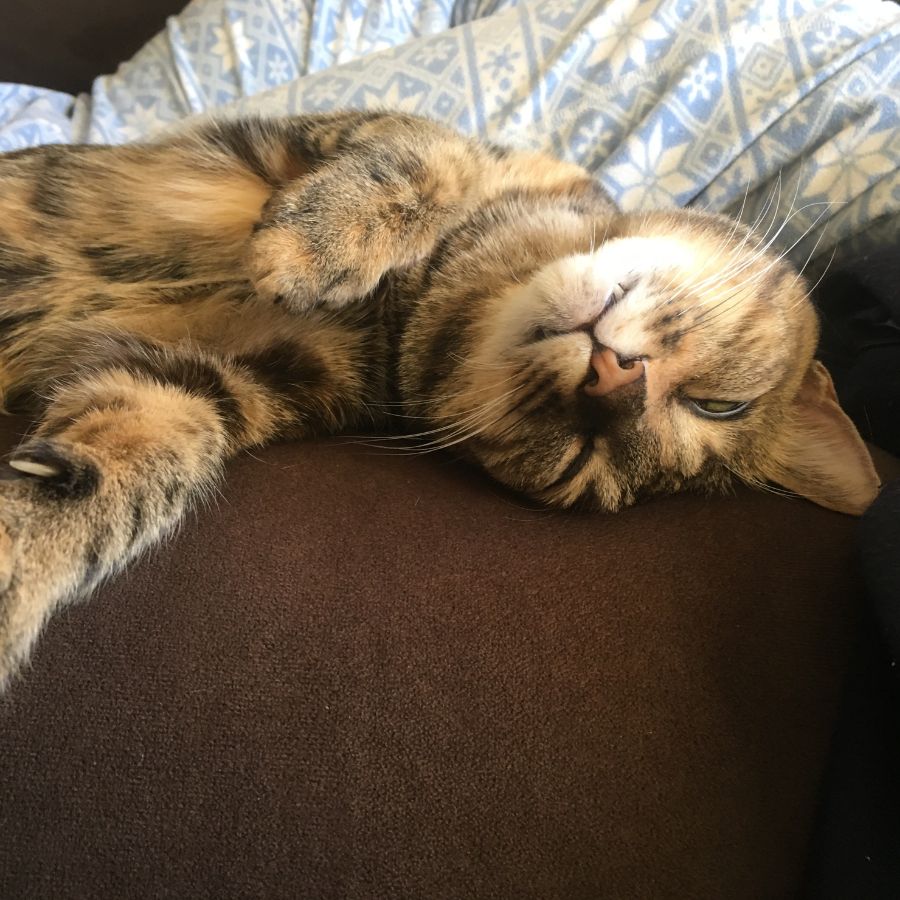 There is a $35 adoption/rehoming fee. Supplies and veterinary records will be included.
Questions about Tora? Contact our Brown Tabby cat rehoming team today.
Text "ToraDC" to (888) 833-2128. 
No phone calls at this time, please.
We look forward to hearing from you!
---
All About Tora – Brown Tabby cat For Adoption in Washington DC
Name of Pet: Tora
Location: Washington, DC, 20004
Type of Pet: cat
Breed of Pet: Brown Tabby
Sex of Pet: Female
Age of Pet: 9
Spayed/Neutered?: Yes
Health Problems: No
Behavior Issues: Yes
Tora wants to be an only cat; does not get along with our other cat or our children. She also sometimes gets anxiety which she expresses through excessive grooming.
Up To Date on Vaccinations: Yes
Gets along with cats: No
Gets along with dogs: No
Good with Children?: Good With Children aged 8 and up
House Broken or Litter Trained?: Yes
Crate Trained?:
Accessories Included: Carrier, medical records, and we can supply an amount of food.
Tora by Deborah Moore
Tora's Personality
Tora can be loving and curious. She enjoys some gentle scratches and pats but only so much. She's occasionally a lap cat and regularly sleeps at the end of the bed with us.
Tora's Favorite Toys, Foods, Activities?
Tora loves playing attack through a plastic bag and scratching pads. She's not overly picky on food but prefers access to both dry kibble and wet food daily.
Cute Tora Story:
On many occasions, we'll find Tora closed in the food cabinet. She's not trying to get the food, but she likes the smells. She's also made it into our neighbor's dresser one night, which startled our neighbor's daughter when they opened it the following morning.

Why is Tora Being Rehomed?
We're soon to move overseas and she doesn't get along well with our other cat or very young children.
Tora's Perfect Adoptive Home Will Be:
We think she would do well in a house without too much distraction, such as an older person with no cats or dogs or children. She's very loving and most affectionate when we're relaxing on the couch. She's a good cat but needs a quieter home.
---
Tora – Brown Tabby cat For Rehoming in Washington DC
Tora is a Brown Tabby cat for private adoption by owner in Washington DC. Tora is located close to the following towns and cities and can be adopted from anywhere within a reasonable distance.
Arlington VA,
Mount Rainier MD,
Chillum MD,
Friendship Village MD,
Takoma Park MD,
Silver Spring MD,
Hyattsville MD,
Bethesda MD,
Langley Park MD,
Coral Hills MD,
Alexandria VA,
East Riverdale MD,
College Park MD,
Falls Church VA,
Adelphi MD.
Adopt this deserving Brown Tabby cat in Washington DC today.