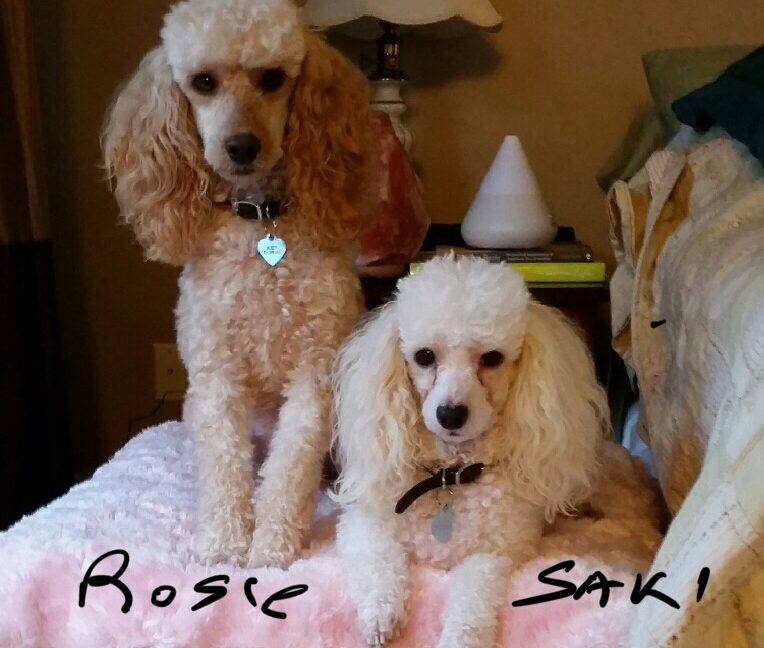 Meet Saki and Rosy Stunning Miniature Poodle Pair Near Seattle
Saki and Rosy have found such a wonderful new home. As the cherished companions of Reen and her husband, these sweet Poodles will have lots of love and attention – which they crave. We look forward to receiving photos and updates from their new family, which we will share on this page.
Need to Rehome a Dog in Seattle?
Contact our Seattle Pet Rehoming Team today.
---
 Here is how our Seattle Pet Rehoming Team Presented Saki and Rosy to Find them a Great New Home in Just 8 Days!
Rosy and Saki are a beautiful, healthy bonded pair of Miniature Poodles looking for a very loving new home. They live in Edmonds, WA, near Seattle and a reasonable drive from Victoria and the greater Vancouver area.
This stunning male/female pair are fixed, up to date on shots, and very well trained. They are so smart, and people have always commented on their impeccable manners.
The dogs were dearly loved by their owner's wife, who passed away several months ago. Their owner has back problems, which prevents him from being able to give the dogs the care they deserve. He is hoping to find the dogs a wonderful new home with people willing to take them as a bonded pair, and who will cherish them, and give them the attention, love, playtime and exercise they need and deserve.
---
All About Saki and Rosie – Bonded Miniature Poodles  Near Seattle
Location: Edmonds, WA, 98020
Type of Pet: Dogs
Breed: Miniature poodles
Age: 7.5 years
Color/Coat Type: Rosie is apricot colored
Size: 15 pounds
Health Issues: Occasional ear infections
Behavior Issues: No
Saki and Rosie are:
Neutered/Spayed, Fully vaccinated, Crate Trained, House Broken, Leash Trained
Saki and Rosie get along with:
Babies, Toddlers, Small Children, Older Children, Dogs
Personality
Rosie is extremely affectionate. He enjoys being petted and responds very well to that affection. He is one of the sweetest dogs you'll ever find. He is good walking with us with the leash and walks closely at my left side.
The dogs really focused on my wife and I believe they understood when she passed.
We have had no problems with him chewing anything or creating messes in the house. He does not over eat.
When I tell him go get in your bed, he gets in his bed. Note that it is very similar to our other dog Saki.
People of always told us how beautifully our dogs behave.
Food and Diet
Saki and Rosie are currently on Other
Costco brand for small dogs.
Reason For Rehoming
My wife passed away seven months ago. I moved from our home in Everett to a condo in Edmonds. I have some back problems now and I'm not able to walk the dogs. They are very close friends.
Saki and Rosie are Miniature Poodles  in Edmonds WA near Seattle and close to Esperance,
Lynnwood,
Mountlake Terrace,
Shoreline,
Alderwood Manor,
Lake Forest Park,
Martha Lake,
Kenmore,
Bothell,
Mill Creek,
North Creek,
Mukilteo,
Woodinville,
Kingsgate,
Kirkland,
Wood y,
Esperance,
Perrinville,
Seattle Heights,
Lynnwood,
Richmond Beach,
Cedar Valley,
Mountlake Terrace,
Richmond Highlands,
Shoreline,
Beverly Acres,
Alderwood Manor,
The Highlands,
North City,
Brier,
Ridgecrest,
Foy, WA.