Senior Shih Tzu Dogs For Adoption Near Philadelphia in Brookhaven PA – Meet Copeland and Poppy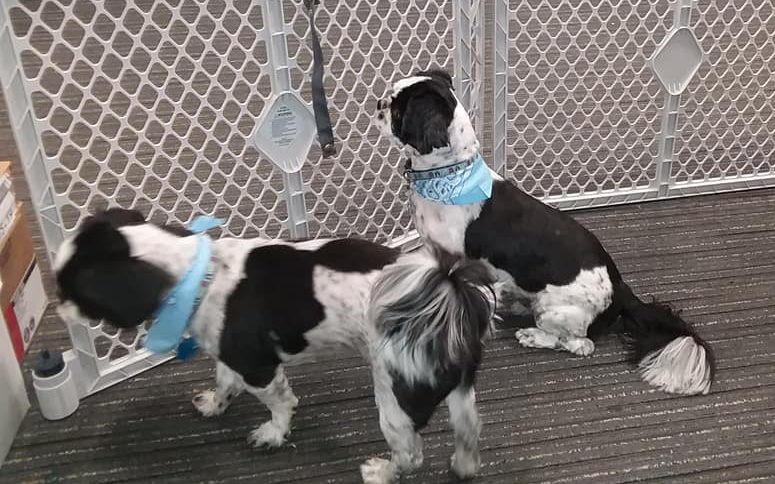 Meet Copeland and Poppy | About These Shih Tzus | Personalities
Why Rehoming? | Adoption Requirements | Location | How to Adopt
Questions about Copeland and Poppy?
Contact our Shih Tzu dog rehoming team today. Text "CopelandPoppyPA" to (888) 833-2128. We look forward to hearing from you.
---
 Meet Copeland and Poppy – Pre-Loved Shih Tzu Dogs For Adoption by Owner in Brookhaven PA
Copeland and Poppy are a bonded pair of male Shih Tzu dogs for adoption in Brookhaven, Pennsylvania near Philadelphia. This adorable pair of hypoallergenic, non shedding Shih Tzu dogs are both 13 years young and weigh 15 pounds. The dogs are healthy, with the exception of Poppy having Cataracts and being blind in one eye (don't tell him – he hasn't noticed!). They have been neutered, fully vaccinated, micro-chipped, crate trained, house trained and are well behaved.
These lovely black and white senior Shih Tzu dogs are good with other dogs, cats and well behaved children. Copeland, the more vocal of the two, loves nothing more than to go for walks while Poppy, the more mild-mannered brother, is content to snuggle all day long. These sweet bonded brothers have been together since birth and give definition to the term "best friends," doing everything together. Copeland and Poppy have so much love to offer their forever family and plan to spend their retirement years remaining active and receiving lots of affection.
If you have room in your heart and home for this deserving pair of Shih Tzu dogs for adoption in Brookhaven, PA, then please offer Copeland and Poppy their forever home today.
They can't wait to show you the true meaning of unconditional love. They will be rehomed with supplies and veterinary records. Adopt Copeland and Poppy today.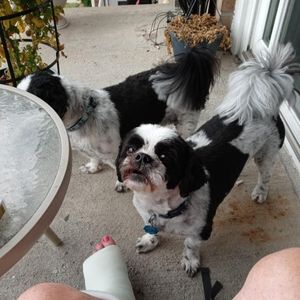 ---
How To Adopt Copeland and Poppy
Please fill out our online meeting request below. Once received and reviewed, our staff will ask the pets owner to reach out to you and arrange a meeting.
There is a $50 adoption/rehoming fee to adopt both dogs together as a bonded pair. Supplies and veterinary records will be included.
---
All About Copeland and Poppy – Shih Tzu dog For Adoption in Brookhaven PA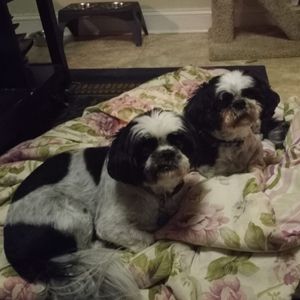 Name of Pet: Copeland and Poppy
Location: Brookhaven, PA, 19015
Type of Pet: dog
Breed of Pet: Shih Tzu
Sex of Pet: Male
Age of Pet: 13
Spayed/Neutered?: Yes
Health Problems: Poppy has cataracts and is blind in his right eye.
Behavior Issues: No
Up To Date on Vaccinations: No
Gets along with cats: Yes
Gets along with dogs: Yes
Good with Children?: Good With Children aged 8 and up
House Broken or Litter Trained?: Yes
Crate Trained?: Yes
---
Copeland and Poppy's Personalities
Copeland is the talker and Poppy is the quiet one. They are absolute loves. They love to cuddle and give hugs. They are very smart.
Copeland and Poppy are an Amazing Pair of Companions Because of:
Their unconditional love
They love to cuddle
They have great personalities
They live to love you
They have black markings in the shape of a heart.
Copeland and Poppy's Favorite Toys, Foods, Activities?
All kinds of food.
They like bones but don't really play with toys. They do love balls.
Cute Copeland and Poppy Story:
When I don't feel well, they know it. They cuddle with me and stay with me.
---
Why are Copeland and Poppy Being Rehomed?
I have health issues that interrupt with my ability to care for them the way I want to.
Copeland and Poppy's Perfect Adoptive Home Will Be:
A family that will love and appreciate the love my boys have to share. A family that loves to cuddle and are active and give them long walks and play time. But most importantly love them unconditionally.
Copeland and Poppy's Location
Copeland and Poppy are Shih Tzu dogs for private adoption by owner in Brookhaven PA. They are located close to the following towns and cities in Pennsylvania, New Jersey and Delaware, from which they may be adopted.
Brookhaven PA,
Chester PA,
Woodlyn PA,
Springfield PA,
Claymont DE,
Broomall PA,
Drexel Hill PA,
Darby PA,
Lansdowne PA,
Yeadon PA,
Edgemoor DE,
Ardmore PA,
Wilmington DE,
Woodbury NJ,
Philadelphia PA,
West Chester PA,
Adopt this pair of deserving Shih Tzu dogs in Brookhaven PA today.