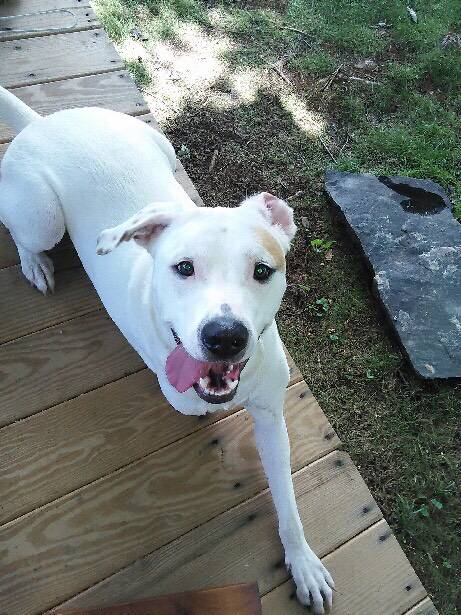 Meet Petey – Pitbull Lab Mix Dog For Adoption in Grover NC, Near Charlotte
Petey is a young male mixed breed dog for adoption in Grover, NC, near Charlotte. Petey has had a rough start to life, but is a very loving dog. He needs and very much deserves the right home where he will be given love, attention and compassion. Petey is just 18 months old. He is healthy, fixed, up to date on shots and micro-chipped. He is extremely loving and devoted (he considers himself to be a lap dog!)
Petey is not the dog for everyone. He has only three legs after having been hit by a car. He is nervous around young children, and wary of strangers. He will need an adults-only home in a country setting, where he can be himself and just love all over his favorite people. Petey is good with other dogs.
Petey's owner found him after he had been hit by a car. He was given vet care and a good home, but a divorce and subsequent move has made it difficult to give Petey the time, attention, care and exercise he needs and deserves. With a young child now in the home, it has become clear that Petey has a lot of anxiety around small kids. He most definitely needs to be in a very loving, adults only home with people who are homebodies, and can provide him with a routine, a warm lap, and lots of snuggles.
If you can offer this adorable 3 legged w0nder dog a loving home, please contact us today. Petey can't wait to show you the true meaning of unconditional love!
[button link="https://pet-net.net/adopt-a-pet/" size="large" variation="hotpink" align="center"]Request to Meet Petey Here![/button]
There is a $25 adoption/rehoming fee. Supplies and vet records will be included.
---
All About Petey – 18 Month Old Pitbull American Bulldog Labrador Retriever Mix For Adoption Near Charlotte NC
Location: Grover, North Carolina, 28073
Type of Pet: Dog
Breed: American Pitbull Terrier Labrador Retriever Mix
Age: 1.5 Years
Color/Coat Type: Short Hair- White with brown spots
Size: 70lbs
Health Issues: Had to have a front leg amputated after being hit by a car.
Behavior Issues: Anxiety around small children and strangers.
Petey is:
Neutered, Fully vaccinated, Crate Trained, House Broken, Leash Trained
Petey gets along with:
Adults, Dogs
Personality
Petey is very loving dog and he attempts to be a lap dog most of the time. He can be extremely stubborn at times. He is extremely loyal to my immediate family, he has been around them since I found him. He is very wary of strangers and overprotective of his owners when people come around.
Food and Diet
Petey is currently on Other
4Health Grain free Chicken and Rice 1 1/2 cup in morning – 1 1/2 cup in evening
Reason For Rehoming
I found Petey one year ago, during that time me and my significant other were living together. We had plenty of time to devote to him. We recently split and now I have to keep him at my apartment 8 hours while I am at work and then 8 hours while me and him sleep. Recently he showed how he acts around small children and it startled me after he snapped at my girlfriend's 4 year old daughter, she now no longer trusts my dog.
How to Adopt Petey
If you would like to consider offering Petey a loving, forever home, please fill out our Request To Meet A Pet form here:
https://pet-net.net/adopt-a-pet/
Once received, we will contact you to discuss your request and set up a mutually convenient time to meet Petey and their owner in their home.
Petey is a Pit/Lab Dog For Adoption in Grover NC near Charlotte,  Adopt Petey today.