Torbie Tuxedo Maine Coon Mix Kitten For Adoption in Modesto California – Supplies Included – Adopt Fluffy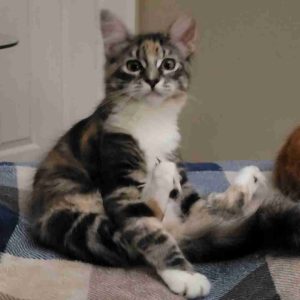 Stunning Female Maine Coon Mix Kitten for Adoption in Modesto, CA
Looking for a Maine Coon Mix Kitten to adopt in Modesto, CA? Just 18 weeks old and weighing about 6 pounds, Fluffy is a stunning young kitten with a personality as beautiful as his vibrant torbie tuxedo markings. A healthy and well behaved little fellow, Fluffy has been litter box trained, and is good with babies and small children, older children, new people, other cat-friendly cats, and dogs that are good with cats.
Fluffy's owners are hoping to find a forever home for her where this special kitten will be cherished and kept safe, happy, and healthy for life. Fluffy can be adopted on her own, but why not double the purrs and cuddles, and adopt one or two of her littermates as well?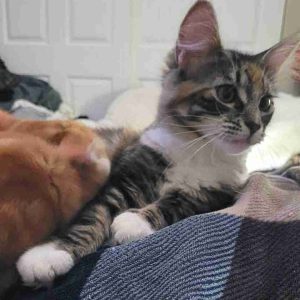 How to Adopt Fluffy the Maine Coon Mix Kitten
If you have room in your heart and home for Fluffy, please complete our online meeting request form. Once received, our Modesto Kitten Rehoming team will make arrangements for you to meet Fluffy and her owners. Adopt Fluffy today!
WANT A "PURRFECTLY" MATCHED DUO OF DELIGHTFULNESS?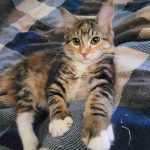 Consider adopting Fluffy, and her sister, Tara. They go together like sunshine and lollipops! Such an adorable twosome!
There is a $75.00 adoption processing fee to adopt Fluffy, or $100 to adopt Fluffy and Tara as a bonded pair.
Questions about adopting Fluffy?
Text FluffyMAINECOON to (888) 833-2128.
We look forward to hearing from you!
---
All About Fluffy – Maine Coon Mix Kitten For Adoption in Modesto CA
♥ Name of Pet: Fluffy
♥ Location: Modesto, CA
♥ Type of Pet: Kitten
♥ Breed of Pet: Maine Coon Mix
♥ Color of Pet: Torbie (Tortoiseshell Tabby) Tuxedo
♥ Age of Pet: 18 weeks
♥ Size of Pet: About 5 pounds
♥ Health Problems: No
♥ Behavior Issues: No
♥ Gets along with: Babies and Small Children, Older Children, New People, Dogs, Cats
♥ Pet is: Litter Box Trained
♥ Food: Hills Science Diet
Friskies kitten food, recently weened
Fluffy – Maine Coon Mix Kitten For Adoption in Modesto CA
---
Fluffy's Personality
Friendly and playful. Very snuggly.
Why is Fluffy Being Rehomed?
My cat escaped and came home pregnant. She had 4 kittens and I can't keep them all. (Even though I would LOVE to  – they are so sweet!)
Nearby Locations
Fluffy is located in Modesto, California, close to the following towns and cities:
Ceres CA,
Riverbank CA,
Ripon CA,
Oakdale CA,
Turlock CA,
Patterson CA,
Manteca CA,
Lathrop CA,
Livingston CA,
Tracy CA,
Garden Acres CA,
Stockton CA,
Atwater CA,
Country Club CA,
Merced CA,
San Jose CA,
Fremont CA,
San Francisco CA,
Oakland CA,
Thank you for your interest in this deserving Maine Coon Mix Kitten for adoption in Modesto CA.