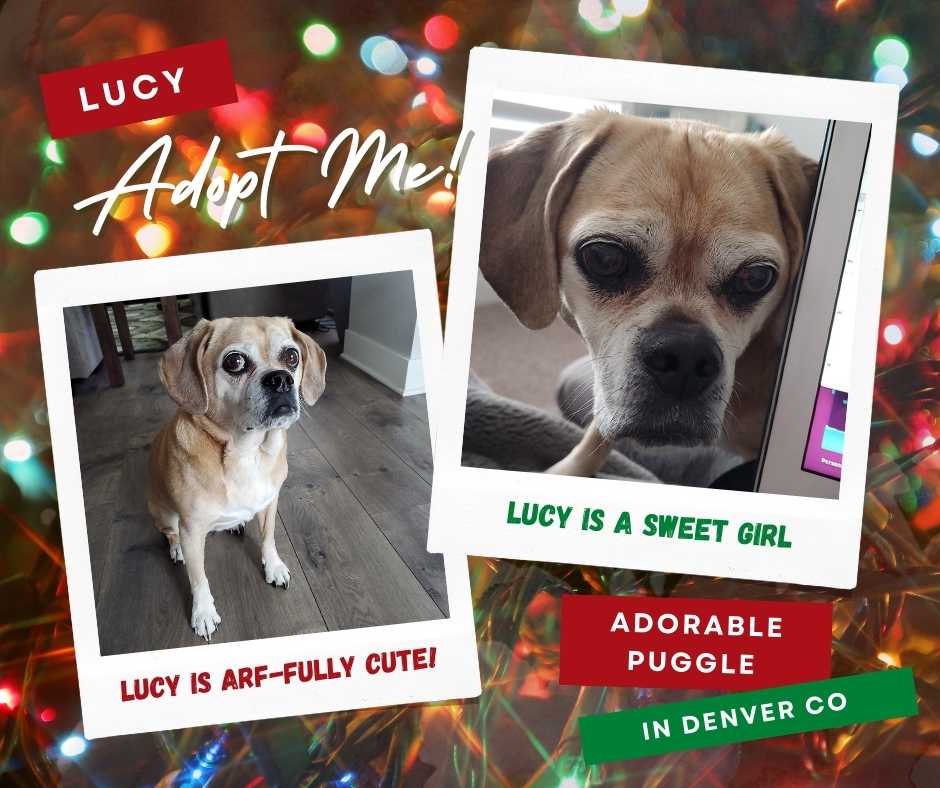 Beagle Pug Puggle For Adoption in Westminster CO – Supplies Included – Adopt Lucy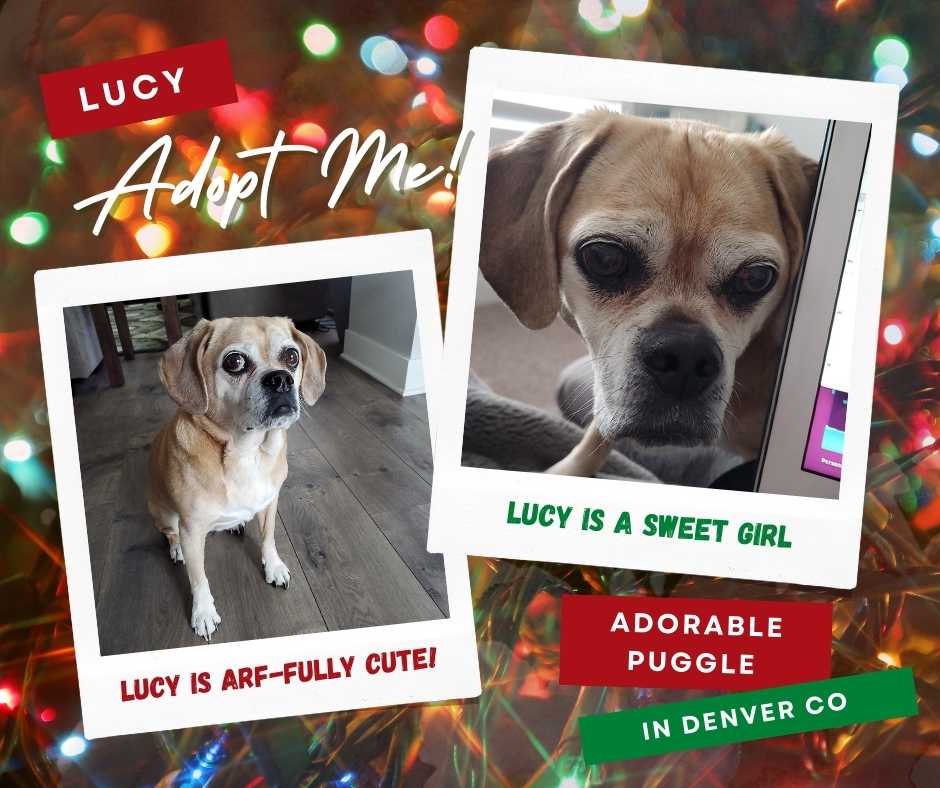 Puggle for Adoption in Westminster, CO
Looking for a Puggle to adopt in Westminster, CO? Lucy is one of the cutest and sweetest little Pug Beagle mix dogs you will meet. She is 14 years young, but looks and behaves just like a puppy. This pretty little dog weighs 22 pounds and is in good health.
Lucy has been spayed, fully vaccinated, and house broken. She is good with respectful children, other dogs and dog-friendly cats. The only issue she has stems from having been attacked several years ago by a larger dog. The incident has left her feeling anxious when out walking on a leash, which may make her growl or bark.
Lucy's owners are very sad to have to rehome their cherished Dog. They are new parents with 2 small children to care for. They are finding it very hard to give Lucy the care, attention, exercise and affection she deserves. They are hoping to find a new home for Lucy where this special dog will be cherished and kept safe, happy, and healthy for life. She would be a fabulous companion for a senior, or a couple with plenty of time to give her the home she deserves.
If you have room in your heart and home for Lucy, please complete our online meeting request form. Once received, our Westminster Dog Rehoming team will make arrangements for you to meet Lucy and her owners. Adopt Lucy today!
There is a $50.00 adoption processing fee. Supplies, accessories, and veterinary records will be included.
How To Adopt Lucy
If you are interested in adopting this special Puggle in Westminster Colorado, please fill out our online meeting request below. Once received and reviewed, our staff will ask the pets owner to reach out to you and arrange a meeting.
Questions about adopting Lucy?
Text LucyPUGGLE to (888) 833-2128. We look forward to hearing from y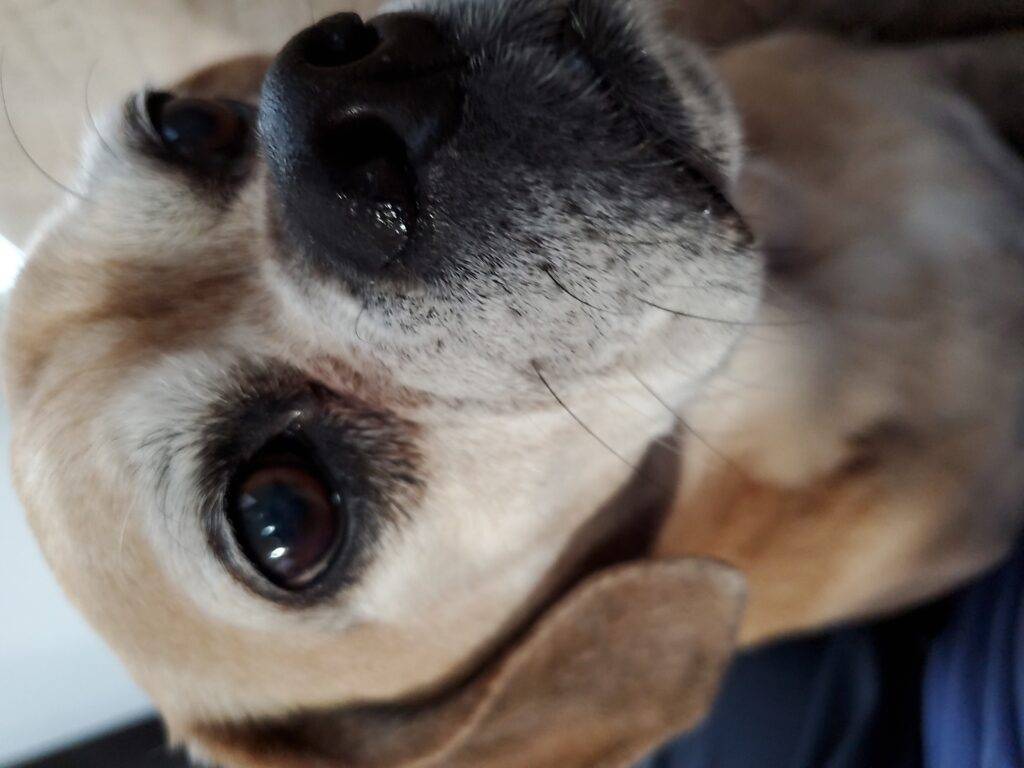 AllAbout Lucy – Puggle For Adoption in Westminster Colorado
♥ Name of Pet: Lucy
♥ Location: Westminster, co, 80020
♥ Type of Pet: Dog
♥ Breed of Pet: Puggle
♥ Color / Coat Type: fawn
♥ Age of Pet: 14
♥ Size of Pet: 22
♥ Health Problems: No
♥ Behavior Issues:  No
♥ Gets along with: Adults, children, dog-friendly dogs,
♥ Pet is: Spayed, fully vaccinated, house broken
♥ Food: Other
Kirkland 1/4 c. twice a day.
Lucy – Puggle For Adoption in Westminster Colorado
---
Lucy's Personality
Sweet, playful and lazy.
Why is Lucy Being Rehomed?
Lucy is a great dog! She is healthy, sweet, and snuggly. She enjoys walks and lounging. She'll be 14 on Christmas but looks and acts like a puppy! She does well with other dogs socially but has some leash aggression on walks. She was attacked and injured by a large dog eight years ago and seems to have not forgotten :(
Our life has changed rapidly in the last year and we now have two babies under two.
Because our day to day is extremely stressful, caring for Lucy and giving her the time, attention, care and companionship she needs is difficult.  The biggest reason we want to rehome her is that she is very food motivated and she jumps up on the high chair trying to gets scraps from our toddler. Because we'll be in this season for a couple more years, we've made the difficult decision to find her a great home.
Lucy is great with kids and we have no concerns about her hurting ours. If anything, we're worried about our aggressive boy hurting her.
She is up to date on all shots and requires little maintenance.
Nearby Locations
Lucy is located in Westminster, CO, close to the following towns and cities:
Sherrelwood CO,
Federal Heights CO,
Arvada CO,
Thornton CO,
Welby CO,
Northglenn CO,
Wheat Ridge CO,
Commerce City CO,
Broomfield CO,
Denver CO,
Applewood CO,
Lakewood CO,
Superior CO,
Louisville CO,
Golden CO,
Thank you for your interest in this deserving Puggle for adoption in Westminster Colorado.