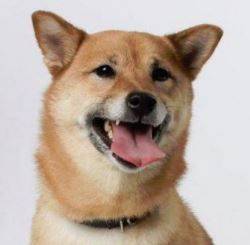 Toshi has been adopted.
Need to find a good home for your Shiba Inu or Shiba Inu mix? Pet Rehoming Network offers safe, effective and affordable Shiba Inu rehoming services. Contact our pet rehoming coordinator, or request dog rehoming services now.
---
Here is how our pet rehoming team presented Toshi to attract her new home.
Hi, My name is Toshi!
Looking for a really good dog? Here I am! I am a gorgeous Sesame Shiba Inu dog. I am just nine years young and very healthy. I have been spayed, am up to date on my shots, and am perfectly house trained. I am great with both dogs and cats – as well as older, dog-friendly kids. I weigh 20 pounds.
My owner describes me as a very sweet, goofy girl. I can always be counted on to make people smile. I have such a great temperament – I love everyone.
I do not need a ton of exercise like some dogs. I am happy with a daily walk or play session in the back yard. The rest of the time I am content to follow you around the house helping with chores, and I love to kick back and be a couch potato with you.
My owner loves me so much. That is why he is looking for a new home for me. He wants the very best for me, and, unfortunately, he is unable to provide me with the time and attention I need and deserve.
He and his wife divorced recently. She did not want to keep me when she left, and he has tried his very best to provide me with a good home environment on his own. Unfortunately he is having to work long hours, and I am left on my own too much. He can tell that I am lonely and depressed, and feels that in a home with people who have lots of time to spend with me, I will be much happier.
My ideal home will be with a single, couple or family with older kids 6 and up (just because of my age – toddlers can be rough on dogs like me!) I would love to have a securely fenced yard to call my own. It would be so nice to live with people who are home a lot more than my owner. Retired dog lovers would be ideal! I would be in Heaven with people to hang out with all day long.
I love cats, and would enjoy having some feline housemates. I also enjoy the company of other dogs, so long as they like me!
Please offer me the loving, forever home that I need and deserve today! I can't wait to meet you and show you what a great dog I am.
Love and Licks,
Toshi
---
All About Toshi
[one_half]
Name of Pet:
Toshi
Location:
Seattle, WA, 98107
Type of Pet:
Dog
Breed of Pet:
Shiba Inu
Sex of Pet:
Female[/one_half] [one_half_last]
Age of Pet: 9
Spayed/Neutered?: Yes
Health Problems: No
Up To Date on Vaccinations: Yes
Gets along with cats: Yes
Gets along with dogs: Yes
Good with Children?: Unknown
House Broken or Litter Trained?: Yes
Crate Trained?: No
Accessories Included: Toshi isn't really the hoarding type of dog, but she has all of the essentials. She has a bed, some toys, treats, food, shampoo, brush, pick-up bags, and tie-out (used while camping).
[/one_half_last]
Toshi's Personality
1. She is very cute and attracts smiles and interest wherever she goes.
2. She is very sweet, in the subtle Shiba Inu type of way.
3. She can be a goof, which is always good for a laugh or brightening up a bad day.
4. She has a very even temperament, so I never have to worry about her having an aggressive interaction with people.
5. She has a nice mixture of laziness and activeness.
Toshi's Current Home Environment
Toshi has lived in apartments most of her life. The plus is that with an interior entrance, she won't ever find her way out onto the street, if she manages to squeeze out the door when no one is looking (Shibas are not known for their street smarts). The negative is that there is no enclosed outdoor space for her to play in. When at the pet sitters, she seems to really enjoy having that space. Beware, though, that she is good at finding vulnerabilities in fences.
Toshi's Current Family:
Toshi lived with my ex-wife and I for most of her life. As of the past year, she has lived only with me. She really does better in a family "pack". It is very difficult to give her the time that she deserves, as a single person.
She's not really one for favoring different people. After she warms up to a person, she seems to like them all.
Toshi's Favorite Toys, Foods, Activities?
Toshi likes mostly stuffed toys. She does not destroy them. She just carries them around and lightly chews on them or shakes them. Her favorite snacks are Greenies and rawhide. She does love to find some human food (whether you meant to give it to her or not), but is only interested in animal products, mostly. She is not at all interested in sweets, so there's no need to worry about her eating something very dangerous like that. Her favorite activities are really walks. She's not really one for playing fetch, though she'll try. She just likes to sniff up the neighborhood and see what's been going on.
Why is Toshi Being Rehomed?
My ex-wife and I have been separated for a year and just finalized our divorce. She is not interested in keeping Toshi and I have given it my best shot (the last year) to keep her alone. With my busy work schedule, I do not feel like I can provide her with the type of enrichment that I feel she deserves.
Toshi's Perfect Adoptive Home Will Be:
I think that Toshi would do really well with a dog loving couple or a family with slightly older children. She really gets along well with cats. While she was pet sitted awhile back, she was with a small pack at the sitter; she also seemed to respond really well to that sort of environment.
Additional Comments:
Toshi only has one main negative trait and that is separation anxiety. It is not too bad and typically a long walk before leaving is enough to relax her. She will give you the most heart-breakingly sad face as you leave, however.
She can also be a little skittish around new people/situations, but usually gets over it pretty quickly. I would not expect her to ever enjoy really large crowds or situations with lots of activity going on around her.