Handsome Black and White Tuxedo Cat For Adoption Near Atlanta GA
Tom is the ultimate LOVE CAT. He is so sweet and affectionate. He is just 9 years young and very healthy. He has been fixed and is up to date on shots.
Tom is great with other pets and is calm and gentle with children. He loves his people with all his heart and deserves a good home where he will be cherished.
Tom can be adopted by himself, but would love to bring his best friend, Ariel, a stunning Lynx Point Siamese cat along with him.
All supplies and vet records will be included. Adopt Tom today!
There is a $25 adoption/rehoming fee. All supplies and vet records will be included.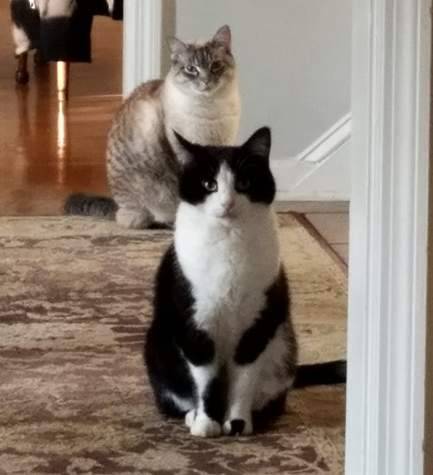 Tom can be adopted on his own, but why not double the purrs and also adopt his best friend, Ariel, a stunning Lynx Point Siamese?
Questions about Tom?? Text "Tom" to (888) 833-2128 or email [email protected]. We look forward to hearing from you.
---
All About Tom
Name of Pet: Tom
Location: Kennesaw
Type of Pet: Cat
Breed of Pet:  Domestic Shorthair Black and White Tuxedo
Sex of Pet: Male
Age of Pet: 10
Spayed/Neutered?: Yes
Health Problems: No
Up To Date on Vaccinations: Yes
Gets along with cats: Yes
Gets along with dogs: Yes
Accessories Included: Food, flea medication, bedding, toys, scratching posts
Tom's Personality
Tom is a sweet kitty with a great personality. He is a lover boy and enjoys sitting on your lap and purring. He is an independent little fellow with a mind of his own. He enjoys going outside, but only if he is let back in after a few moments. He is primarily an indoor cat, and never goes outside at night. When he goes outside, he stays in our front yard.
Tom has an outgoing personality.
He is sassy.
He loves to give kitty kisses.
He gets along great with dogs (in fact, he thinks he is a dog)
He is very loving.
Tom's Current Diet
Tom eats a high quality food, mostly canned food with a little bit of dry food as a snack.
Tom's Current Home Environment
We live in a single family home with another cat and a dog. However, we have just sold our house and are downsizing.
Tom's Current Family:
We just retired this year. We have two grown children who are both married and don't live with us. Neither can take the cats due to allergies.
Tom's Favorite Toys, Foods, Activities?
Ariel just wants to be with you. She loves good food and companionship.
Cute Tom Story:
When Tom sees a car go by, and when it's lights shine on the wall, he goes airborne trying to catch the light.
Why is Tom Being Rehomed?
We have just retired and have sold our home. We have put our things in storage and have a temporary place to stay where we cannot bring our cats. We are uncertain what our living situation is going to be going forward.
Tom's Perfect Adoptive Home Will Be:
We are looking for a loving family or person to care for Tom, and if possible, his companion Ariel.