ADOPTED – Moose – Viszla Lab Mix Puppy in Nashville TN
Moose has been adopted. Thank you for your interest.
Meet Moose, Hungarian Vizsla Labrador Retriever Mix Dog  in Nashville TENNESSEE
It's a bird!  It's a plane! It's an amazing adoptable Vizsla mix puppy called Moose! This gorgeous copper-colored puppy has all of the best traits of the Hungarian Vizsla and Labrador Retriever rolled into one lovable and very dashing 45 pound canine.
Moose's enthusiasm for life knows no limits. He can jump, spin, dart, sprint and turn on  dime – all with that adorably goofy grin on his face. This pup has had a literal ton of training. He is Crate Trained, House Broken, Leash Trained and Obedience Trained. He still jumps up on people to greet them, but that is something that will get better as he matures and with consistent positive reinforcement.
Aside from having a sensitive stomach which requires a special diet, Moose is very healthy. He has been neutered and is up to date on his vaccinations. Veterinary records will be provided upon adoption.
Moose's other passion in life is kids. He loves babies, toddlers, older kids, kids at heart and people in general. The only caveat is that in his "joie de vivre" he could accidentally knock over a child not yet sturdy on their feet. All in all, Moose could be the Ambassador for Human/Dog relations. Such a good boy filled with unlimited unconditional love for everybody!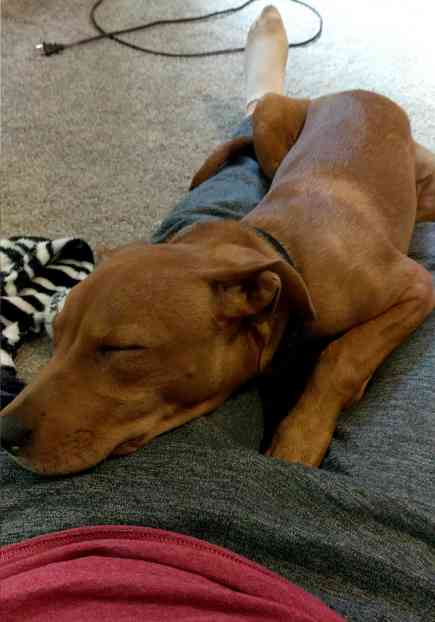 Moose is currently living with his owners in an apartment. They had planned to move to a house with a big yard, but that plan has fallen through. They want Moose to be happy and healthy, so his current life being cooped up in an apartment and not getting enough time with his beloved people is not a good situation. Moose's owners, at great emotional upset, are hoping to do what is best for Moose – find a home with people who have the environment, time, activity level, sense of humor and love of dogs that Moose needs and very much deserves.
So if you have room in your heart and home for this amazing older puppy, please fill out our online meeting request form using the big blue link below. Moose can't wait to meet you and charm the heck out of you.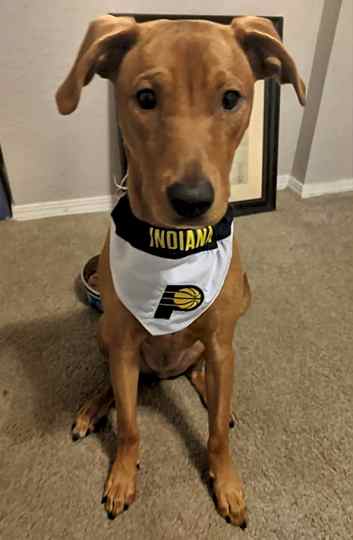 ---
All About Moose – Vizsla Labrador Retriever Mix Dog Rehomed in Nashville TENNESSEE
♥ Name of Pet: Moose
♥ Location: Nashville, TENNESSEE, 37221
♥ Type of Pet: Dog
♥ Breed of Pet: Labrador Retriever – Hungarian Vizsla Mix
♥ Color / Coat Type: Short brown hair
♥ Age of Pet: 9 months
♥ Size of Pet: 45 lbs
♥ Health Problems: Sensitive Tummy
♥ Behavior Issues: No – just a puppy that needs more training.
Has basic training, but does pull on leash if he sees other dogs/people. Without distraction, he generally does well on a loose leash with a gentle leader.
♥ Gets along with: Small Children, Older Children, Dogs, Strangers
♥ Pet is: Neutered, Micro-chipped, Fully vaccinated, Crate Trained, House Broken, Leash Trained, Obedience Trained
♥ Food: Other
Moose tends to eat more after a lot of exercise. He eats Nature's Recipe salmon, pumpkin, and sweet potato, as that is what I found he digests well. He eats 2 cups in the morning and 2 in the evening, however sometimes he picks at it throughout the day.
Moose's Personality
Moose is energetic and playful. Loves attention (has some attachment to us due to apartment living, he has never been outside by himself, etc). Moose is super fast and loves to run/jump. He loves to be around other dogs, but generally does not enjoy meeting them on the leash. He does well at dog parks. He loves to wrestle while playing. He has been boarded in a kennel free facility where dogs were able to play off leash.

Why was Moose Being Rehomed?
Moose is a great dog, but we live in a small apartment. He is super energetic and loves to play outside and with other dogs. I have noticed he is at his happiest when he has tons of exercise and room to run. Originally it was in our plan to move and have a large yard for him and even add a friend, however plans have changed. I am just looking to give Moose the best life he can live, even if it is not with us.
---
Moose – Hungarian Vizsla Labrador Retriever Mix Dog Adopted in Nashville TENNESSEE
Moose is a Vizsla Labrador Retriever Mix Dog for rehoming in Nashville, which is within 40 miles of the following towns and cities in Tennessee:
Brentwood TN,
Goodlettsville TN,
Hendersonville TN,
Mount Juliet TN,
La Vergne TN,
Franklin TN,
Smyrna TN,
Gallatin TN,
Springfield TN,
Lebanon TN,
Spring Hill TN,
Murfreesboro TN,
Portland TN,
Dickson TN,
Columbia TN