Handsome Valley Bulldog For Adoption in California MD – Supplies Included – Adopt Cruiser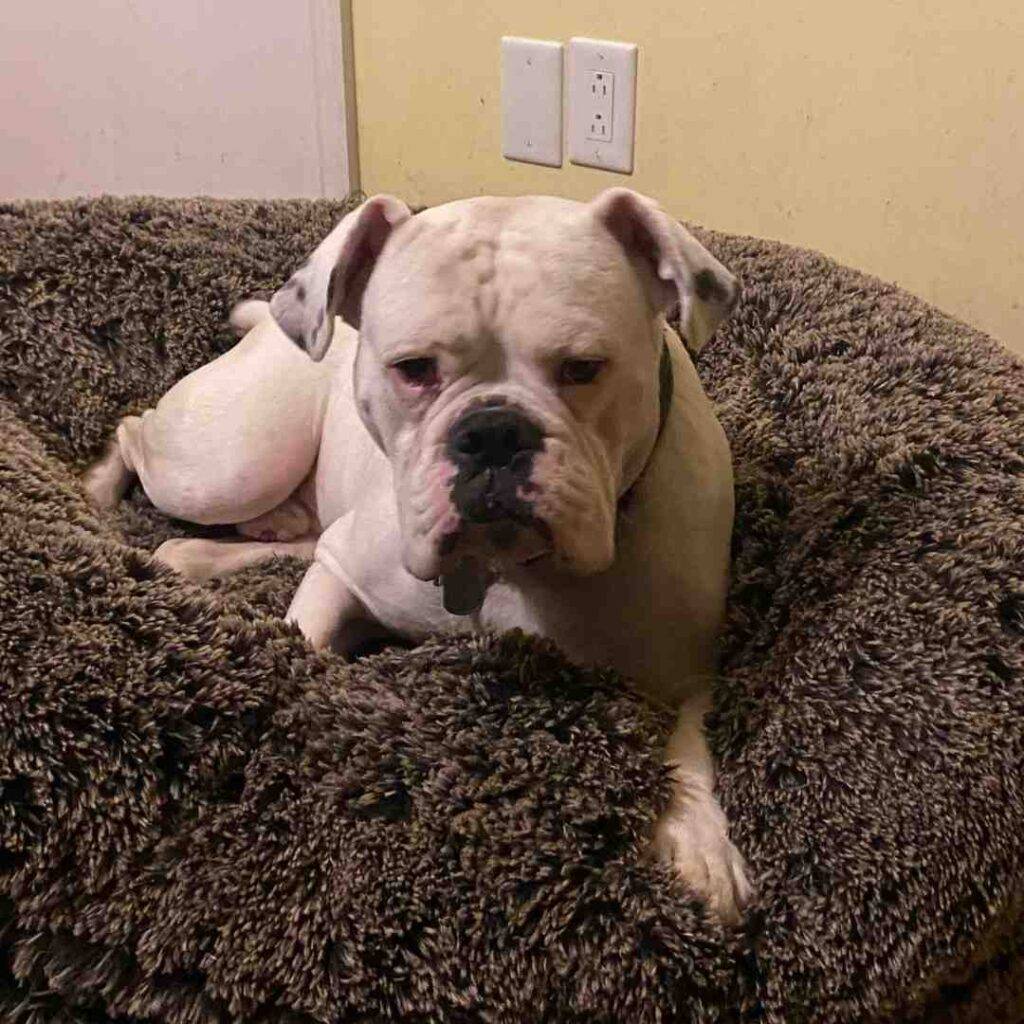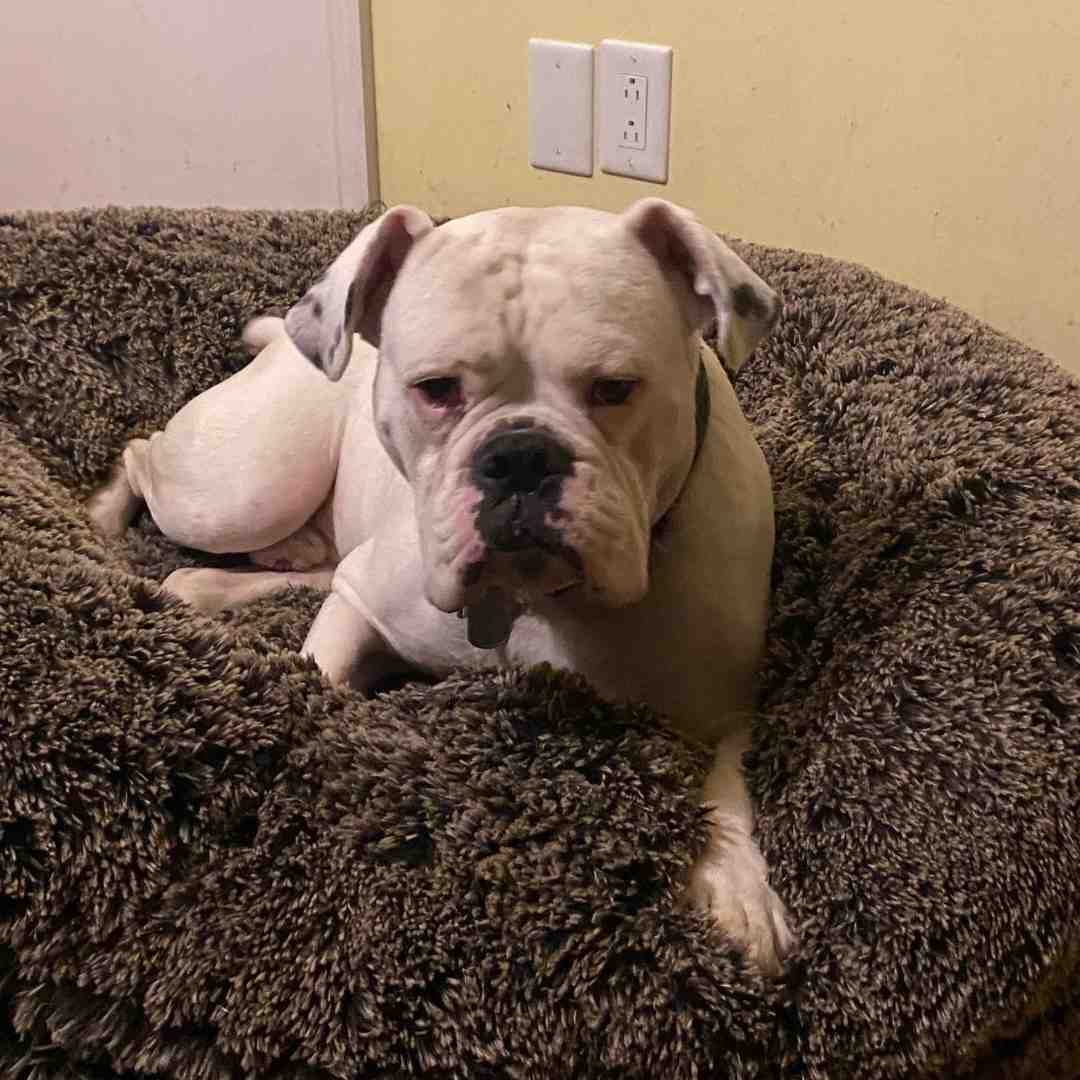 Valley Bulldog for Adoption Near Washington DC in California, MD
Looking for a Valley Bulldog Dog to adopt in Maryland, DC, Virginia, North Carolina, New Jersey or New York? Just 6 years old and weighing 70 lbs, Cruiser is an outstanding example of Canine beauty looking for a loving new home anywhere within a reasonable distance of his home in California MD.
This healthy, happy dog has been fixed, fully vaccinated, house broken and obedient. He's a real sweetheart and so friendly to people and other dogs. He likes to stay active and loves to run. He would be an awesome running companion for an athletic dog lover.
Cruiser is also a playful goofball that will provide you and your family with love, joy, laughter and companionship. He can easily brighten up your worst day, and he's always on your side with steadfast friendship and unconditional love. In a word, Cruiser is AMAZING!
Cruiser's owner is very sad to have to rehome his cherished dog.  A new job will see him moving to Houston, Texas. His new job will require extensive travel and his schedule will see him putting in long hours every day. In this new role, he simply will not be able to provide Cruiser with the attention, companionship, care and activity that he needs and very much deserves.
Jothan is dearly hoping to find a new home for Cruiser with a family who will cherish Cruiser and keep him safe, happy, and healthy for the many remaining years of his life.
How To Adopt Cruiser
If you have room in your heart and home for Cruiser, please complete our online meeting request form. Once received, our Valley Bulldog Rehoming team will make arrangements for you to meet Cruiser and his owner. Adopt Cruiser today!
There is a $150.00 adoption processing fee. Supplies, accessories, and veterinary records will be included.
Questions about adopting Cruiser?
Text CruiserMD to (888) 833-2128. We look forward to hearing from you!
---
All About Cruiser – Valley Bulldog For Adoption in California MD
♥ Name of Pet: Cruiser
♥ Location: California, MD, 20619  Near Washington DC
♥ Type of Pet: Dog
♥ Breed of Pet: Valley Bulldog
♥ Color / Coat Type: White w/black markings
♥ Age of Pet: 6
♥ Size of Pet: 70 lbs
♥ Health Problems: No
♥ Behavior Issues: No.
(In the past, Cruiser has exhibited separation anxiety when left alone, but fortunately, the behavior has stopped since purchasing dog bed for anxiety and thunder buddy jacket.)
♥ Gets along with: Children, Adults, Dogs, Dog friendly cats
♥ Pet is: Fixed, vaccinated, house broken, leash trained obedience trained
♥ Food: Other
Instinct Original
Cruiser – Valley Bulldog (Bull Boxer Dog) For Adoption in California MD
---
Cruiser's Personality
Cruiser is very friendly, playful and energetic. He is good with other dogs. Very active and loves to run.
Why is Cruiser Being Rehomed?
Taking a job in Houston Texas which will require significant amount of travel. I would like to avoid putting Cruiser up at boarder's on a weekly basis as he is energetic, active, and loves to run.
Have tried several times to crate train Cruiser. He does not have accidents in crate but does chew up blankets or cushions that are inside crate.
Nearby Locations
Cruiser is located in California, MD, close to the following towns and cities:
51 miles to Washington DC
69 miles to Baltimore MD
101 miles to Norfolk VA
104 miles to Virginia Beach VA
107 miles to Chesapeake VA
135 miles to Philadelphia PA
205 miles to Durham NC
209 miles to Raleigh NC
211 miles to Newark NJ
214 miles to Jersey City NJ
Lexington Park MD,
Cambridge MD,
La Plata MD,
Saint Charles MD,
Waldorf MD,
Rosaryville MD,
Clinton MD,
Fort Washington MD,
Easton MD,
Friendly MD,
Camp Springs MD,
Fort Hunt VA,
Forestville MD,
Largo MD,
Kettering MD,
Thank you for your interest in this deserving Valley Bulldog Dog for adoption in California MD.