Siberian Husky Korean Jindo Mix Dog For Adoption in El Paso TX – Adopt Astro Today!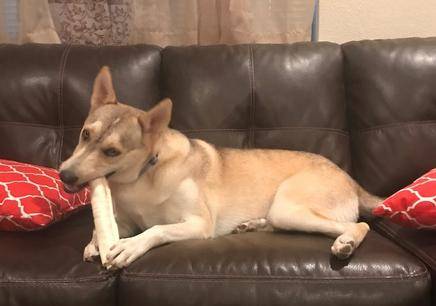 Meet Astro – Korean Jindo/Husky Dog For Adoption in El Paso, Texas
There is a $75 adoption/rehoming fee. Supplies and vet records will be included.
Astro is a very special dog. He is just 18 months old and very healthy. Astro has been fixed and is up to date on his shots. He is house broken and crate trained. This handsome mix of Korean Jindo and Siberian Husky is very playful. He loves kids and gets along well with other dogs. Astro is still in his "puppy stage" and has a lot of energy. He is a great choice for an active family that likes to do stuff with their dog.
Astro is being rehomed by his owner, who is simply overwhelmed. She is caring for a brand new baby and tending to an older dog with serious health issues. Trying to provide Astro with the time, attention, exercise and playtime he needs and deserves is becoming very difficult for her. She wants the very best for Astro, and is hoping to find him an awesome home where all of his needs will be met, and where he will be cherished.
Astro really needs a home with a family who have a large, securely fenced yard. They need to have plenty of time to devote to him and be willing to take him for walks/runs every day, and give him a safe, happy and healthy life.
Astro will be rehomed with some supplies and his vet records. Please offer this amazing young dog the home he needs and deserves today.
There is a $75 adoption/rehoming fee. Supplies and vet records will be included.
---
All About Astro – Korean Jindo – Siberian Husky Mix Dog For Adoption in El Paso Texas
Location: El Paso, Texas
Type of Pet: Dog
Breed: Korean Jindo/Husky
Age: 1.5 years
Color/Coat Type: short coat, light brown
Size: 45lbs
Health Issues: no
Behavior Issues: no
Astro is:
Neutered, Microchipped, Fully vaccinated, Crate Trained,  House Broken
Astro gets along with:
Small Children, Older Children, Adults Only, Dogs
Personality
active, playful, loves to run, good with children. Social with other dogs but requires a lot of individualized attention
Food and Diet
Astro is currently on Other
Authority from Pets Mart
Reason For Rehoming
Astro is a very active dog. Currently have a husky and a disabled German Sheperd. Astro is picking on my disabled dog and now wont let him eat or move freely. I had a baby a year ago and have discovered I have depression and severe anxiety. Since Astro is very active, he always wants to be playing and barking. For some reason that triggers my anxiety and I am unable to take care of my baby when my anxiety gets worse. Astro is potty trained. Very playful and good with children. Astro needs someone that is also active and will tire him out.
How to Adopt Astro
If you would like to consider offering Astro a loving, forever home, please fill out our Request To Meet A Pet form here:
https://pet-net.net/adopt-a-pet/
Once received, we will contact you to discuss your request and set up a mutually convenient time to meet Astro and their owner in their home.
Astro is a Korean Jindo/Husky Dog For Adoption in El Paso, TX.
He is located a short distance from the following towns and cities in Texas and New Mexico:
Sunland Park, NM
Socorro, TX
Las Cruces, NM
Deming, NM
Alamogordo, NM
Truth or Consequences, NM
Ruidoso, NM
Silver City, NM
Mission Hills, TX
Smeltertown, TX
La Guna, TX
Courchesne, TX
Buena Vista, TX
Anapra, NM
Coronado Hills, TX
Planeport, TX
Sunland Park, NM
Alfalfa, TX
Cielo Vista, TX
Del Norte Heights, TX
Tigua, TX
Aero Vista, TX
Sunrise Acres, TX
San Jose, TX
Hacienda Heights, TX
Adopt Astro the Korean Jindo Siberian Husky dog today.