Bonded M&F Jack Russell and Rat Terrier Mix Dogs For Adoption Near Seattle – Adopt Spanky and Rozan Today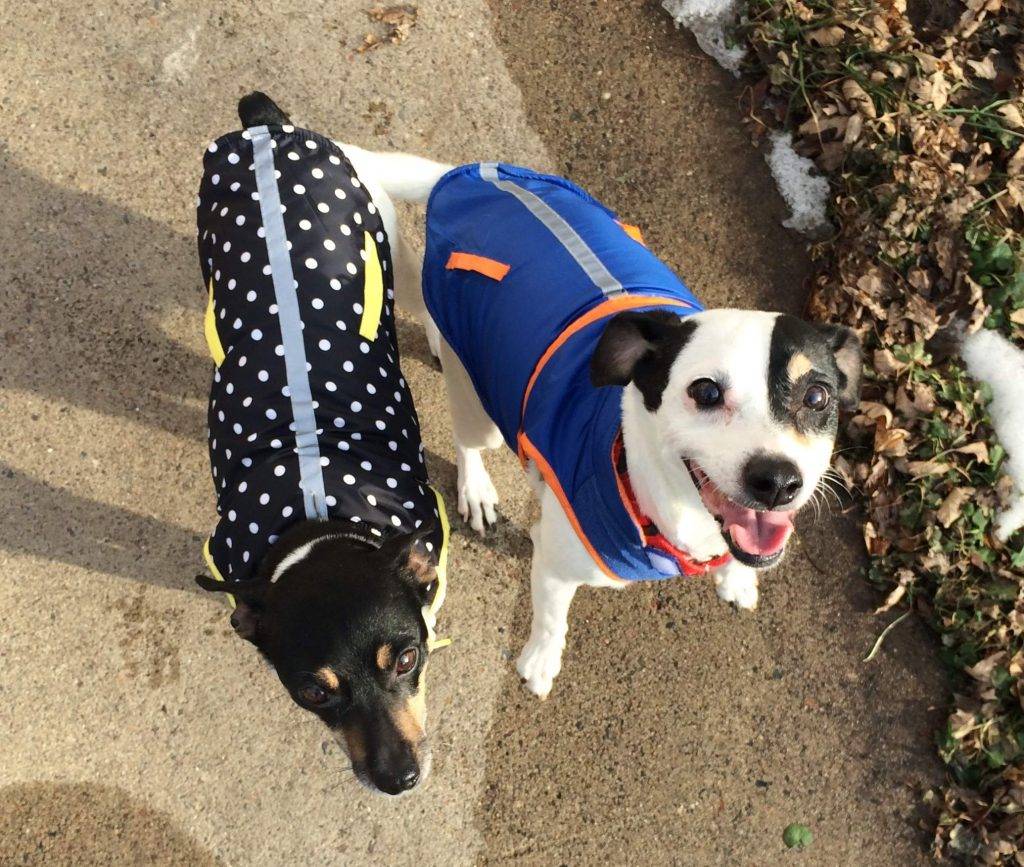 Meet Spanky & Rozan, Jack Russell Rat Terrier mix Dog For Adoption in North Bonneville Wa
Spanky and Rozan are a delightful pair of small mix breed dogs for adoption in North Bonneville, WA, near Seattle. Although different ages (Spanky is a senior, while Rozan is just 6) both dogs are adorable little characters with so much joy for life.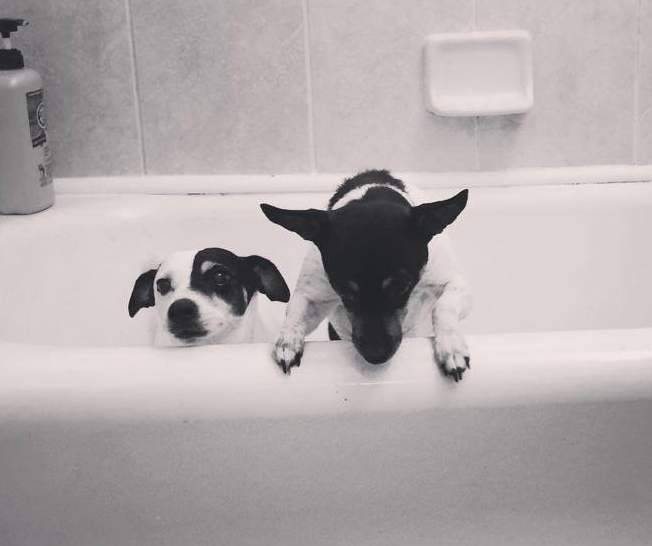 A mix of both Jack Russell Terrier and Rat Terrier, Spanky and Rozan are both athletic and energetic. They love to plan and are up for anything you want to do. They love to go for walks and play with their toys. Both dogs are fixed, fully vaccinated and in good health. They are well behaved and house broken.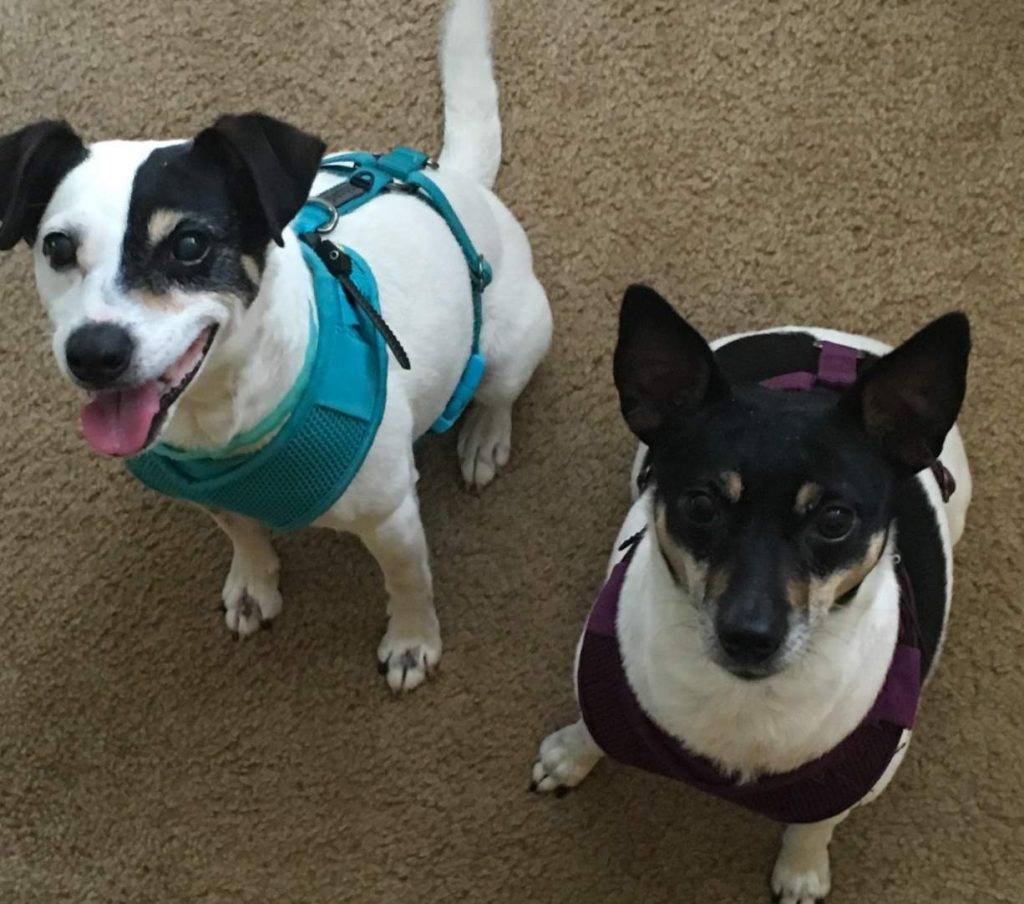 The ideal home for these sweet dogs will be one which does not have other pets. Spanky is not a fan of other dogs, and Rozan tends to bark at them. Cats are fun for chasing, according to the dogs, so unless your cat needs a lot of exercise,  it's best that Spanky and Rozan are adopted into a cat free home.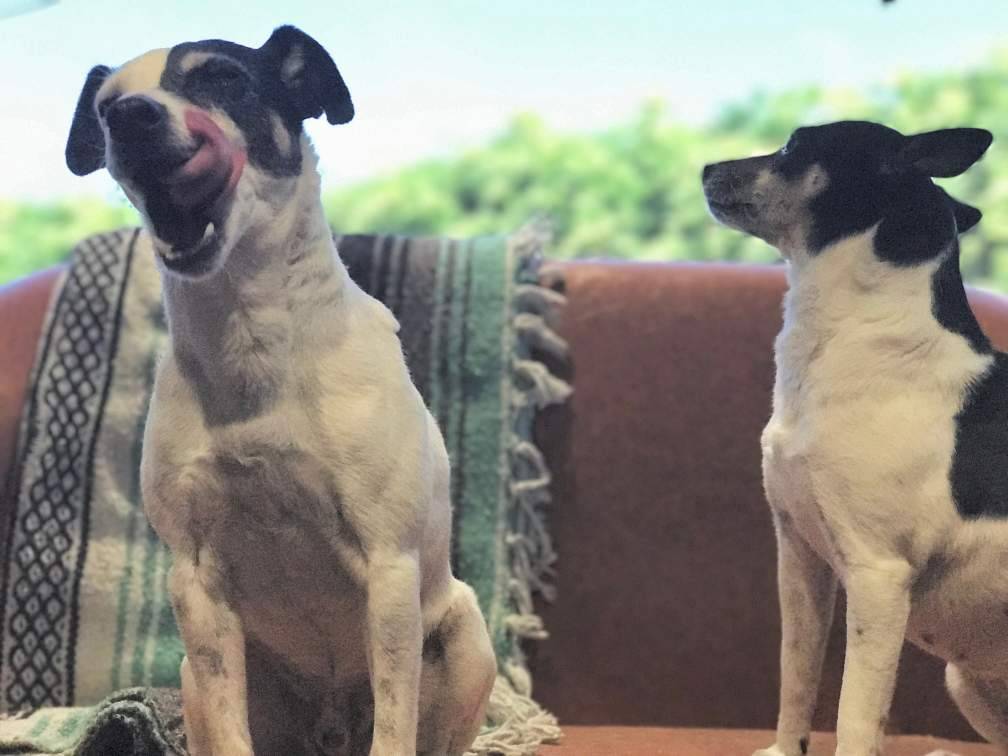 Both dogs are great with respectful children. They love to run, jump and play when kids are around.
Above all, this precious pair are looking for a very loving home with people who have the time to give them the love, attention, playtime and exercise they need and deserve. They will be rehomed with all supplies and vet records.
If you have been looking for a very cute pair of bonded small dogs, please offer Spanky and Rozan a loving home today.
Rehoming Fees Waived for a Good Home.. Supplies and veterinary records will be included.
Questions about Sparky and Rozan?? Text "Spanky and Rozan" to (888) 833-2128 or email SpankyRozan@dog-lover.us. We look forward to hearing from you.
---
All About Spanky & Rozan – Jack Russell Rat Terrier mix Dog For Adoption in North Bonneville Wa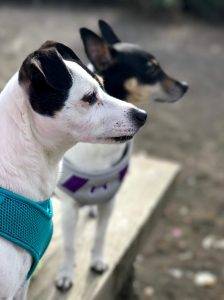 Name of Pet: Spanky & Rozan
Location: North Bonneville, Wa, 98648
Type of Pet: Dog
Breed of Pet: Jack Russell Rat Terrier mix
Sex of Pet: Male
Age of Pet: 15 & 6
Spayed/Neutered?: Yes
Health Problems: No
Behavior Issues: Yes Spanky is aggressive towards new dogs but has successfully made friends after long, slow, structured introductions.
Rozan barks at animals but is not aggressive.
Up To Date on Vaccinations: Yes
Gets along with cats: No
Gets along with dogs: Yes, Unknown
Good with Children?: Yes
House Broken or Litter Trained?: Yes
Crate Trained?: No
Accessories Included: The pups just have small dog beds, grooming supplies, treats, leashes, harnesses, and dog bags.
Spanky & Rozan's Personalities
Spanky: I love how handsome he is, how sweet he can be, his quirky personality, that he loves to explore and exercise with me and how much energy he has.
Rozan: I love when she makes a silly groaning sound when she cuddles, her sweet eyes, when she play bites with me, her excitement for running, and that she always wants to show me love.
Spanky & Rozan's Current Home Environment
It is just me and the two dogs. We live full time in an RV since moving to Oregon/Washington. I work from home so I'm with them during the day but am away from home a lot outside of work hours. They don't get interaction with other ppl or dogs like they did prior to our move.
I walk them every day and try to have play time as often as possible at home.
Spanky & Rozan's Current Family:
I don't have family where I live but they all are dog lovers. They enjoyed having my dogs over when we loved in the same state.
Spanky & Rozan's Favorite Toys, Foods, Activities?
Spanky loves his ball. Rozan doesn't play with toys much but she will tear on a stuffed animal toy every once in a while (which is pretty funny to watch).
Why are  Spanky & Rozan Being Rehomed?
I no longer have the help that I used to have with caring for the dogs. They don't get the attention and care that they need/deserve with just me around.
Spanky & Rozan's Perfect Adoptive Home Will Be:
I'm looking for a couple or family because the dogs need constant affection and attention. With more ppl around, the easier that can be accomplished and the happier the pups will be.
I prefer the adoptive family to be active enough that they enjoy walking the dogs regularily. Rozan can run up to about 5 miles and Spanky can only run around 1 mile now.
How To Adopt Spanky & Rozan
If you are interested in adopting these special Jack Russell Rat Terrier mix dogs For Adoption in North Bonneville Wa, please fill out our online meeting request here. Once received and reviewed, our staff will ask the pets owner to reach out to you and arrange a meeting to determine for certain Spanky and Rozan are a good match for you.
Spanky & Rozan – Jack Russell Rat Terrier mix Dogs For Adoption in North Bonneville WA
Spanky & Rozan are a bonded pair of male and female Jack Russell Terrier mix dogs for adoption in North Bonneville WA,  near , and close to . Adopt these healthy, affectionate dogs today.