REHOMED – Sweet Spike – Devoted Boxer – Cincinnati Ohio
Spike has found his forever home. This great dog has been adopted by die-hard Boxer lover, Bryan. Bryan had been longing to adopt a dog like Spike ever since his own Boxer passed away. We are delighted for both that they will be enjoying each other's company for many years to come.
---
Here is how our rehoming team presented Spike to attract his new owner:
7 year old purebred male Boxer for adoption to loving home in or near Cincinatti, Ohio. Spike is healthy, neutered, fully vaccinated, AKC registered and house trained. He has a fawn colored coat with white chest. Supplies included.
Looking for the most loving dog on earth? Spike is pretty darned close! This adorable purebred Boxer is just 7 years old and weighs 85 pounds. Spike is very healthy, up to date on his shots, neutered and perfectly housebroken. He is a real gentleman, and loves his humans with all his heart.
Spikes' owner loves him dearly. They have been sharing the bachelor life since Spike was a year old, and are very close. As luck would have it, Spikes' owner met the woman of his dreams and got married. As much as his new wife loves Spike, she has discovered that she is very much allergic to him. Despite trying many things, her allergy symptoms are making life miserable for her.
Spikes' owner is dearly hoping to find Spike a new home where he will be cherished as much as he is now. Spike loves nothing better than to be with his favorite people. He's very well behaved, and is happy doing whatever you are, whether it's going for a nice long walk or watching the game on TV. Spike loves to snuggle up and is very affectionate.
One of Spikes' biggest talents is making his owner feel special. Whether he has been away for the day – or just a few minutes – Spike always greets him with gusto – tail wagging like crazy and bursting with happiness and excitement.
Spikes' ideal home will be one where he has the companionship he needs and deserves. He is pretty low maintenance and is happy with a short daily walk. He loves to spend time outdoors, so a nice, securely fenced yard would be great. Spike is used to being the only pet, and has not been around children. He would likely be very good with kids older than 8, and cats that are dog-friendly. He would be best as an only dog, or with a non-dominant female dog.
Spike is an AKC registered, purebred Boxer.  His registration papers, and his veterinary records will be included with him for his new owners, along with all of his supplies. The sincere appreciation and friendship of his owner will accompany him as well. (And his owner would very much like to keep in touch!)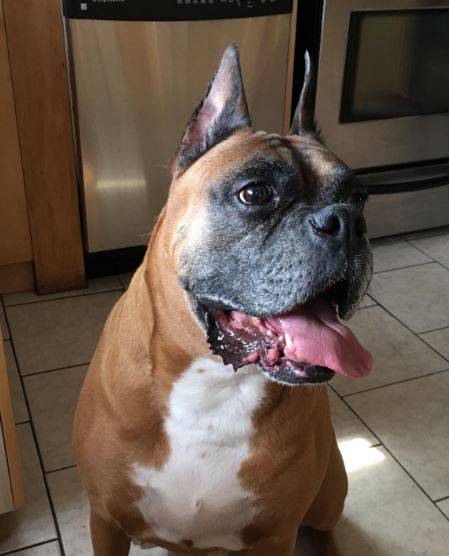 ---
All About Spike
Name of Pet: Spike
Location: Cincinnati, OH, 45209
Type of Pet: Dog
Breed of Pet: Full breed Boxer
Sex of Pet: Male
Age of Pet: 7
Spayed/Neutered?: Yes
Health Problems: No
Up To Date on Vaccinations: Yes
Gets along with cats: Unknown
Gets along with dogs: Unknown
Good with Children?: Yes
House Broken or Litter Trained?: Yes
Crate Trained?: Yes
Accessories Included: He a full breed Boxer that will come with papers since he is registered with the AKC. He has been crated in the past however I did give that away since he no longer stay in a crate during the day. He has some toys however he doesn't primarily play with toys.
Spike's Personality
How loyal of a friend he is
His warm greetings and kisses
When he snuggles
His unconditional love
Watching his tail wag when he is excited and happy
Spike's Current Home Environment
Single family home. I have recently gotten married and my wife is allergic to Spike so he unable to move in. I owe a house that I am currently renting to a friend that Spike knows well and loves. He is watching Spike until I can find him a new home so this. I visit him daily and make sure that he is well taken care of and comfortable. He is the only pet in the house however has lived with a female dog in the past and they were the closest of friends. Not sure how he would get along with a cat.
Spike's Current Family:
Spike has been raised in a loving environment with no kids or pets. He is skeptical when meeting strangers but his love is quickly won over with a proper introduction.
Spike's Favorite Toys, Foods, Activities?
Spike loves to take walks and be semi active. He used to be much more energetic and willing to be active however he has slowed down in his older age. He mainly loves to be outdoors however he is extremely low maintenance. outside of love and attention
Cute Spike Story:
Spike greets me at the door everyday with a loving embrace and ferocious tail wag. I have never been surrounded by a more unconditional love that warms my heart on a daily basis. He is the most loyal friend that I have ever had. He loves to cuddle and loves a warm body to nuzzle up to.
Why is Spike Being Rehomed?
I recently have gotten married and my wife is allergic to Spike.
Spike's Perfect Adoptive Home Will Be:
Simply a loving environment that will make sure that Spike is well taken care of and feels a bond with a warm and receptive owner.