1 Adorable Yorkshire Terrier Dog For Adoption in Philadelphia PA – Meet Ivy
Looking for a Yorkshire Terrier dog for adoption in Philadelphia, PA? Sweet, cuddly and very adorable, 13 years young Ivy would love to be considered for the position of your cherished family companion.
This cutie patootie is such a family-friendly little dog. She loves her people with all her heart, and would love to show you the true meaning of unconditional love.
Read on to learn all about Ivy the adorable Yorkie dog…
Introducing Ivy – The Cherished Yorkshire Terrier Up for Adoption in Philadelphia, PA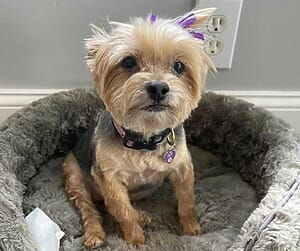 Get ready to meet Ivy – the petite, sweet, and well-behaved Yorkshire Terrier seeking a forever home in Philadelphia, PA, or its nearby areas. This adorable canine companion, blessed with the heart of a lion despite her small stature, is a 13-year-old female Yorkie weighing a delightful 5.5 lbs.
Ivy's Story – A Testament to Unconditional Love and Devotion
Ivy is more than just a pet – she's a beloved family member. She's been a source of joy, laughter, and comfort, winning hearts with her loyal and loving nature. However, due to unforeseen circumstances, her current family is heartbroken to have to find her a new home. Their hope is to find a nurturing environment that treats Ivy like the precious gem she is – ensuring she remains safe, content, healthy, and well-nourished.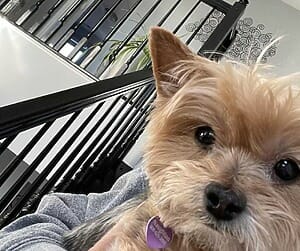 Five Reasons Why You'll Love Ivy
1. She's Small: Ivy's petite size makes her ideal for both apartment living and spacious homes.
2. She's Sweet: Ivy's gentle demeanor and affectionate nature will warm your heart.
3. She's Well-Behaved: Ivy is a well-mannered lady, making her easy to manage and love.
4. She's Family-Oriented: Ivy thrives in a family setting, making her a perfect addition to your home.
A Plea for Ivy
If your heart and home have space for one more, consider adopting Ivy. She's waiting to fill her new home with love, warmth, and endless tail wags. This love-filled journey with Ivy can start today, allowing you to experience the true essence of unconditional love and loyalty that only a pet like Ivy can offer.
So, don't wait, open your heart and home to Ivy today. Her unique blend of charm, affection, and loyalty promises a heartwarming and entertaining experience like no other.
How To Adopt Ivy
Please fill out our online meeting request form via the button below. Once your application is received and reviewed, our staff will ask the pets owner to reach out to you and arrange a meeting.
[vcex_button url="https://pet-net.net/adopt-a-pet/" rel="nofollow" layout="block" align="center" font_padding="top:15|bottom:15″ font_size="d:18px|tl:18px|tp:18px|pl:16px|pp:16px" font_weight="semibold"]Request to Adopt Ivy Here[/vcex_button]
There is a $150 adoption/rehoming fee. Supplies and veterinary records will be included.
Questions about Ivy?
COMPLETE OUR QUICK QUESTIONS FORM NOW
---
All About Ivy – Yorkshire Terrier dog For Adoption in Philadelphia PA
Name of Pet: Ivy
Location: Philadelphia, PA, 19123
Type of Pet: dog
Breed of Pet: Yorkshire Terrier
Sex of Pet: Female
Age of Pet: 13
Spayed/Neutered?: Yes
Health Problems: No
Behavior Issues: No
Up To Date on Vaccinations: Yes
Gets along with cats: Yes
Gets along with dogs: Unknown
Good with Children?: Yes, Good With Children aged 8 and up
House Broken or Litter Trained?: Yes
Crate Trained?: No
Accessories Included: All that I have
Ivy's Personality
She's sweet and not yappy. She likes attention.
Ivy's Favorite Toys, Foods, Activities?
She has a fickle tummy so just dog food. Doesn't do long walks.
Cute Ivy Story:
Why is Ivy Being Rehomed?
It is my son's dog and he is moving abroad.
Ivy's Perfect Adoptive Home Will Be:
Cuddly people
---
Ivy – Yorkshire Terrier dog For Rehoming in Philadelphia PA
Ivy is a Yorkshire Terrier dog for adoption by owner in Philadelphia PA. Ivy is located close to the following towns and cities in PA, and can be adopted from anywhere within a reasonable distance.
Philadelphia PA,
Glassboro NJ,
Woodbury NJ,
Williamstown NJ,
Pine Hill NJ,
Lindenwold NJ,
Bellmawr NJ,
Gloucester City NJ,
Audubon NJ,
Haddonfield NJ,
Collingswood NJ,
Camden NJ,
Chester PA,
Darby PA,
Woodlyn PA,
Cherry Hill NJ,
Adopt this deserving Yorkshire Terrier dog in Philadelphia PA today.
Thank you for your interest in this adorable senior Yorkshire Terrier dog for adoption in Philadelphia PA. We look forward to hearing from you!