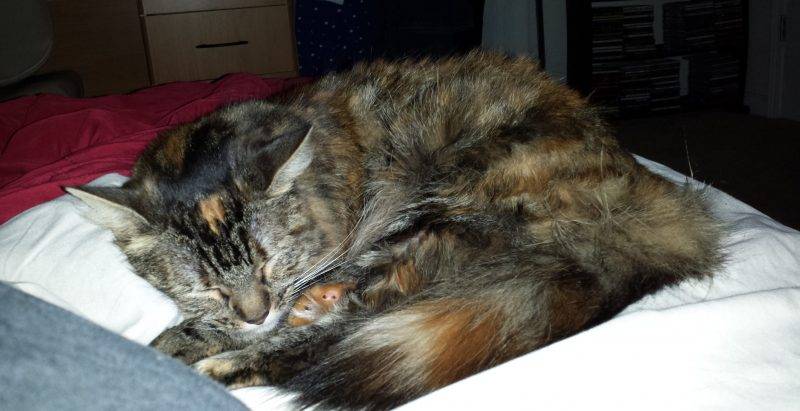 Meet Phoenix, A Luscious Long Haired Maine Coon Mix Cat For Adoption Near Atlanta GA
There is a $50 adoption/rehoming fee. All supplies and vet records will be included.
Looking for a Maine Coon mix cat to adopt near Atlanta GA? With her long coat, full ruff, and amazingly bushy tail, Phoenix appears to be a Maine Coon mix.
Phoenix is a very special cat. She is gloriously beautiful, both inside and out. A gorgeous longhair Tortoiseshell cat, her fur is like silk and she has a very charming and loving personality. She is playful and cute, funny and super snuggly. She is calm and gentle around children, so would be a great choice for a family with kids.
Phoenix is very healthy. She has been fixed, is up to date on shots and ready to love. She will be rehomed with all supplies and vet records.
Phoenix's owner is devastated to have to find a new home for her. She has lovingly cared for Phoenix since finding her as a 4 week old kitten in the middle of a busy freeway. Unfortunately, her husband of 1 year (and his children) are severely allergic to cats. They have tried so many things to make living with Phoenix possible, but the allergies have worsened to the point of being a health hazard.
She is dearly hoping to find this special cat a home where she will be cherished as much as she is now. She would love to keep in touch with Phoenix in her new home, but only if her new family are comfortable with it.
This is a very sweet cat that wraps her fluffy paws around your heart and never lets go. She is the cutest, cuddliest little cat you will ever meet. Please help bring about a happy ending to this very difficult situation. Adopt Phoenix Today!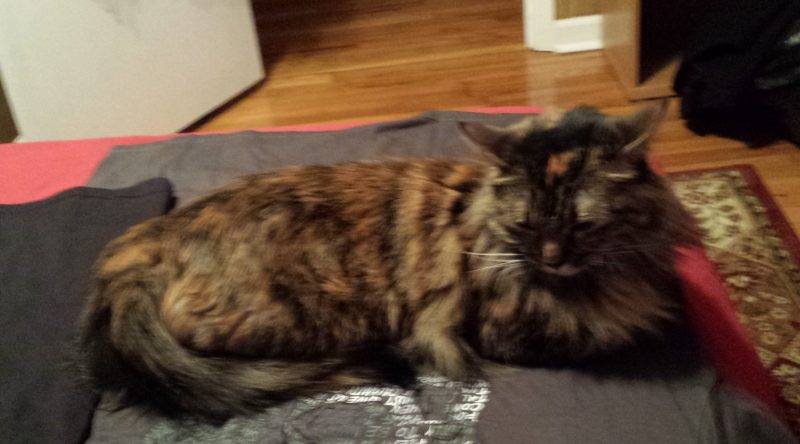 All About Phoenix – Maine Coon Mix Cat For Adoption Near Atlanta GA
Name of Pet: Phoenix
Location: Smyrna, GA, 30080
Type of Pet: Cat
Breed of Pet: Longhair tortoiseshell calico – Possibly Maine Coon mix
Sex of Pet: Female
Age of Pet: 7yrs
Weight: 10 Pounds
Spayed/Neutered?: Yes
Health Problems: No
Up To Date on Vaccinations: No
Gets along with cats: Unknown
Gets along with dogs: Unknown
Good with Children?: Yes
House Broken or Litter Trained?: Yes
Crate Trained?: No
Accessories Included: Cat box, food bowl and peacock feathers.
Phoenix's Personality
Very soft and silky
Loves to be loved
Very confident
She "talks" to you
She sits on my chest face to face and gives sweet kisses
Phoenix's Current Home Environment
Small Single home with 2 people full-time and 3 kids on weekends.
She is an indoor cat only and had never been an outdoor cat.
Phoenix's Current Family:
For the first 5 years of her life it was just her and I in my apt w/ my adult Chihuahua. Last July I got married and now it is he and I full-time and his 3 kids on weekends with my now geriatric Chihuahua.
Phoenix's Favorite Toys, Foods, Activities?
Peacock feathers!!!!! Bottle caps, waded up paper, crinkly plastic, hair bands, but she does not play with traditional cat toys. And she loves cat-nip
Cute Phoenix Story:
I found her at 4 weeks old in the middle of busy highway.
Why is Phoenix Being Rehomed?
My husband and 2 of my stepkids are very alergic and getting worse with time. We've been relying on zrytec or claratin, but it is not working anymore. My husband had gotten so bad he had developed severe sleep apnea and it becoming dangerous.
Phoenix's Perfect Adoptive Home Will Be:
Someone who will be patient with her as she takes a long time to adjust to new places, give her nooks to hide/sleep in, keep her food and water bowl full, love her, and let her sleep on their chest
Additional Comments:
I would like to keep in touch if possible, but I understand if that is awkward.
I really don't want to give her up at all, but I know it's the best thing to do.
Phoenix is a beautiful and cuddly long haired tortoiseshell Maine Coon mix cat for adoption in Smyrna GA Georgia near Atlanta and close to Marietta Phoenix is a beautiful and cuddly long haired tortoiseshell Maine Coon mix cat for adoption in Smyrna GA Georgia near Atlanta and close to Marietta Mableton Sandy Springs Austell Powder Springs North Atlanta Lithia Springs Dunwoody Kennesaw Atlanta Chamblee North Druid Hills Druid Hills Roswell Doraville The Highlands Rose Garden Hills Countryside at Cumberland McIvor Country Park Northwest Park Farmstead Cumberland Bridge Cumberland Hill Heritage Woodmere Oaks of Cumberland Waterford Gilmore Fair Oaks Vinings Riverwood GA. Adopt this gorgeous Maine Coon mix cat today.