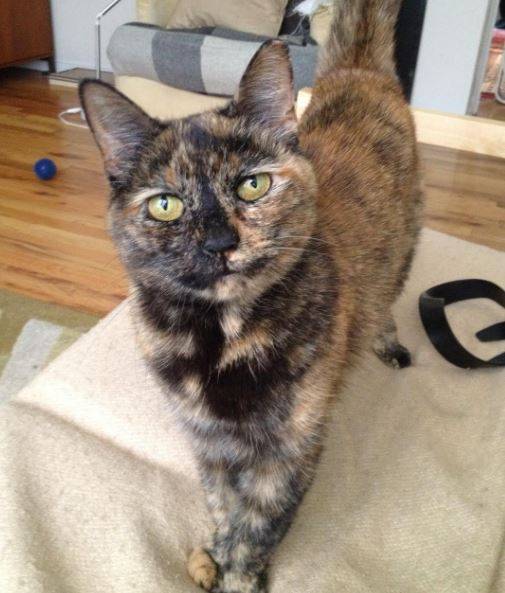 Meet Kitty Dukakis – Sensational Tortoiseshell Cat For Adoption in New York City NY
[button link="https://pet-net.net/adopt-a-pet/" size="large" variation="hotpink" align="center"]Request to Meet Kitty Dukakis Here![/button]
There is a $25 adoption/rehoming fee. All supplies will be included.
---
All About Kitty Dukakis – Tortoiseshell Cat For Adoption in NYC
Location: New York, NY, 10025
Type of Pet: Cat
Breed: Short hair tortoiseshell
Age: 9 years old
Color/Coat Type: Short hair tortoiseshell cat
Size: 8 lbs
Health Issues: No health issues
Behavior Issues: No behavior issues
Kitty Dukakis is:
Spayed, Litter Trained, House Broken
Kitty Dukakis gets along with:
Babies, Toddlers, Small Children, Older Children, Dogs
Personality
Kitty is super docile and sweet. She is very small, and a bit clumsy. She loves meeting new people, and expects to get scratches from them right away. Her hobbies include napping, using her scratching pad, and being super chill. She is super low maintenance and does not really get down for fancy canned food. She prefers dry. About 80% she will come prancing over to you when you snap your fingers.
She has lived with a hyperactive dog before, and she was fine with it.
Food and Diet
Kitty Dukakis is currently on Other
Purina Cat Chow Indoor Formula
Kitty is pretty chill about food. I keep her bowl full and she regulates it herself. She maintains the same weight regardless of the access she has to food.
Reason For Rehoming
I am moving out of the country for work and can not take her with me.
How to Adopt Kitty Dukakis – Beautiful Female Tortoiseshell Cat For Adoption in NYC
If you would like to consider offering Kitty Dukakis a loving, forever home, please fill out our Request To Meet A Pet form here:
https://pet-net.net/adopt-a-pet/
Once received, we will contact you to discuss your request and set up a mutually convenient time to meet Kitty Dukakis and their owner in their home.