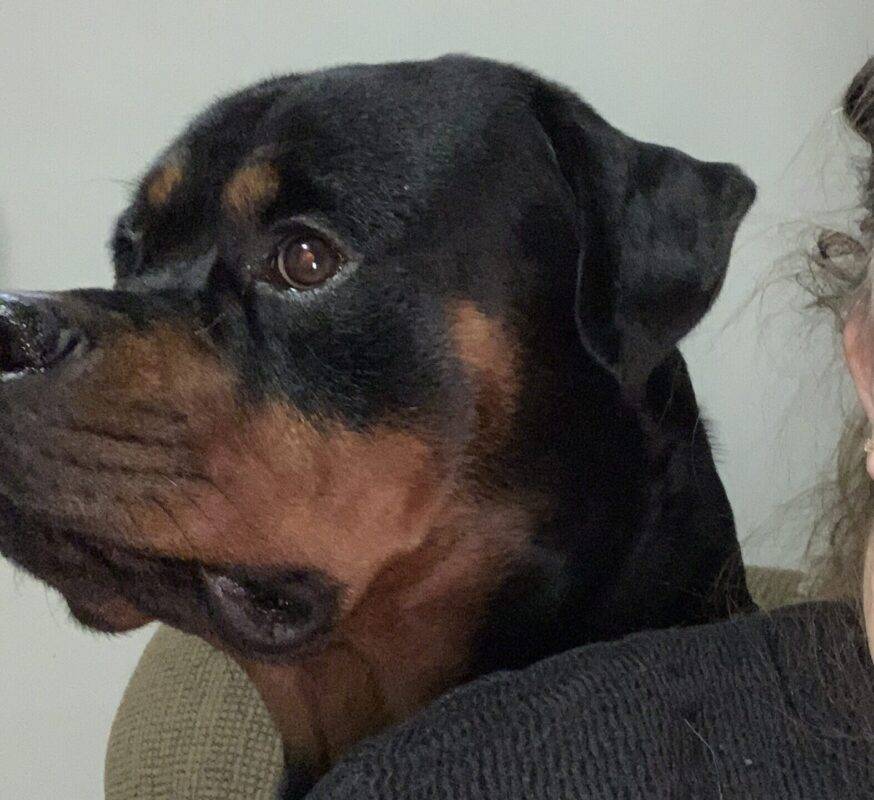 Meet Juice, Rottweiler Dog For Adoption in Oshawa Ontario
How To Adopt Juice
If you are interested in adopting this special Rottweiler For Adoption in Oshawa Ontario, please fill out our online meeting request below. Once received and reviewed, our staff will ask the pets owner to reach out to you and arrange a meeting.
There is a $300 adoption/rehoming fee. Some supplies and veterinary records will be included.
Questions about Juice? Contact our Rottweiler Dog rehoming team today.
Text "Juice" to (888) 833-2128 or email [email protected]. We look forward to hearing from you.
---
All About Juice – Rottweiler Dog For Adoption in Oshawa Ontario
♥ Name of Pet: Juice
♥ Location: Oshawa, Ontario, L1J5S3
♥ Type of Pet: Dog
♥ Breed of Pet: Rottweiler
♥ Color / Coat Type: Black / Tan
♥ Age of Pet: 2 1/2
♥ Size of Pet: Approx 115lbs
♥ Health Problems: None I am aware of
♥ Behavior Issues: He is a reactive male, does not do well outside the house with other dogs
♥ Gets along with: Adults Only, Cats
♥ Pet is: Fully vaccinated, Crate Trained, House Broken, Leash Trained, Obedience Trained
♥ Food: Other
He was eating pedigree when I became the owner I switch him to Kirkland from Costco (salmon / sweet potatoes) He had an ear infection so the vet said he was allergic to chicken
Juice's Personality
Goofy, sweet, well trained knows his commands sit, down, here stay. Drop it. Go to bed. Out. Sits for his paws to be dried. Sits before he goes outside sits and waits for food he is learning speak. But does not really bark. Walk good on leash until you see another dog. And then he becomes full blown protection mode which Makes socializing very hard
Why is Juice Being Rehomed?
My Rottweiler needs a second chance at life … he was given to us at 1 1/2 years with some bad habits, He is amazing but only with us meaning his new owner my son and I live in the house with 2 cats 1 kitten and a 15 yr shihzhu. And people he sees regularly…This dog learned manners when he came here … problem is he is Iffy on certain people and just hates dogs ( other then the one in our house). He is on a 10 quarantine as he nipped a Friend. Not aggressively and just one bite but still broke skin, did not rip her jacket. He is well trained know his commands and eager to please, I can show you videos. He was not socialized properly by previous owner and by us. He is just too much dog (approx 120lbs and he is 2 1/2 years old) He is not my first big dog. Just my first rottie.
Juice – Rottweiler Dog For Adoption in Oshawa Ontario
Juice is a Rottweiler Dog for rehoming in Oshawa, Ontario. She is located near the following towns and cities in Ontario:
Whitby ON,
Ajax ON,
Bowmanville ON,
Pickering ON,
Port Perry ON,
Uxbridge ON,
Whitchurch-Stouffville ON,
Scarborough ON,
Markham ON,
Millbrook ON,
Richmond Hill ON,
Port Hope ON,
Aurora ON,
Toronto ON,
Newmarket ON,
Adopt this Rottweiler Dog in Oshawa Ontario today.