All About Merri– Tabby Cat For Adoption In Pitman New Jersey
Name of Pet: Merri
Type of Pet: Cats
Sex of Pet: Male
Age of Pet: 12
Spayed/Neutered?: Yes
Health Problems: No
Behavior Issues: No
Up To Date on Vaccinations: Yes
Gets along with cats: Yes
Gets along with dogs: Yes
Good with Children?: Yes
House Broken or Litter Trained?: Yes
Crate Trained?: Yes
Accessories Included: I can provide whatever remaining food I have at the time of adoption, his beds, litter boxes and toys. He also has a cat tree if you would like to take it with you.
Want Twice as Many Purrs?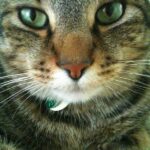 Adopt Merri along with his best friend, Pippin- a sweet Tabby cat!
Meet Merri! A Tabby Cat For Adoption In Pitman NJ Near Philadelphia PA
Merri is a Male Tabby Cat for adoption to a very loving home in or near Pitman NJ, a short distance from Philadelphia, PA. This very special male Tabby cat is 12 years old and weighs 11 pounds.
 Looking for a very special Tortoiseshell Tuxedo Tabby cat for adoption in Philadelphia PA?
Merri has such a sweet and affectionate personality that he could easily be considered a therapy cat. He is 12 years old and healthy. He has been neutered and de-clawed and is up to date on shots. Merri is litter trained, clean and well behaved. He has a routine that he loves, and is somewhat dog-like, following his owners around everywhere.
Sadly, his owner's allergies and health issues have become unmanageable and make it necessary to find a new home for Merri. She is dearly hoping to find Merri, who thrives on being cuddled and petted a new home where he will be cherished and kept safe, happy and healthy for the rest of his life. Merri  will be rehomed with his supplies. Adopt Merri today. He is waiting to show you the true meaning of unconditional love.
Adoption fees will be waived for a very good home. Supplies will be included.
Questions about Merri? Contact our Philadelphia Cat rehoming team today.
Text "Merri" to (888) 833-2128 or email [email protected]. We look forward to hearing from you.
MERRI'S PERSONALITY
Merri enjoys people and will follow you around. He has a very sweet temperament and is friendly to everyone including other animals. He is playful, affectionate and beautiful to look at.
MERRI'S CURRENT HOME ENVIRONMENT
My husband and I live in a large house. Merri has many comfortable spots and beds to curl up and lounge including a sunny closed in porch. He is not an outdoor cat and will not survive if let loose.
MERRI'S CURRENT FAMILY:
In his earlier years we were a family of six and Merri was raised with four loving children who played with and snuggled him. Our children are now grown and gone. With just my husband and myself Merri lives a peaceful and quiet life.
MERRI'S FAVORITE TOYS, FOODS, ACTIVITIES? 
Merri eats a high quality canned meat diet. As a mature male cat he is susceptible to urinary stones so dry kibble and seafood are eliminated. He loves to chase a string or piece of yarn and loves to sleep in a sunny spot.
CUTE MERRI STORY:
My youngest daughter did not want to play sports and we were trying to encourage her to get more outdoor exercise. We bought a stroller for the Merri and for years it was part of his routine to go for daily walks in the stroller. (He often wore a cape or scarf with aplomb.) He loved it as did our daughter.
WHY IS MERRI BEING REHOMED?
My allergies and health issues have become unmanageable and necessitate us finding a new home for Merri.
MERRI'S PERFECT ADOPTIVE HOME WILL BE:
We are looking for a safe home with people that love cats that will hold him and love him and care for him and take him to the vet and keep him up on his shots and play with him and snuggle him. I'm sure that he would love to have children to play with but as an older cat (12 years) he doesn't require a lot of activity as a young cat would.
How To Adopt Merri
If you are interested in adopting this special Tabby Cat For private rehoming in Pitman New Jersey, please fill out our online meeting request below. Once received and reviewed, our staff will ask the pets owner to reach out to you and arrange a meeting.
Questions about Merri? Contact our Tabby Cats rehoming team today.
Text "Merri" to (888) 833-2128 or email [email protected]. We look forward to hearing from you.
This handsome Tuxedo Tortoiseshell Tabby cat is located close to the following towns and cities in New Jersey and Pennsylvania:
Philadelphia PA,
Glassboro NJ,
Woodbury NJ,
Williamstown NJ,
Pine Hill NJ,
Lindenwold NJ,
Bellmawr NJ,
Gloucester City NJ,
Audubon NJ,
Haddonfield NJ,
Collingswood NJ,
Camden NJ,
Chester PA,
Darby PA,
Woodlyn PA,
Cherry Hill NJ,
Adopt this sweet senior male Tabby Cat in Pitman NJ today.