Sheepadoodle For Adoption in Springfield PA – Supplies Included – Adopt Dudley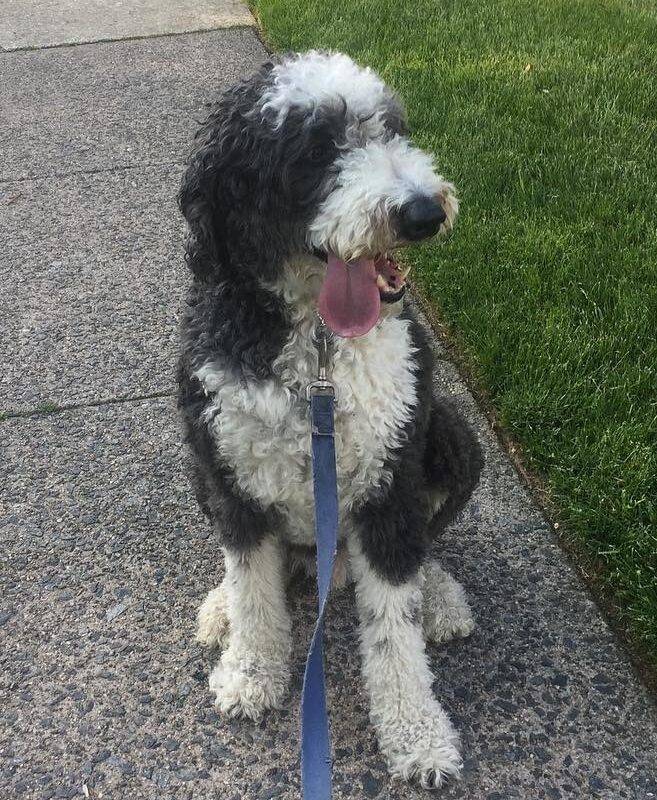 Meet Dudley, a Sheepadoodle Dog for Adoption by Owner in Springfield Pennsylvania
Looking for a Sheepadoodle Dog for adoption in Springfield PA and area? Just 7 years old and weighing 85lbs, this lovely Old English Sheepdog x Standard Poodle dog has been neutered, microchipped, fully vaccinated, crate trained, litter trained, house broken, leash trained, and obedience trained. Dudley is best suited to be an only pet in an adults only home with a large, securely fenced back yard.
Dudley's owners are very sad to have to rehome their beloved dog. They are dearly hoping to find a wonderful new home for Dudley with owners who will cherish Dudley and keep him safe, happy, and healthy for the rest of his life.
If you have room in your heart and home for Dudley, please complete our online meeting request form. Once received, our Springfield Dog Rehoming team will make arrangements for you to meet the owners and their adoptable Springfield Sheepadoodle Dog. Adopt Dudley today!
How To Adopt Dudley
If you are interested in this special Sheepadoodle For Adoption in Springfield PA, please fill out our online meeting request below. Once received and reviewed, our staff will ask the pets owner to reach out to you and arrange a meeting.
There is a $150.00 adoption processing fee. Supplies, accessories, and veterinary records will be included.
Questions about adopting Dudley?
Text DudleyPA to (888) 833-2128 . We look forward to hearing from you!

All About Dudley – Sheepadoodle Dog For Adoption in Springfield PA
♥ Name of Pet: Dudley
♥ Location: Springfield PA,, 19064
♥ Type of Pet: Dog
♥ Breed of Pet: Sheepadoodle
♥ Color / Coat Type: Black/White
♥ Age of Pet: 7
♥ Size of Pet: 85lbs
♥ Health Problems: Arthritis
♥ Behavior Issues: Anxiety/ Aggression
He has pretty bad anxiety, which has caused him to bite me once or twice.
♥ Gets along with: Adults Only
♥ Pet is: Neutered, Microchipped, Fully vaccinated, Crate Trained, Litter Trained, House Broken, Leash Trained, Obedience Trained
♥ Food: Hills Science Diet
---
Dudley – Sheepadoodle Dog For Adoption in Springfield PA
---
Dudley's Personality
Despite how I explained him above, he is an incredible sweet dog. He loves his people and really prefers to be sitting on the couch between me and my wife. He doesn't have a ton of energy. He will play fetch and loves going on walks.
We really just want him to have a good home. I think he is best in an adults only household with people who are used to having a dog around. We have previously had people reach out looking for him as their first dog, and I don't know if that's the best situation for him. We really don't want to have him put down so I am really hoping there is someone out there.
Why is Dudley Being Rehomed?
Dudley is generally a great dog. His issues really lie with babies and other dogs, which is why we are looking to rehome him. We recently had a child and there have been a few incidents where he tried to bite her. He is a perfect dog for a house with just adults. He is generally well behaved and trained well. We really do not want to lose him since he is a member of our family, but we can no longer take the risk of having him in our house with the baby.
We have been able to keep him here and just keeping the two separate, but that is becoming more and more difficult as the baby gets mobile.
Dudley lives in Springfield PA, close to Philadelphia and the following towns and cities:
Drexel Hill PA,
Lansdowne PA,
Broomall PA,
Darby PA,
Yeadon PA,
Woodlyn PA,
Ardmore PA,
Chester PA,
Philadelphia PA,
Camden NJ,
Woodbury NJ,
Gloucester City NJ,
Claymont DE,
King of Prussia PA,
Bellmawr NJ,
Thank you for your interest in this deserving Sheepadoodle Dog for adoption in PA.