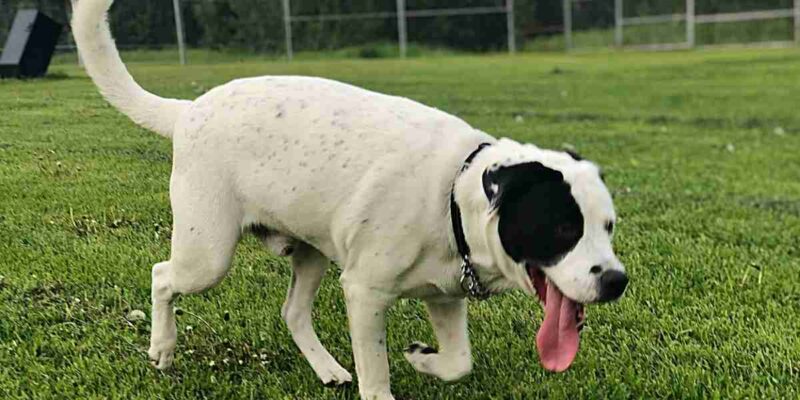 Akita Bullmastiff Mix Dog For Adoption in Beaumont Alberta – Supplies Included – Adopt Diesel
Bull Akita (Bullmastiff Akita Mix) Dog for Adoption in Beaumont, AB
Looking for a handsome Bull Akita Akita Bullmastiff mix dog for adoption near Edmonton in Beaumont, Alberta and area?  Just 2.5 years old and weighing 109 pounds, Diesel has been fixed, fully vaccinated, housebroken, microchipped, and leash trained.
Diesel is good with children, but recommended for those older than 6 and adults. He is good with small animals as well, as you can see in the photo above, where he is canoodling with his bunny friend.  Diesel considers himself to be a lap dog like his tiny Chihuahua buddy, so when it comes to toddlers, 100 plus pounds is far more than their laps can handle.  That is why we suggest he is best suited for more sturdy youngsters.
Diesel is a huge cuddle-bug (literally and figuratively). He loves nothing better than to snuggle up with (and often "on") his favorite person, and will do so for as long as you are willing. He's also active and energetic when the situation calls for it, but is not a pest about it. He's a very devoted dog and a wonderful companion with unlimited love for everyone in the family. He's a real softie – you won't find a sweeter dog.
This handsome dog is looking for a home with a big, securely fenced back yard for exercise and play. He enjoys a good, long walk every day, as well, and is great motivation to keep in shape.
Diesel's owners are very sad to have to rehome their cherished dog. With small grandchildren, they feel that Diesel will do better in a home with more sturdy kids. They are hoping to find a new home for Diesel where this special dog will be cherished and kept safe, happy, and healthy for life. He is an ultra-special dog that will be perfect for a family looking for the most amazing dog to add love, joy, laughter and companionship to their home. Adopt this handsome Akita mix today.
How To Adopt Diesel the Bull Akita Dog in Beaumont AB
If you have room in your heart and home for Diesel, please complete our online meeting request form. Once received, our Edmonton Dog Rehoming team will make arrangements for you to meet Diesel and his owners. Adopt Diesel today!
There is a $150.00 adoption processing fee. Supplies, accessories, and veterinary records will be included.
Questions about adopting Diesel?
Text DieselBEAUMONT to (888) 833-2128.  We look forward to hearing from you!
---
All About Diesel – Akita Bullmastiff Mix For Adoption in Beaumont AB
♥ Name of Pet: Diesel
♥ Location: Beaumont, AB Near Edmonton
♥ Type of Pet: Dog
♥ Breed of Pet: Akita Bullmastiff mix
♥ Color / Coat Type: White with black spots, medium length hair
♥ Age of Pet: 2.5 years
♥ Size of Pet: Medium height, 109 pounds
♥ Health Problems: No
♥ Behavior Issues: No
♥ Gets along with: Children, adults, small animals, dogs, cats
♥ Pet is: Fixed, Fully Vaccinated, Housebroken, Microchipped, Leash Trained
♥ Food: Acana
Diesel – Akita Bullmastiff  Mix Dog For Adoption in Beaumont AB
---
Diesel's Personality
Very loving and cuddles. He will cuddle you as long as you want. Loves to be pet or brush. Loves walks.  Needs daily exercise and is very well behaved. He does get excited when you get home, and will act hyper and jump up. Once he settles down he is perfect. He does need an active family that can give him the activity he needs.
Why is Diesel Being Rehomed?
I have a grand baby that moved in, Diesel is too big for the apartment and accidentally jumped on the newborn. Diesel needs a bigger house, and more attention and walks.
Nearby Locations
Diesel is located in Beaumont, AB, close to the following towns and cities:
Leduc AB,
Devon AB,
Edmonton AB,
Sherwood Park AB,
Calmar AB,
Millet AB,
Saint Albert AB,
Spruce Grove AB,
Fort Saskatchewan AB,
Wetaskiwin AB,
Stony Plain AB,
Tofield AB,
Morinville AB,
Bon Accord AB,
Camrose AB.
Thank you for your interest in this deserving Akita Bullmastiff for Adoption in Edmonton AB.