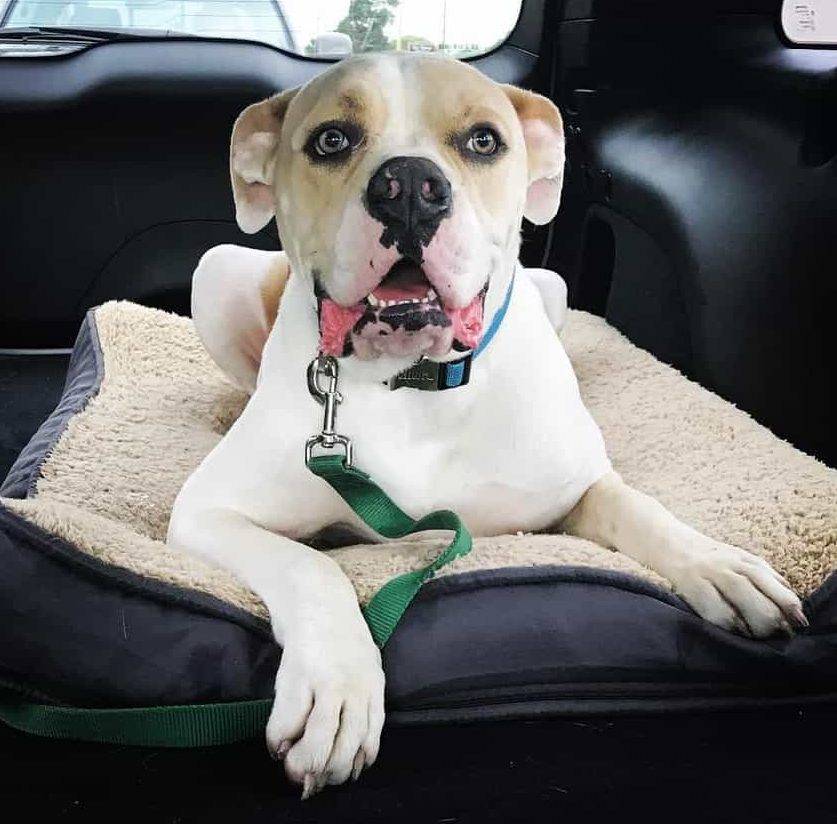 American Bulldog For Private Adoption Near Dallas Ft Worth Texas – Adopt Tex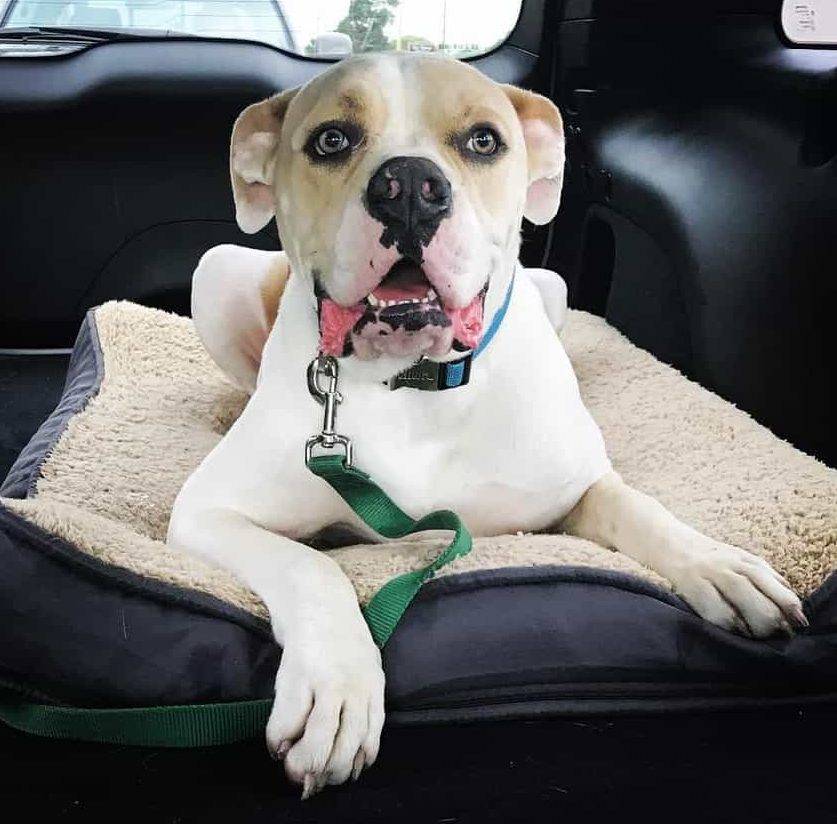 Meet Tex, American Bulldog Dog For Adoption in McKinney TX
Tex is a Male American Bulldog Dog for adoption to a very loving home in or near McKinney, TX, close to Dallas Fort Worth. This very special Dog is 3 years old and weighs 80 lb pounds. He is fixed, Micro-chipped, house broken and crate trained. He will be adopted with supplies and vet records.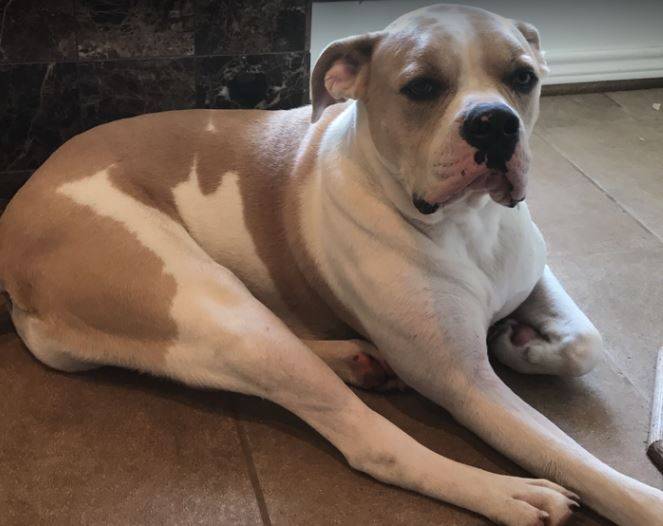 Tex is a very affectionate and loyal dog. He is good with people of all ages and sizes. Tex gets along well with other dogs. He is not friendly to  cats. Because of his "Joie de Vivre" and size, he is perhaps not a great choice for a family with tiny tots – only because he might accidentally knock them over while showing his extreme enthusiasm in welcoming them.
Tex is still a puppy in many ways, and could use some further training to become the best dog in Texas. He is well on his way there, and in the right home with dog-lovers who have the time to give him the care, attention, playtime and exercise he needs and deserves, he will shine. Tex needs a couple of good daily walks to keep him happy and healthy. He would make a great buddy for another energetic dog living in a home with a big, securely fenced yard.
Tex's owners love him to bits, but have come to realize that they are not able to give Tex enough of their time and attention, which is not fair to him. With a new baby on the way and working long hours, Tex is being somewhat neglected. He deserves to be in a home with people who can give him what the current owners cannot – and to be cherished unconditionally with lots of affection.
Ready To Love Dog With Supplies Included
Tex will be rehomed with all supplies the owners have on hand for him, as well as his veterinary records. If you have room in your heart and home for this beautiful American Bulldog, please offer Tex his forever home today. He can't wait to wow you with wiggles and show you the true meaning of unconditional love. Adopt Tex in McKinney TX today.
There is a $150 adoption/rehoming fee. Supplies and veterinary records will be included.
Questions about Tex? Contact our Dallas TX Dog rehoming team today. Text "Tex" to (888) 833-2128 or email [email protected] We look forward to hearing from you.
---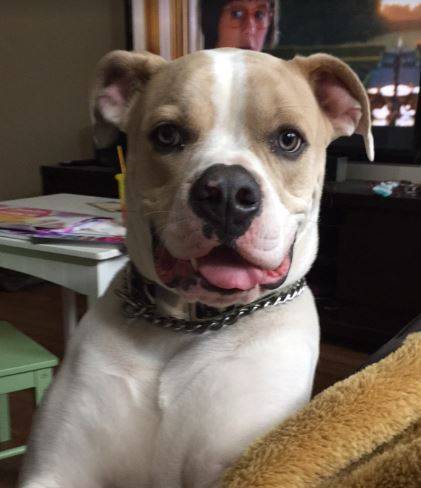 All About Tex – American Bulldog Dog For Adoption in McKinney TX
Name of Pet: Tex
Location: McKinney, TX, 75070
Type of Pet: Dog
Breed of Pet: American Bulldog
Sex of Pet: Male
Age of Pet: 3
Spayed/Neutered?: Yes
Health Problems: No
Behavior Issues: Yes He can be destructive if left alone or bored, and he gets very excited with new company and jumps.
Up To Date on Vaccinations: No
Gets along with cats: No
Gets along with dogs: Yes
Good with Children?: Yes
House Broken or Litter Trained?: Yes
Crate Trained?: Yes
Accessories Included: Food, microchip information, bones and toys
Tex's Personality
He is loving and loyal.
He has a fun personality.
He is great with kids, but due to his size, bigger kids would be better.
He follows me around the house and lays by my side.
He is protective.
Tex's Current Home Environment
We live in a house with a backyard and a tall wooden fence.
Tex's Current Family:
I am a teacher and my husband travels for work. We have a 6 year old daughter and just welcomed a newborn baby girl.
Tex's Favorite Toys, Foods, Activities?
He loves to chew bones and has a favorite squeaky ring he plays with.
Cute Tex Story:
Tex loves when my husband wears crocs. He will gnaw on them while they're on his feet. He's also a talker! He cracks us up with all the sounds he makes when getting our attention.
Why is Tex Being Rehomed?
We just brought home a newborn baby, so he is not getting the attention he deserves. Because of this, he is left unattended and bored and finds objects to chew. My husband travels for work a lot, and I am unable to handle him by myself due to his size and strength.
Tex's Perfect Adoptive Home Will Be:
He needs a family who loves and understands big dogs. He needs more attention than he is getting now and regular walks to get out his energy.
How To Adopt Tex – American Bulldog For Adoption Near Fort Worth TX
If you are interested in adopting this special American Bulldog Dog For private rehoming in McKinney TX, please fill out our online meeting request below. Once received and reviewed, our staff will ask the pets owner to reach out to you and arrange a meeting.
There is a $150 adoption/rehoming fee. Supplies and veterinary records will be included.
Questions about Tex? Contact our American Bulldog rehoming team today. Text "Tex" to (888) 833-2128 or email [email protected] We look forward to hearing from you.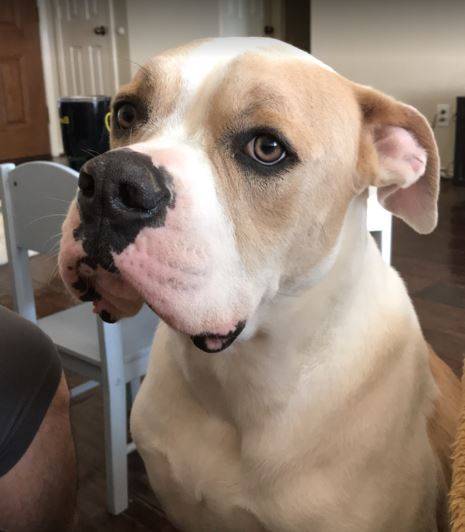 Tex – American Bulldog Dog For Rehoming Near Arlington TX
Tex is a American Bulldog Dog for private adoption by owner in McKinney TX. This pet is located close to the following towns and cities in TX:
31 miles to Dallas TX, 
43 miles to Arlington TX, 
52 miles to Fort Worth TX, 
Allen TX,
Frisco TX,
Plano TX,
Wylie TX,
Sachse TX,
The Colony TX,
Richardson TX,
Little Elm TX,
Garland TX,
Addison TX,
Rockwall TX,
Rowlett TX,
Carrollton TX,
Lewisville TX,
Farmers Branch TX,
Adopt this sweet American Bulldog Dog in McKinney TX today.