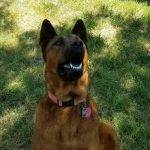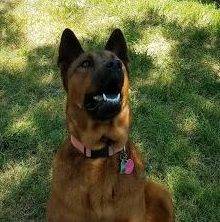 Rusty has been rehomed! It took just under a month to find them, but Rusty has already stolen the hearts of his new owners, Rolfe and Alison, who traveled from Austin to Garland to meet and take Rusty home with them.
Need to Rehome a Dog or Puppy in Dallas and area?
Our pet rehoming coordinator would be happy to speak with you and provide you with details about our safe and effective pet rehoming process. We have found wonderful homes for dogs and puppies throughout Texas. Call us at (888) 720-3322 or contact us here. We are here for you!
Ready to begin the rehoming process?
---
From Rolfe, Rusty's new owner:
Hello Debbie

We are so very happy and Rusty is too! I drove up to Garland and immediately knew Veronica was a super person and Rusty also!

It took Veronica quite sometime to attempt to convince Rusty to go with me. We went for a walk first and then I had to go inside and she picked up Rusty and put him in the back seat of our truck. Then we drove around for a while. I was at Veronica's home for a little over an hour and she said goodbye to Rusty. I know Veronica and Rusty were best friends and the transition is overwhelming to both of them. Alison and I will remain in contact with Veronica and give her updates all the time.

Since Veronica and I parted in the driveway she will send me his toys and a few more paperwork details and I will then be able to complete the Adoption Form.

Here are a couple pictures of Rusty.

On his way to his new home.

Wow! Nice place, maybe I will stay a while.

Actually – I LOVE it here!

Ahh! This is the life!

Many Thanks
Rolfe & Alison
From Veronica, Rusty's foster owner:
Hello Debbie,

Thank you for all your help in finding a family to adopt Rusty. The family that adopted Rusty will love and care for as a member of the family. Finding the right family is important because he got off a rough start. The screening process and introductions are well worth fee. Being assured that he will be well cared for is the most important thing. Rusty deserved a good home and family. Thanks to your efforts and patience the right home was found. Also thank you for guiding me through the process.

Rolfe and Alison are wonderful people. I have received text messages and phone calls letting me know how Rusty adjusting. While we miss Rusty I know he is being well cared for and is making good adjustment.
I am more than happy to recommend you to anyone who needs to find a new home for a pet.

Thanks again for your help and efforts.

Veronica

P.S. Last report Rusty has glued himself to Alison and she is treating him like a little prince.
---
Here is how our Dallas Pet Rehoming Team Presnted Rusty to attract his new family:
Hi, My name is Rusty!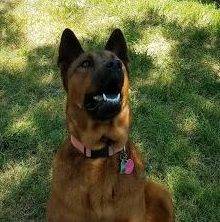 Rusty is the ultimate dog! This 49 pound bundle of love and licks is a gorgeous red colored German Shepherd / Chow Chow mix. He is only 2, very healthy, fixed, up to date on shots and micro-chipped. Rusty is house trained and very well behaved. Rusty lives in Garland, Texas (near Dallas) with his foster mom.
READ MOREREHOMED! Rusty – German Shepherd Chow Chow Mix Dallas Texas