Australian Shepherd Mix Dog For Adoption Denver CO – Adopt Darley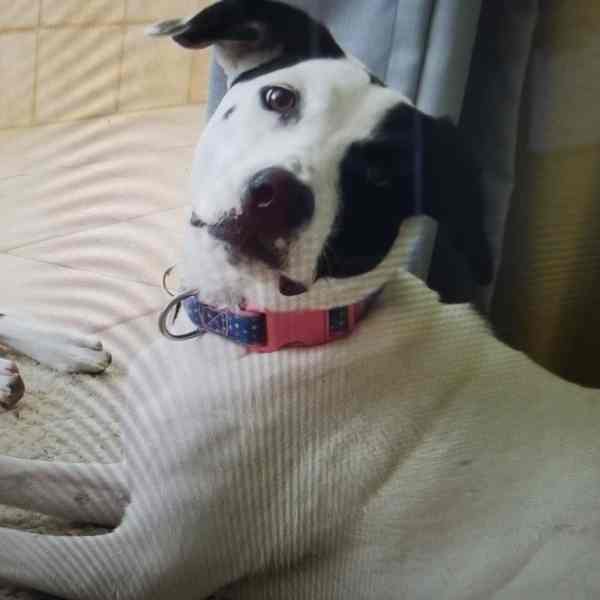 Australian Shepherd Mix Dog For Adoption Denver CO – Adopt Darley
If you are looking for just one special dog to complete your family, Darley is waiting to meet you. An Australian Shepherd American Pitbull Terrier mix dog for adoption near Denver, Colorado, this gorgeous medium sized dog is just 2 years old and weighs 35 pounds. Darley is very healthy, fixed and micr0-chipped. She is house broken and well-behaved. Darley is good with older children and adults.
Darley has a very sweet personality and loves to cuddle. She shows how much she loves her humans every day, and she greets you with gusto even if you have been gone only 5 minutes. Darley has so much love to offer, but needs a home where she is the only pet. She also needs a securely fenced back yard, and owners who have the time to give her their love and attention, and where she receives the care, nutrition, exercise and companionship she needs and deserves.
How To Adopt Darley
If you are interested in adopting this special Australian Shepherd Mix Dog for adoption in Henderson, CO, please fill out our online meeting request form below. Once received and reviewed, our staff will ask the pets owner to reach out to you and arrange a meeting.
There is a $150 adoption/rehoming fee. Some supplies and veterinary records will be included.
Questions about Darley? Contact our Australian Shepherd Mix rehoming team today.
Text "Darley" to (888) 833-2128 or email [email protected]. We look forward to hearing from you.
---
Facts About Darley
♥ Name of Pet: Darley
♥ Location: Henderson, CO  80640
♥ Type of Pet: Dog
♥ Breed of Pet: Australian_Shepherd Mix Dog
♥ Color / Coat Type: White Black
♥ Age of Pet: 2
♥ Size of Pet: medium
♥ Weight: 35 approx
♥ Good with cats?: Unknown
♥ Good with dogs?:No
♥ Good with small kids?:Good With Children aged 8 and up
♥ Good with older kids?:Good With Children aged 8 and up
♥ Health Problems: No
♥ Behavior Issues:Aggression towards dogs
♥ Fixed: Yes
♥ Fully vaccinated: No
♥ House Broken: Yes
♥ Tattoed/Microchipped: Yes
All About Darley
Darley's Personality
Darley is actually a very SWEET sweet girl. She is an absolute cuddler and kisser! She is always wagging her tail and isn't afraid to show that she's missed you even if youve only been gone for 5 minutes! She also has a wilder side, that when she gets into the mode of a possession item, it is VERY hard to distract her from it. She is not aggressive to people, but usually takes about 5-10 minutes to warm up to humans that are brand new.
I love that she is cuddly. I love that she is protective. I love that she looks after her brother (probably a little too much). I love that she is a pretty calm dog – she no longer digs and destroys things like she did when she was a baby! I love that she is SO smart – she picks things up very quickly and doesnt forget them!
Darley's Favorite Toys, Foods, Activities?
Darley loves anything that makes noise! She LOVES squeaky toys, giggle balls, something to chase after and play catch as well as fetch. She is on a grain-free diet and has flourished well with her development. She is a true lap dog, if you let her! She can also play hard until she drops!!
Cute Darley Story:
We adopted Darley and her brother when they were just babies (I believe they were only about 9 weeks old). They both had Parvo and were being treated for it. They were very sickly and they didnt think they were going to make it. We used to have them sleep on a warming pad, just to keep their body temp up! They both fattened up quickly and became normal size! We used to put them in a playpen when I was working upstairs so they wouldnt try to escape and tear up the house (3 levels!) and once they found out how to jump, that was the end of that!!
Why is Darley Being Rehomed?
Darley recently has had possession and aggression issues and we can usually tell that it is coming on. This has happened twice which resulted in major medical care for one of our older dogs (4 year old lab/mix). The most recent aggression issue happened yesterday 2/16/21 in which she would NOT let go of the other dog and caused her to be rushed to the emergency vet at 10 PM, requiring the other dog to get over 25 stitches from her neck down and a drain placed for fluid buildup. I just cannot trust her with our other animals at this point anymore. We have tried all things possible and wanted to keep her and her brother (who has a TOTALLY different personality) together, but in talking with experts, realize that they probably should have never been homed together in the first place. We don't want him to pick up the habits she is showing now, as he is a complete opposite of her personality. There are small children in the home, and we are terrified that this may happen to a child next time.
Darley's Perfect Adoptive Home Will Be:
We are truly hoping that someone can take Darley into their home that does not have ANY other animals so that they will be able to give her 100% of their attention. Though she is not lacking attention at our home, she may feel that way, and that may be causing the aggression. We would like someone who can stay active with her as she loves to play with toys and make her owner happy by bringing whatever is thrown to her back to them. She is a cuddler and needs that same reciprocation in human form. A medium size yard would be great, she does come and go thru the doggie door in our home now, so is experienced with both the in/outdoors. She LOVES to go for a brisk walk and show you where to go, so someone who is willing to take her for lots of walks is a major major plus! We are also hoping to stay in contact with the new owners so that she does not forget us or her brother as they are very close!
Additional Comments:
Darley has not been seen by the vet recently due to COVID. Therefore, she is not up to date on her shots. The last shots she had were done at the Adams County Animal Shelter. We have a family vet for our older dogs, but they have never seen her there. I will attach their information, but they will have no records of Darley there.
Thank you so much for your help and listening to our story. I hope you can help us. We dont know what we can do from this point on.
Questions about Darley?
Contact our Henderson Dog rehoming team today.
Text "Darley" to (888) 833-2128 or email [email protected]. We look forward to hearing from you.
Darley's Location
Darley is located near the following towns and cities in CO.
Brighton CO,
Thornton CO,
Northglenn CO,
Welby CO,
Federal Heights CO,
Commerce City CO,
Sherrelwood CO,
Westminster CO,
Broomfield CO,
Lafayette CO,
Erie CO,
Aurora CO,
Denver CO,
Arvada CO,
Louisville CO,
Adopt Darley
Thank you for your interest in this stunning Australian Shepherd Mix mix Dog for adoption in Henderson.