Australian Shepherd Pitbull Mix Puppy For Adoption by Owner in Brooklyn NY – Supplies Included – Adopt Fish Toast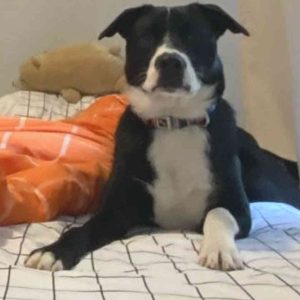 Meet Fish Toast – Pre-Loved Australian Shepherd Pitbull Mix Puppy For Adoption by Owner in Brooklyn NYC
Fish Toast is a Male Australian Shepherd Pitbull mix puppy for adoption to a very loving home in or near Brooklyn, New York. This very special pup is 9 months old and weighs 45 pounds.
Also referred to as an Aussie Pit puppy, Fish Toast is what we call a "ready to love" puppy. He has been fixed and fully vaccinated, house broken and crate trained. He is good with children and gets along well with both dogs and cats. Fish Toast likes to be active, and is best suited for a family who have a large, fenced yard and lots of time to spend with him.
Fish Toast is such a joyful dog. He is up for anything, particularly when it includes going somewhere and doing something. He doesn't enjoy spending all his time indoors or being sedentary. He would love to go to the park and learn to play frisbee, accompany you on a long afternoon walk, or go somewhere in the car.
Fish Toast's owner is a busy student who moved with Fish Toast from her home in Texas to attend school and work. She is finding it very difficult to keep up with her job and studies while keeping Fish Toast happy.
She wants her beautiful puppy to live his best life, and feels that he needs to be placed with a family in a better position to ensure he gets the playtime, exercise, companionship and loving care that he needs and deserves.   Fish Toast would be in 7th Heaven in a family where there is another energetic dog to play with.
If you have room in your heart and home for this deserving Australian Shepherd mix  puppy, then please offer Fish Toast his forever home today. This amazing puppy can't wait to show you the true meaning of unconditional love. Adopt Fish Toast today!
How To Adopt Fish Toast
Please fill out our online meeting request below. Once received and reviewed, our staff will ask Fish Toast's owner to reach out to you and arrange a meeting.
There is a $150 adoption/rehoming fee. Supplies and veterinary records will be included.
Questions about Fish Toast? Contact our Australian Shepherd puppy rehoming team today.
Text "FishToastNYC" to (888) 833-2128
We look forward to hearing from you.
---
All About Fish Toast – Australian Shepherd Puppy For Adoption in Brooklyn NYC
Name of Pet: Fish Toast
Location: Brooklyn, NYC, 11216
Type of Pet: dog
Breed of Pet: Australian Shepherd / American Pit Bameull Terrier
Sex of Pet: Male
Age of Pet: 9 months
Spayed/Neutered?: Yes
Health Problems: No
Behavior Issues: No. He is an energetic puppy learning the ropes of being a dog. Like all Aussies, he likes to stay active and is not happy being sedentary. He needs active owners who love the outdoors. Fish Toast would love to become the frisbee champion of Central Park.
Up To Date on Vaccinations: Yes
Gets along with cats: Yes
Gets along with dogs: Yes
Good with Children?: Good With Children aged 8 and up
House Broken or Litter Trained?: Yes
Crate Trained?: Yes
Accessories Included: Everything he has:
-Kennel
-Toys
-Dog food
-Treats
-Leash and Harness
-Dog shampoo
-Nail clippers
Fish Toast's Personality
He's such a happy-go-lucky, excitable dog. He loves people, other animals, and children. He's always on the move, loves playing and cuddling, and eats just about anything.
Fish Toast is an Amazing Companion Because He She is:
1) How happy he is all the time.
2) He's so cute
3) He's super food motivated
4) So excited, about everything.
5) Loves cuddling.
Fish Toast's Favorite Toys, Foods, Activities?
He loves anything he can shred and destroy, he has a Gumby toy he loves chewing. Busy bones are his favorite type. He loves running and going for long walks, loves eating trash (or trying to) and playing with other dogs.
Cute Fish Toast Story:
All of his life has been so silly and goofy, he's such a good dog. I love all the tiny moments we have together, him playing around at the dog park, learning to sit when he meets new people.
One of the events that I remember most, is moving him to New York. He was so excited to see me again, and I remember walking down the street meeting the person who brought him up from Texas, and Fish Toast was out and running around like a madman. It was so nice to be greeted like an old friend (or parent).
Why is Fish Toast Being Rehomed?
I recently moved to Brooklyn by myself, living in the city is much different than what I'm used to. My mental health has taken a toll from the big change, and I'm overwhelmed with everything.
I'm in the middle of a program and am busy with a full time job and programming in addition to that. Fish Toast has been suffering under my new schedule, I tried to get him into daycare, but am not making enough money to afford it as often as I need.
He really needs a house/home with a backyard and an active family that can care for him. A person or people who can train him and exercise him regularly.
Fish Toast's Perfect Adoptive Home Will Be:
Active family, someone or some people who can exercise him, train him, and watch him. He's a good dog, but an active one, and isn't meant for apartment living.
Ideally a family with another dog to keep him company, or someone with a lot of energy who goes out on long hikes often.
Fish Toast is a Australian Shepherd puppy for private adoption by owner in Brooklyn NYC. He She is located close to the following towns and cities in the NYC area:
New York NY,
Hoboken NJ,
Jersey City NJ,
Bayonne NJ,
Weehawken NJ,
Union City NJ,
West New York NJ,
Guttenberg NJ,
North Bergen NJ,
Secaucus NJ,
Fairview NJ,
Cliffside Park NJ,
Edgewater NJ,
Woodmere NY,
Valley Stream NY,
Adopt this deserving Australian Shepherd American Pit Bull Terrier mix Aussie Pit puppy in Brooklyn NYC today.