Handsome Bernedoodle Puppy For Adoption in Myrtle Beach SC – Supplies Included – Adopt Angelo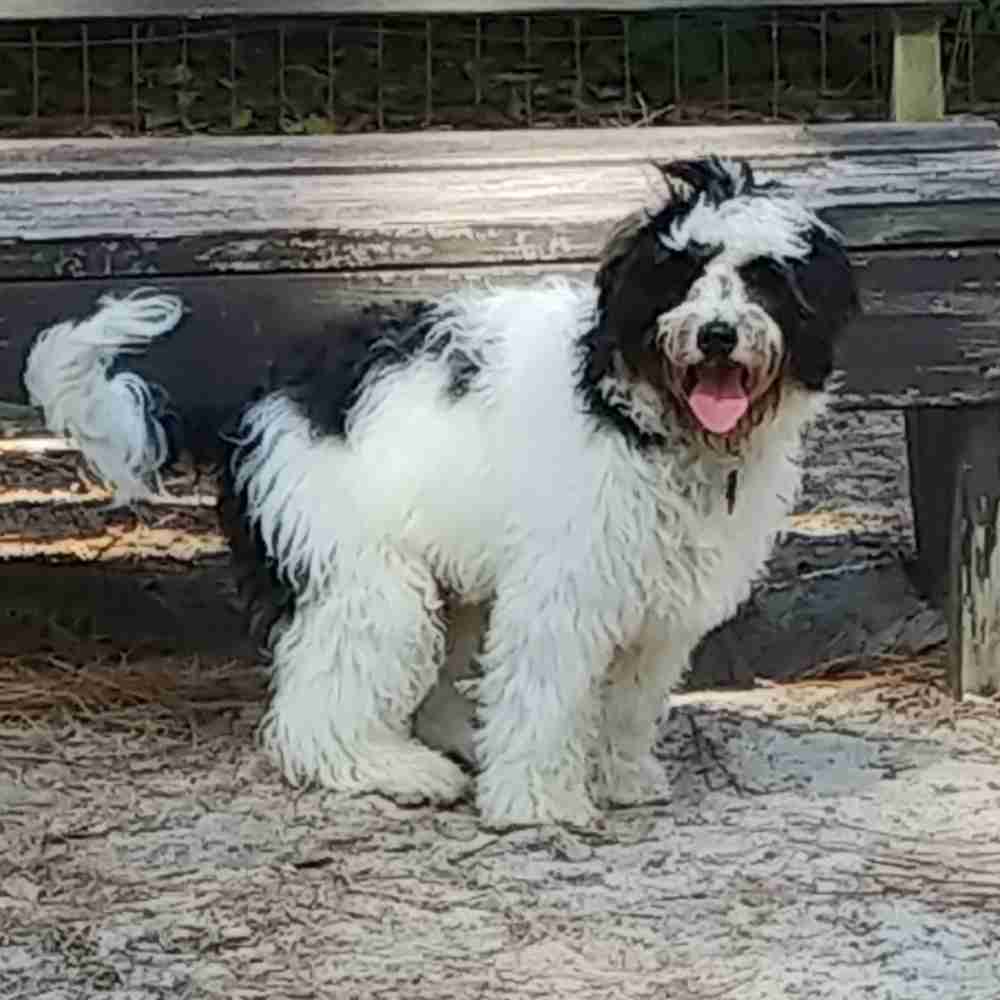 Amazing Bernedoodle Puppy for Adoption in Myrtle Beach, SC
Looking for a Bernedoodle puppy to adopt in Myrtle Beach, SC? If you are a fan of this designer dog breed that is a mix of Bernese Mountain Dog and Miniature Poodle, 6 month old Angelo may be your dream puppy! Weighing only 24 lbs, Angelo has been fully vaccinated, microchipped, leash trained and crate-trained. He loves people of all ages and sizes, and is very good with other dogs. He should do well with dog-friendly cats, so long as they like to play.
Angelo is a puppy that is filled with joy for life. He loves to greet each day with gusto, and enjoys being outdoors running and playing. His favorite game is tug-o-war, and he loves to learn new things like walking on a leash, and greeting people in a polite manner.
Angelo is crate trained, and 85% of the way potty trained. He just needs a little more encouragement and positive reinforcement to master this important achievement. He is soon to grow up into the best medium sized dog in Myrtle Beach.
Angelo's owners are very sad to have to rehome their cherished puppy. They have come to realize that, as seniors developing some health issues, they don't have the ability to provide Angelo with the time and activity he needs to be happy and healthy.
They are dearly hoping to find a new home for Angelo where this special puppy will be cherished and kept safe, happy, and healthy for life. He would be ideal for a family with kids old enough to get out and play with Angelo. A family with another medium sized, energetic dog would be ideal.
How To Adopt Angelo the Bernedoodle Puppy in Myrtle Beach SC
If you have room in your heart and home for Angelo, please complete our online meeting request form. Once received, our Myrtle Beach puppy Rehoming team will make arrangements for you to meet Angelo and his owners. Adopt Angelo today!
There is a $850.00 adoption fee. His crate, playpen, and all toys, treats and food will be included.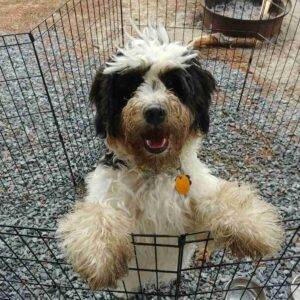 Questions about adopting Angelo?
Text AngeloBERNEDOODLE to (888) 833-2128. We look forward to hearing from you!
---
All About Angelo – Bernedoodle puppy For Adoption in Myrtle Beach SC
♥ Name of Pet: Angelo
♥ Location: Myrtle Beach, SC, 29579
♥ Type of Pet: puppy
♥ Breed of Pet: Bernedoodle
♥ Color / Coat Type: tri color, long coat no shedding
♥ Age of Pet: 6 mo
♥ Size of Pet: 24 lbs
♥ Health Problems: none
♥ Behavior Issues: he does puppy things
He is learning not to jump up on people or furniture.
♥ Gets along with:
♥ Pet is: Fully Vaccinated, Microchipped, Leash Trained, Crate-trained
♥ Food: Other
purina pro plan puppy
3 times a day about 3/4 cup along with plenty of water. We try not to give him water after 7pm
Sometimes he doesn't eat but a sprinkle of cheese on his food does the trick.
Angelo – Bernedoodle Puppy For Adoption in Myrtle Beach SC
---
Angelo's Personality
A happy dog very smart and active. He loves people and dogs. He loves to be cuddled and play tug of war. He walks well on a leash and sleeps in his crate from about 9 pm to 8 am. He is pretty much potty trained but you will need to walk him every 2-3 hours. We took him camping for 7 days and he loved it.
Why is Angelo Being Rehomed?
We are senior citizens with developing health issues. We don't feel we can give him the active lifestyle that he deserves. We are just too old to keep up with him. he loves to be outdoors and to run and play and he sleeps all night in his crate.. He knows several commands like sit, stay, down, and "look at me" He is a beautiful sweet dog and it hurts us to give him up.
We are asking $850 for him, his crate, his playpen, and all his toys and treats and food.
We would like him to be in a loving home and be around people as much as possible.
Would do well with a pre teen to train him. (The energy levels would match!)
Nearby Locations
Angelo is located in Myrtle Beach, SC, close to the following towns and cities:
Socastee SC,
Conway SC,
North Myrtle Beach SC,
Georgetown SC,
Florence SC,
Lumberton NC,
Wilmington NC,
Bennettsville SC,
Mount Pleasant SC,
Laurinburg NC,
Goose Creek SC,
Hanahan SC,
Sumter SC,
Ladson SC,
North Charleston SC,
Thank you for your interest in this deserving Bernedoodle puppy for adoption in Myrtle Beach, South Carolina.