Tuxedo Cats For Adoption Near You – Rehome or Adopt a Black and White Tuxedo Cat
Looking for Tuxedo cats for adoption near you? Pet Adoptions Network showcases privately owned Tuxedo cats and kittens looking for good homes throughout the USA and Canada.
Listed below, you will find Tuxedo cats and kittens for adoption throughout the USA and Canada.
---
Tuxedo Cat Rehoming Services
Need to Rehome your Tuxedo cat? If you own a Tuxedo cat or kitten and are no longer able to care for him, Pet Adoptions Network offers expert guidance in finding the perfect home for your cherished cat..
Through our proven method for finding new homes for pre-loved cats, you and your pet will stay safe, happy and healthy while our cat rehoming team presents your cat with both pros and cons, ensuring that we attract the right person or family with the type of home environment, schedule, activity level and commitment.

We then screen potential adopters for your pet with a background and references check. This helps to make sure that your cat goes to the right home – not to folks that are unable to offer what your cat needs and deserves.
We know that rehoming your Tuxedo cat is a very stressful and heartbreaking situation for you and your family. We shield you from unkind comments from judgmental people by keeping your identity and information private. Potential adopters will deal only with our staff initially, and will only know your identity when you call them to arrange a meet up.
Our rehoming coordinators will walk you through our process for making the decision on a candidate, making contact, and then setting up a meeting where both you and the prospective adopters get to know each other, they meet your dog, and both parties then take a day or two to decide if an adoption should proceed.
We will again guide you through the process of transitioning your beloved cat into their new home, making sure that it is as stress-free as possible for everyone involved.
And our process doesn't end there. Our staff will stay in contact with the new owners for up to a year, making sure that all is well. If, for any reason, things do not work out, we will locate another good home for your cat, normally while he stays in his new owners home.
If you are in the distressing situation of having to rehome your Tuxedo cat or kitten, we offer the most stress-free, sensible, safe and comforting process for finding your cat the right new home – his "forever home".
Talk to one of our compassionate and knowledgeable rehoming coordinators today. Text us toll free on (888) 720-3322, fill out our no obligation information request, or email us at petrehomingnetwork@gmail.com. We will set up a mutually convenient time for a courtesy telephone call to answer all your questions, provide you with some much-needed empathy, and give you hope and peace of mind about your dog's future.
Tuxedo Cats and Kittens For Adoption
Adoption Application   –  Get on Waiting List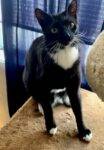 Tuxedo Cat For Adoption in Sandy Springs GA – Rehome Adopt a Black and White Tuxedo Cat
Have you been looking for an amazing Black and White Tuxedo Cat for adoption in Sandy Springs, GA?  Sanji is a delightful 3 year old male cat looking for a new home where he can be the cherished only cat of an adoring owner. This handsome boy is fixed and up to date on his shots. He is healthy, well behaved, affectionate and very amusing.
...