ADOPTED Black Lab Pitbull Mix Dog Near Baltimore – Domino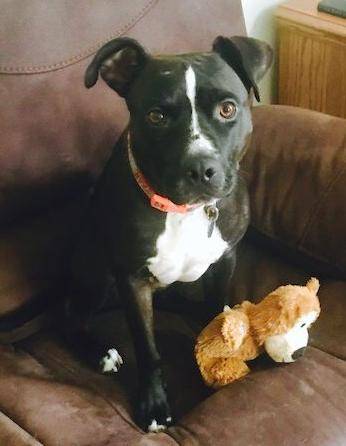 Domino Has Been Adopted!
Domino is a smaller sized 1 year old Labrador Retriever Pitbull mix. She is very sweet, playful and funny. She loves to cuddle and she loves to play with her stuffed animal toys. Such a cutie! She is just 34 pounds – a mini Pitbull mix.
Domino was rescued at the 11th hour from a kill shelter by a couple who had dearly hoped to be her forever family. Unfortunately, she was repeatedly attacked by one of their dogs, and they felt it was necessary to find Domino a dog-free home.
Domino's new owners live in a condo, with 2 small children and another on the way. They do not have a securely fenced yard. It has become apparent that Domino is overstimulated or anxious in this environment, where she must be taken on a leash to do her business, and with other dogs and people all around her. She is reactive when she sees other dogs, and wants to lunge at them.
Domino would do very well in a loving home where she is the only pet – a calm environment where she will not be around other dogs or small children. She will need an owner who can give her confident, firm behavior modification. She is very young and needs training. She needs an owner that will be the Alpha dog!
Ideally, a home with a securely fenced yard would be ideal for Domino. She still has lots of puppy energy, and would do well with lots of fetching and playtime. Going for walks where she will encounter other dogs is not the best situation for her.
This smart, pretty girl has been spayed and is up to date on shots. She is healthy, house trained, crate trained and ready to love.
---
All About Domino
Name of Pet: Domino
Location: Abingdon, Maryland
Type of Pet: Dog
Breed of Pet: Black Lab/Pit-Bull Mix
Sex of Pet: Female
Age of Pet: Around a year.
Spayed/Neutered?: Yes
Health Problems: No
Up To Date on Vaccinations: Yes
Gets along with cats: Unknown
Gets along with dogs: No
Good with Children?: No
House Broken or Litter Trained?: Yes
Crate Trained?: Yes
Accessories Included: We got a custom collar made for her with a cobra buckle and handle. We also have a Kong crate mat, and her favorite Kong Teddy Bear. We also have a medium kong bone toy for her. If you need a crate, we might be able to give you the one we were using, if that helps out.
[/one_half_last]
Domino's Personality
-Rolls on her back for belly rubs.
-Loves to cuddle with you.
-Loves giving plenty of kisses.
-Crawls under the blanket to sleep.
-Does a dance then runs to her crate, when it's dinner time.
Domino's Current Home Environment
We have single family room with a big yard, but we are currently starting to remodel. Our fence is really low for Domino to get over and we have two other dogs. Domino got along with the female but my male did not like her. So, we have been having to keep the separated. She has a lot of energy, so a decent size space would be best for her.
Domino's Current Family:
Right now, it's just my wife and I and our two dogs. We are big animal lovers, which is why we wanted to save another dog. I was in the Marines and now I work at a power plant. My wife is a student and is mainly home with our pups. A rescue pulled Domino for us 5 minutes before she was going to be put down at ACCT Philly.
Domino's Favorite Toys, Foods, Activities?
Her Kong Teddy Bear is her favorite toy. She likes balls but isn't sure how to play fetch yet. Loves Wholesome hide thin rawhide bones, but I am sure you can find something similar in a different brand. She also like's Zuke's sausage links and Zuke's crunchy treats. We have been feeding her Blue Buffalo, Large Breed, freedom chicken. Favorite activities is running outside in the yard,
Cute Domino Story:
I bought a new office chair and Domino figured out she could fit up there and started climbing up next to me. She lays down against my back and falls asleep. Also, when we first started to feed her banana, she never had one before. So at first, she spit it back out, sniffed it a few times, then took another bite. Her eyes got wide and her tail instantly starting wagging like crazy, looking for more.
Why is Domino Being Rehomed?
We already have two dogs and my older female and her seemed to get along but my male did not like her at all and kept trying to start fights with her. It's not fair to her, to keep stressing her out or for her to keep getting injured. We wish we could keep her, but we had our male first. I would feel more comfortable if she was an only dog at first. She needs her training first.
Domino's Perfect Adoptive Home Will Be:
Domino deserves family that will love her, give her plenty of belly rubs, and willing to work on her training. She is the sweetest, affectionate dog, and with training, will be the perfect dog for her new family. A tall fence or a private fence is preferred. Also, my wife and I feel like she should be the only dog in the home, until she is trained.
Black Labrador Retriever Rehoming
Domino is a beautiful Labrador Retriever / Pitbull mix dog for adoption close to Washington DC, Washington DC, Calverton MD, Brooklyn Park MD, Arbutus MD, Rosedale MD, Dundalk MD, Catonsville MD, Lochearn MD, Overlea MD, Parkville MD, Essex MD, Ferndale MD, Elkridge MD, Towson MD, Rossville MD, Pikesville MD, Little Italy MD, Latrobe Homes MD, Clarence Perkins Homes MD, Frederick Douglass Homes MD, Mount Clare MD, Fells Point MD, Broadway-Orleans Homes MD, South Baltimore MD, Butchers Hill MD, Mount Royal MD, Gilmor Homes MD, Charles Village MD, Westport MD, Spring Gardens MD, Mount Winans MD, Homestead MD, Highlandtown MD,