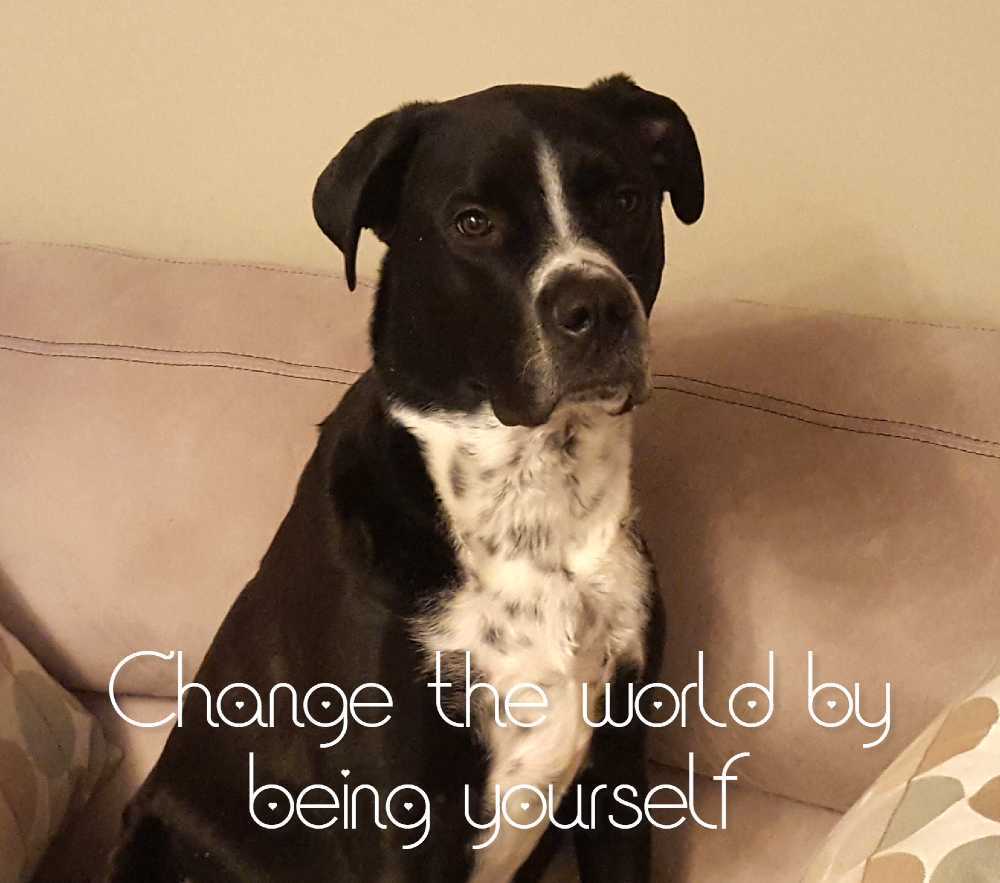 Meet Pepper, St Bernard Mastiff Pitbull Mix Dog For Adoption in Calgary Alberta
Pepper is staying with her owner now.
Pepper is a large breed dog for adoption in Calgary, AB. She is a gorgeous mix of three popular breeds; the Saint Bernard, the English Mastiff and the American Pit Bull Terrier. She has all the best features of these breeds all rolled into one happy, healthy, affectionate and joyful dog. Pepper is awesome!
At three years old, Pepper has reached the majestic size of 85 pounds. She looks like a lion, but is really a pussycat at heart. She is in excellent health, spayed, up to date on shots, micro-chipped and will come with health records. She is house trained and crate trained, too – a ready to love dog.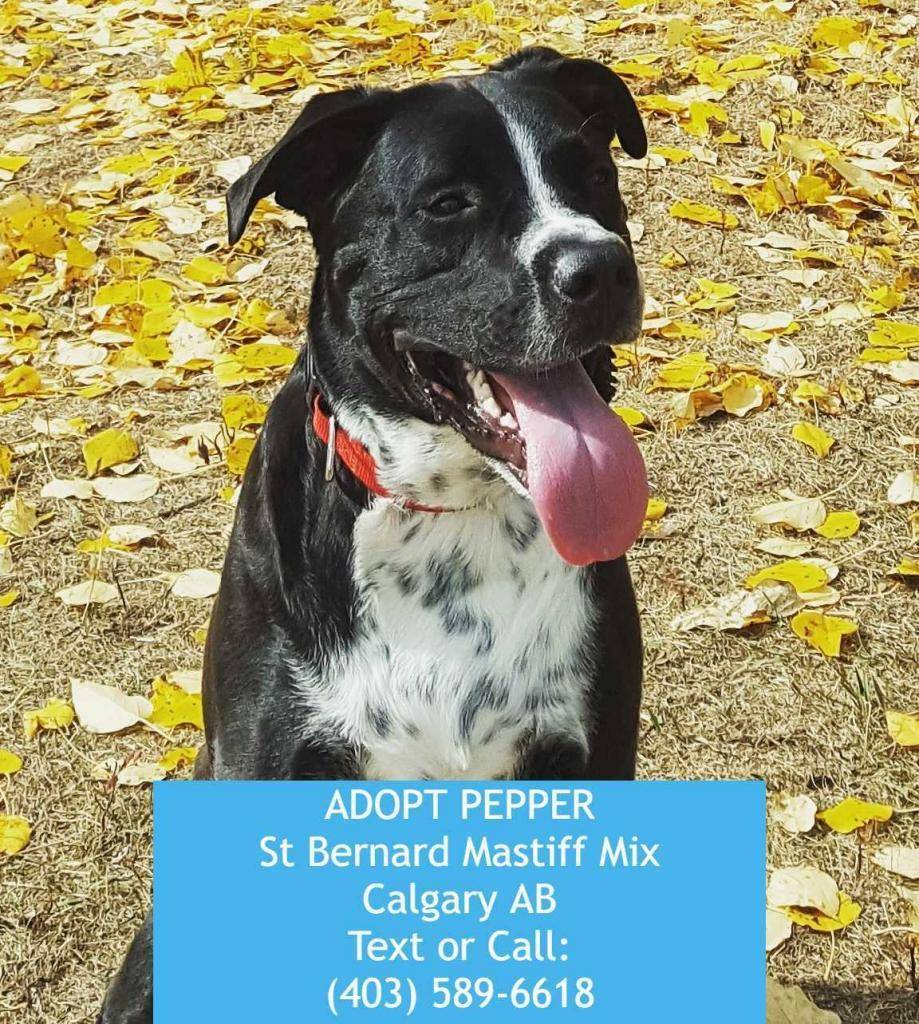 Peppers family are very sad to have to rehome her. Unfortunately their living circumstances are not ideal for a big dog like Pepper. In addition to living in a small condo where there is little room for Pepper, having just had a baby has left them with very little time to spend with their dog. Pepper needs exercise, playtime and companionship – and she is just not getting her needs met.
Peppers owners are dearly hoping to find her a home with dog lovers who will cherish her and keep her safe, happy and healthy. Her ideal home would be on an acreage, with lots of room for her to practice her dog skills. She would fit in well into any home that has a large, securely fenced yard, and people with time for her. She is an amazing dog that gives far more than she gets.
If you have room in your heart and home for this big, beautiful fur-baby, please reach out and request to meet her. She is one of those dogs that is sure to leave GIANT paw prints on your heart. Adopt Pepper today.
There is a $100 adoption/rehoming fee. Supplies and veterinary records will be included.
Pepper is staying with her owner now.
---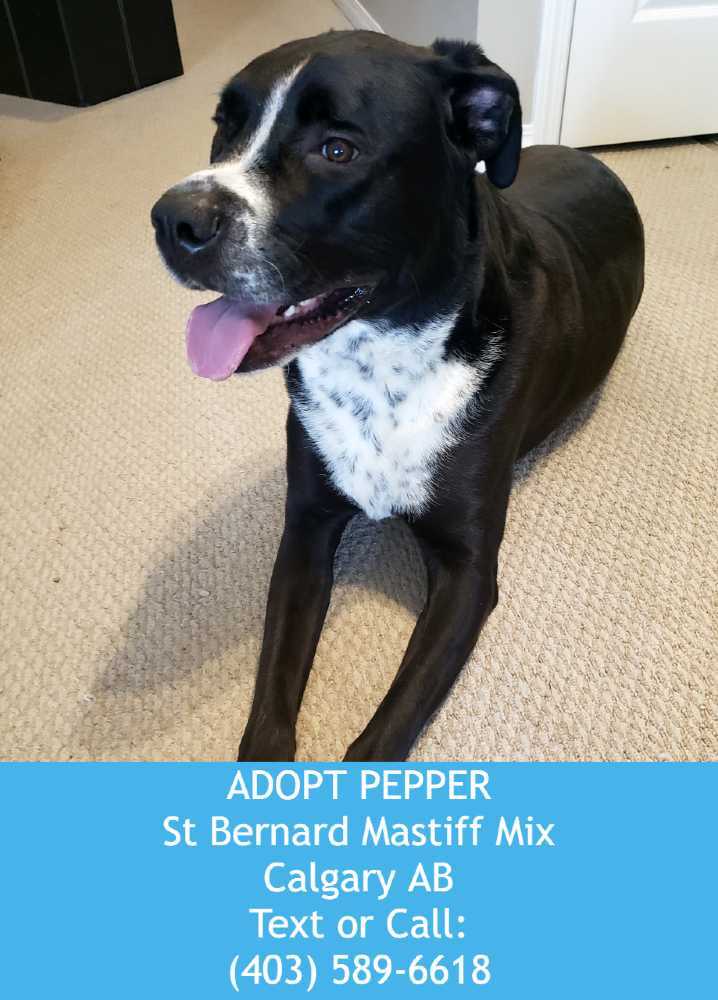 All About Pepper – St Bernard Mastiff Pitbull Mix Dog For Adoption in Calgary Alberta
♥ Name of Pet: Pepper
♥ Location: Calgary, Alberta, T3G 5S5
♥ Type of Pet: Dog
♥ Breed of Pet: St Bernard Mastiff Pitbull Mix
♥ Color / Coat Type: Mainly black, short hair
♥ Age of Pet: About 3 years
♥ Size of Pet: 85 lbs
♥ Health Problems: No
♥ Behavior Issues: No
♥ Gets along with: Older Children, Dogs, Strangers
♥ Pet is: Spayed, Microchipped, Fully vaccinated, Crate Trained, House Broken
♥ Food: Other
Purina One Smart Blend Large Breed
2 times- Morning, Night
Snacks in between
Pepper's Personality
Pepper likes people, she has lots of energy. She obeys command but sometimes she just wont listen. If she needs something or wants to go out she whines. She does basic commands like sit, stay, etc.
Pepper needs someone who has bigger home and fenced backyard for her to run around and family who has active lifestyle who can take her for walks everyday.
Why is Pepper Being Rehomed?
I live in a small townhome and there is no fenced backyard. I am going through some personal issues and haven't been able to fully take care of Pepper. Also, now we have a baby and the space is not enough for Pepper.
---
Pepper is staying with her owner.
---
Pepper – St Bernard Mastiff Pitbull Mix Dog For Adoption in Calgary Alberta
Pepper is a St Bernard Mastiff Pitbull Mix Dog for rehoming in Calgary, Alberta. She is located near the following towns and cities in Alberta:
Cochrane
Airdrie
Okotoks
High River
Nanton
Crossfield
Bragg Creek
Red Deer
Carstairs
Adopt this St Bernard Mastiff Pitbull Mix Dog in Calgary Alberta today.