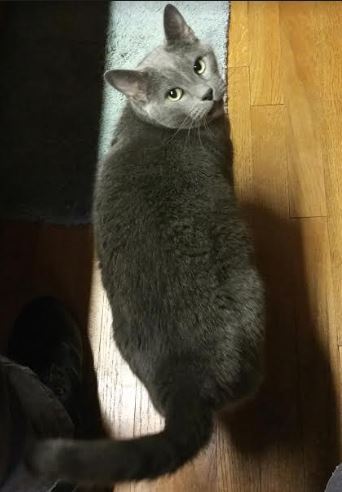 Meet Jack, Russian Blue Mix Cat For Adoption in GAINESVILLE TX
Jack is a Male Russian Blue Mix Cat for adoption to a very loving home in or near GAINESVILLE, TX. This very special Cat is 10 years old and weighs 11 pounds.
He is a gorgeous cat, with amazing Jade Green eyes and a shiny grey coat ticked in silver. Jack is very friendly and people oriented. He is anything-but an aloof cat. Jack loves his people with all of his heart, and will follow you around the house lending moral support as you take care of your household duties.
Folding laundry? Jack is there! "Meow Meow Meow! Maybe I will sit on top of the folded laundry and help you flatten it."
Doing dishes? Jack thinks this is a great time to rub himself against your legs and (subtly, of course) suggest that it might be a good time for the cat to be fed
Making the bed? Well that is time to play the universal "making the bed" game – something cats of all creeds and backgrounds absolutely adore. (If you haven't yet participated in this game, you are in for a few good laughs!)
Jack is a constant source of smiles and laughter. He is good with respectful children, and loves people of all ages. He has never been around dogs or cats, but would probably do very well with both species, as long as they are welcoming of him.
Jack's owner is having to move to a home and is not allowed to have pets. Additionally, being away at work most of the time leaves very little time to give this special boy the companionship, playtime and affection he needs and deserves.
Jack will be rehomed with all supplies and veterinary records. He is dearly hoping to find a wonderful new home with a single, couple or family who can give him the home of his dreams.
If you have room in your heart and home for a delightful Russian Blue cat, please reach out to us today. Jack can't wait to charm the heck out of you!
There is a $35 adoption/rehoming fee. Supplies and veterinary records will be included.
Questions about Jack? Contact our GAINESVILLE Cat rehoming team today. Text "Jack" to (888) 833-2128 or email [email protected] We look forward to hearing from you.
---
All About Jack – Russian Blue Mix Cat For Adoption in GAINESVILLE TX
Name of Pet: Jack
Location: GAINESVILLE, TX, 76240
Type of Pet: Cat
Breed of Pet: Russian Blue Mix
Sex of Pet: Male
Age of Pet: 10
Spayed/Neutered?: Yes
Health Problems: No
Behavior Issues: No

Up To Date on Vaccinations: No
Gets along with cats: Unknown
Gets along with dogs: Unknown
Good with Children?: Yes
House Broken or Litter Trained?: Yes
Crate Trained?:
Accessories Included: What's left of the cat chow mentioned previously, his personal scratching carpet (2 1/2′ x 3 1/2′ approx..), and his new as of this past Friday, high-walled, topless litter box, his cat tag, and whatever paperwork I have on him having to do with vaccinations, oh, yes, and all of his toys.
Jack's Personality

His looks. Very much the Russian Blue pedigree. Vivid green eyes.
He'll spend as long as you're willing playing, while he lies on his side, the shove-me-away on the slippery floor (no carpet) so I can scurry back for more.
His penchant for being very vocal. It's cute and adoring
Jack's Current Home Environment
I'm at work five days a week, M-F, leaving the house by 7:00 AM, returning no later than 6:00 PM. My two teenage boys are present two to three weekday evenings and either Saturday, Sunday, or both, depending upon what's going on with Mom (she and I are separated), with teenage daughter, oldest of the three, with her own car, here less frequently (it's the car) and always here on birthdays and Holidays.
No other company to speak of during the course of the week, or during weekends. Just me and Jack.
No smoking, no "vaping", no drugs. Mind you, I can only speak for myself. Jack's not admitting to anything. There is wine, evenings only, a beverage in which he shows no evidence of liking, much less enjoying.
Jack's Current Family:
Immediate family circumstances already mentioned previously.
Brother, younger, lives in Sonoma, CA. Sister, older, lives on Vashon Island, Puget Sound, Washington state.
Jack's Favorite Toys, Foods, Activities?
Jack shows occasional interest in a catnip filled, leather covered, toy mouse. He'll show just as much interest, sometimes even more, although the frequency is about the same, in a small, dime-to-nickel sized, tightly waded piece of plan old paper.
He currently enjoys, and has for the last four years, at least for the most part, dining on Purina Cat Chow Indoor, eaten from a bowl, alongside of which is his water dish, refilled as needed, cleaned and replenished every second or third day.
He sleeps. A lot.
He's not overweight, which I would be if all I did was eat and sleep. It must be the exercise he gets during the night hours – you will notice this flurry of activity only occasionally if you are a heavy sleeper, definitely if you are a light sleeper – when chasing, and often catching, various creepy-crawly insects and the occasional, pint-sized, gecko, finding circumstances most unfor-tunate for having made his acquaintance.
Cute Jack Story:
He found us, when he was no more than three or four months old, one snowy, very cold win-ter night, early January, 2008, peering through our top-to-bottom glass door, front paws on the glass, rear paws on our covered front porch, bringing us to his attention by meowing with all his might (this probably explains why he's always shouting) to let him in, which we did, without hesitation, and here he is to live and meow about it. To this day, he will not go outside with snow on the ground.
Why is Jack Being Rehomed?
Current financial circumstances require that I take on one, perhaps two, roommates. If I have a cat, they'll want a cat, or a dog, or a, name-your-favorite-two or four-legged pet.
It must be a no pets allowed rental, for lots of good reasons. No pets for anyone, not event for yours truly, the landlord.
Jack's Perfect Adoptive Home Will Be:
Exactly what Jack is looking for, a home that will fully embrace him, give him the love, atten-tion, and caring he deserves.
How To Adopt Jack
If you are interested in adopting this special Russian Blue Mix Cat For private rehoming in GAINESVILLE TX, please fill out our online meeting request below. Once received and reviewed, our staff will ask the pets owner to reach out to you and arrange a meeting.
Questions about Jack? Contact our Russian Blue Mix Cat rehoming team today. Text "Jack" to (888) 833-2128 or email [email protected] We look forward to hearing from you.
Jack – Russian Blue Mix Cat For Rehoming in GAINESVILLE TX
Jack is a Russian Blue Mix Cat for private adoption by owner in GAINESVILLE TX. This pet is located close to the following towns and cities in TX:
49 miles to Plano, TX
57 miles to Garland, TX
61 miles to Dallas, TX
62 miles to Arlington, TX
63 miles to Fort Worth, TX
Denton, TX
Sherman, TX
Corinth, TX
Little Elm, TX
Denison, TX
Highland Village, TX
Frisco, TX
Ardmore, OK
The Colony, TX
Lewisville, TX
Flower Mound, TX
Allen, TX
Coppell, TX
Southlake, TX
Grapevine, TX
Cook, TX
Lindsay, TX
Custer City, TX
Woodbine, TX
Lake Kiowa, TX
Callisburg, TX
Burns City, TX
Valley View, TX
Myra, TX
Walnut Bend, TX
Mountain Springs, TX
Thackerville, OK
Balm, TX
Era, TX
Lois, TX
Sturgeon, TX
Whitesboro, TX
Gainesville TX
Adopt this sweet Russian Blue Mix Cat in GAINESVILLE TX today.