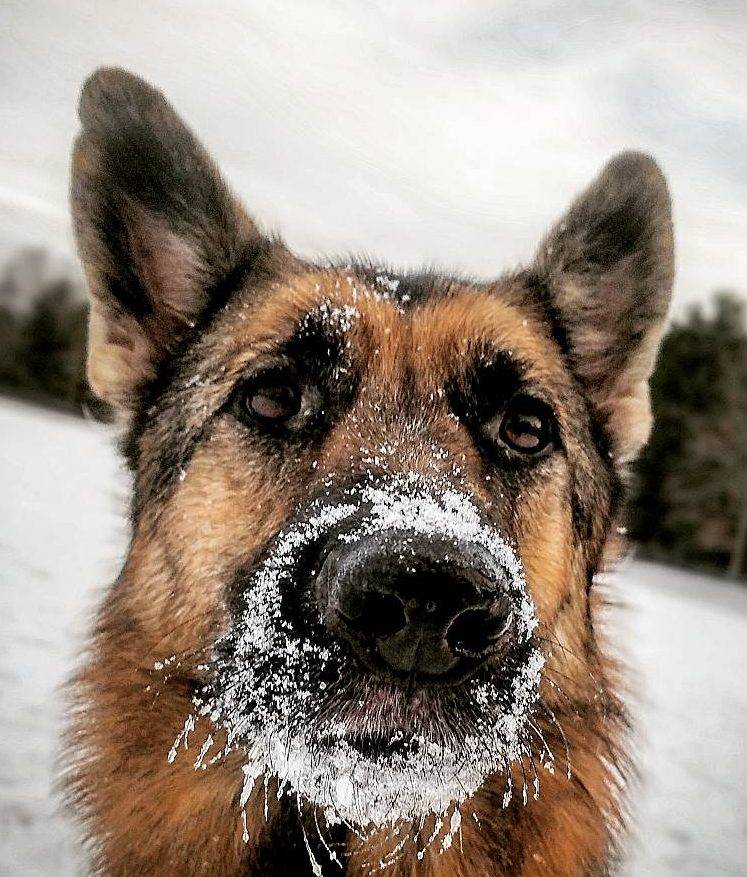 Meet Mila, German Shepherd Dog For Adoption in Bristol Connecticut
Mila is a beautiful black and tan female purebred AKC registered German Shepherd for adoption in Bristol, CT, near Hartford. Mila is just 3 years old and weighs 60 lbs.
Mila is housebroken and well behaved. She needs a home without other dogs. She has no experience around children or cats, but would likely be fine with respectful children and dog-friendly cats.
Mila was enrolled in police dog training until it was determined that she was too small for active police duty. She is a beautiful dog with a long coat and big brown eyes.
Mila wll need a home with owners who have experience with the German Shepherd Breed – preferably someone retired who has worked with police dogs. Mila's owner loves her very much, and wants the best home for her. He adopted her from a co-worker, who had adopted her when she was let go by the police dog training service.
She remembers her police training well, and unfortunately, "took down" a neighbor who was using her owners back yard as a short cut very early one morning.  She "took him down" by taking him by the arm, but released him when her owner gave her the command. The neighbor sustained an injury to his arm as a result of the situation, so the owner has taken careful measures to ensure this situation does not happen again.
Mila's perfect home will be with owners who have no other dogs, and have a large, very securely fenced yard. She is a very devoted, loyal and affectionate dog. In the right home, with someone knowledgeable about German Shepherd dogs and police training, Mila will shine. Adopt this gorgeous female German Shepherd dog today.
There is a $200 adoption/rehoming fee. Supplies and veterinary records will be included.
Questions about Mila?? Text "Mila" to (888) 833-2128 or email AdoptMila@dog-lover.us. We look forward to hearing from you.
---
All About Mila – German Shepherd Dog For Adoption in Bristol Connecticut
Name of Pet: Mila
Location: Bristol, Connecticut, 06010
Type of Pet: Dog
Breed of Pet: German Shepherd
Sex of Pet: Female
Age of Pet: 3.5
Spayed/Neutered?: Yes
Health Problems: No
Behavior Issues:  Trained in police service, she "took down" a neighbor who had taken a shortcut through her owner's yard. She released him on command, but he sustained a bite injury as a result. She will need an owner with knowledge about police dog training, and who can keep her safe.
Up To Date on Vaccinations: Yes
Gets along with cats: Unknown
Gets along with dogs: Unknown
Good with Children?: Unknown
House Broken or Litter Trained?: Yes
Crate Trained?: Yes
Accessories Included: An AKC certificate, a large dog crate if wanted and any necessary paperwork that is needed.
Mila's Personality
Attentiveness
Quirkiness
Intelligence
Extremely loyal
Fearless
Mila's Current Home Environment
We live in a 3 bedroom single family home, within a nice neighborhood. Unfortunately, our yard is not fenced in. Mila also live with Koda, a 2 year old GSD. We go to the park down the road daily for a couple hours each day to run around. Currently doing many home renovations as well, however, I believe they're used to that by now.
Mila's Current Family:
Mila's Favorite Toys, Foods, Activities?
Mila loves frozen bones to keep her occupied. Also loves lacrosse balls. Her favorite activity has to be swimming, as I almost struggle to get her out. Her favorite food has been eating raw. She go crazy for it, yet, it got a bit expensive for me. Yet, she has no food limitations and will eat just about anything.
Cute Mila Story:
One summer day that the park, I was curious to see what she would do if I swam to the middle of the river and just looked lifeless. She starts swimming laps around me so I grab her harness and she dragged me all the way back. All that with out any formal training was simply amazing to me.
Why is Mila Being Rehomed?
I had taken her in from an employee whom was hours away from going to the humane center. All was well, until my younger GSD and her started having minor disagreements which have evolved into much bigger fights. Ive had to seperate them several times, sacrificing my hand unfortunately, which sustained a few lacerations. I had not known two female GSDs in the same household was a common invitation to trouble, yet, that is what it's become and I fear it will get worse.
Mila's Perfect Adoptive Home Will Be:
Someone with Shepherd experience would be a plus. Perhaps a family where someone is always home as she could really benefit from the constant love. A well fenced in yard would be a super bonus. She would most likely do best with being the only pet in the house, although she's successfully gets along with other mild tempered dogs when properly introduced.
How To Adopt Mila
If you are interested in adopting this special German Shepherd Dog For Adoption in Bristol Connecticut, please fill out our online meeting request here. Once received and reviewed, our staff will ask her  owner to reach out to you and arrange a meeting to determine if Mila is a good match for you.
If you have any questions about our careful pet rehoming process, feel free to get in touch.
Questions about Mila?? Text "Mila" to (888) 833-2128 or email AdoptMila@dog-lover.us. We look forward to hearing from you.
Mila – German Shepherd Dog For Adoption in Bristol Connecticut
Mila is a 3 year old female AKC registered German Shepherd dog for adoption in Bristol Connecticut.
She is located close to the following towns and cities in CT:
Wolcott
Plymouth
New Britain
Waterbury
Watertown
Newington
Meriden
Prospect
Cheshire
West Hartford
Torrington
Litchfield
Naugatuck
Hartford
Wethersfield
Forestville
East Bristol
Pequabuck
Edgewood
Allentown
East Plymouth
Terryville
Tolles
Whigville
Bensted Corner
Hancock
Plainville
Lamson Corner
Wolcott
Liberty Mobile Home Park
Plymouth
North End
She is within a reasonable drive of New York City,  Newark, Jersey City and Boston. Adopt this gorgeous female German Shepherd today!
German Shepherd Dog Rehoming
New York City Dog Rehoming
Newark Dog Rehoming