German Shorthaired Pointer Puppy Rehomed in Phoenix
Peppercini has found a great new home in Phoenix, AZ. Need to rehome a dog or puppy in AZ? Contact our Phoenix pet rehoming team today. We specialize in finding good homes for pre-loved dogs and puppies throughout Arizona.
Call or text us at (888) 720-3322 or request pet rehoming services here. We look forward to being of help to you.
Meet Peppercini, Female German Shorthaired Pointer Mix Puppy Rehomed in Surprise AZ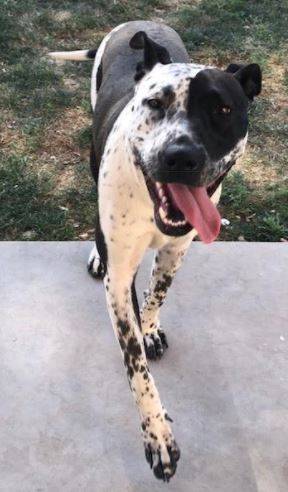 If you are looking for an awesome German Shorthaired Pointer mix dog Rehomed in Arizona, Peppercini would love to meet you. This beautiful 1 year old female dog is looking for a loving new home with a family that can keep up with her "Joie de Vivre".
Peppercini is in excellent health. She is spayed, up to date on her shots and micro-chipped. She is house trained and generally well behaved for a "whirling dervish".
Peppercini was much smaller when she was adopted by her owners. At 45 pounds, she is now more dog than they can handle with 2 tiny toddlers in the home. Peppercini gets very excited at times, and can be a bit like a bull in a china shop. She would be a great choice for families with bigger kids, but she tends to knock the little ones down in her current home.
Peppercini loves to play and be active. She would make a wonderful companion and friend for a family with kids 10 and up. She needs a large, securely fenced yard to play in, and people who have lots of time and energy to give her the exercise and stimulation she needs and deserves. She would fit in very well with another active and friendly dog. She has never spent time with cats, but would likely be OK with a dog-friendly cat or two.
If you have room in your heart and home for Peppercini, please offer her a loving home today. She will give you and your family many reasons to be active, and her cute face will steal your heart the moment you meet her.
---
All About Peppercini – German Shorthaired Pointer Mix Dog Rehomed in Surprise AZ
Name of Pet: Peppercini
Location: Surprise, Az, 85379 Near Phoenix
Type of Pet: Dog
Breed of Pet: German Shorthaired Pointer mix
Sex of Pet: Female
Age of Pet: 1
Spayed/Neutered?: Yes
Health Problems: No
Behavior Issues: No
Up To Date on Vaccinations: Yes
Gets along with cats: Unknown
Gets along with dogs: Yes
Good with Children?: Yes
House Broken or Litter Trained?: Yes
Crate Trained?: Yes
Accessories Included: Leash. Harness. Dog bowls. Chew proof bedding. Large kennel. Dog food.
Peppercini's Personality
Doesn't bark. Friendly around other dogs. Extremely playful. Cute.
Peppercini's Current Home Environment
Busy. We have children here all the time. She interacts best with older kids. She doesn't know the difference in small kids and will play too hard. Tackles them or can knock them down when she's playing. The little kids are scared of her. Big kids love her
Peppercini's Current Family:
We are grandparents raising kids again. Pepper was a gift for our oldest granddaughter. But because of how pepper rough houses we can't keep her in the house to be the house dog we wanted. And I can't bear the idea of her being outside all summer.
Peppercini's Favorite Toys, Foods, Activities?
Rope toys. Balls. Fetch sticks. Non rawhide bones and peanut butter.
Cute Peppercini Story:
She loves treats. Any kind of treat. She will do just about anything to get peanut butter.
Why is Peppercini Being Rehomed?
She's too active to be a full time in door dog which is what we wanted. When we adopted her we were told she would be relatively small. She was about 27!lbs. but she's much bigger now and gets too active to notice the babies in the house.
Peppercini's Perfect Adoptive Home Will Be:
Someone who has older kids and a yard for play time. Some one who can exercise her at dog parks often. She's very social.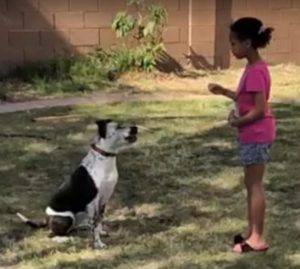 Peppercini – German Shorthaired Pointer Mix Dog Rehomed in Surprise AZ
Peppercini is a German Shorthaired Pointer mix Dog Rehomed in Surprise AZ.
She is located a reasonable distance from the following towns and cities:
11 miles to Glendale, AZ
20 miles to Phoenix, AZ
26 miles to Scottsdale, AZ
33 miles to Mesa, AZ
36 miles to Chandler, AZ
[one_half]El Mirage, AZ
Sun City West, AZ
Sun City, AZ
Peoria, AZ
Glendale, AZ
Avondale, AZ
Goodyear, AZ
Phoenix, AZ
Buckeye, AZ
Paradise Valley, AZ
Scottsdale, AZ
Tempe, AZ
Mesa, AZ
Fountain Hills, AZ
Chandler, AZ
Lizard, AZ[/one_half]
[one_half_last]Dysart, AZ
Lizard Acres, AZ
El Mirage, AZ
Goldbadge, AZ
Agua Fria, AZ
Sun City West, AZ
White Tanks, AZ
Youngtown, AZ
Beardsley, AZ
Westbrook Village, AZ
Sun City, AZ
Bumstead, AZ
Apollo Mobile Home Park, AZ
Sunset Village, AZ
S C Townhouse Mobile Home Estates, AZ
Villa Vista, AZ[/one_half_last]
Adopt this sweet Black and white female German Shorthaired Pointer mix Dog in Arizona today.