1 Lovely Havanese Dog For Adoption in Tucson Arizona AZ – Meet Isla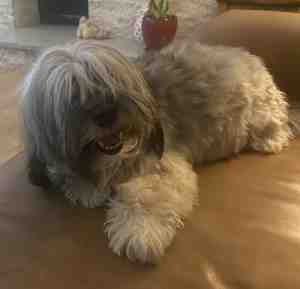 Looking for a Havanese dog for adoption in Tucson, AZ? Isla would love to be considered for the position of your cherished family companion. Whether you live close by, or in another state, this glorious girl would love to become a part of your family.  This pedigreed, purebred Havanese dog is sometimes known by her pedigree name, Isla Del Sol De Sonoran Desert.
Isla is an irresistibly adorable female Havanese, who is eagerly waiting for adoption. She is located in Tucson, Arizona, but adoption from further away will be considered if her new owners are willing to make the trip to Arizona. This delightful dog is just six years old and sports a sleek 16-pound figure. Havanese dogs live an exceptionally long life if properly cared for, given quality nutrition and regular exercise.
Five fantastic facts to fathom about Isla? She's as sweet as a sugar-cube, loving like your dear mom, and her owners – though heartbroken – are on a mission to find her a new home due to unexpected circumstances. They're seeking the perfect person or family who can shower Isla with the love and security she deserves, ensuring she remains safe, content, and healthy.
Can you imagine cuddling up with Isla, witnessing her lovable personality, and experiencing the epitome of unconditional love and loyalty? If your heart and home have room for this captivating canine, why wait? Offer Isla a loving, forever home today.
Intrigued to know more about Isla and how she could be the missing puzzle piece to your family? Read on – you won't want to miss the chance to make Isla Del Sol De Sonoran Desert your home's happiest addition! By the way, Isla would love to be adopted with her Momma Lulu.
---
Meet Isla – Pre-Loved Havanese dog For Adoption by Owner in Tucson AZ
Isla is a female Havanese dog for adoption to a very loving home in or near Tucson, AZ. This very special dog is Six old and weighs 16.
5 Amazing Things About Isla:
Sweet
Loving
Like Mom
Isla's owners are very sad to have to rehome their cherished dog, but circumstances beyond their control have made rehoming a must-do.
They are hoping to find the right home where this deserving dog will be loved unconditionally and kept safe, happy, healthy and well-cared-for.
If you have room in your heart and home for Isla, then please offer a loving, forever home today. Isla can't wait to show you the true meaning of unconditional love.
---
How To Adopt Isla
Please fill out our online meeting request form via the button below. Once your application is received and reviewed, our staff will ask the pets owner to reach out to you and arrange a meeting.
[vcex_button url="https://pet-net.net/adopt-a-pet/" rel="nofollow" layout="block" align="center" font_padding="top:15|bottom:15″ font_size="d:18px|tl:18px|tp:18px|pl:16px|pp:16px" font_weight="semibold"]Request to Adopt Isla Here[/vcex_button]
There is a $600 adoption/rehoming fee. Supplies and veterinary records will be included.
Questions about Isla?
COMPLETE OUR QUICK QUESTIONS FORM NOW
---
All About Isla – Havanese dog For Adoption in Tucson AZ
Name of Pet: Isla
Location: Tucson, AZ, 85704
Type of Pet: dog
Breed of Pet: Havanese
Sex of Pet: female
Age of Pet: Six
Spayed/Neutered?: Yes
Health Problems: No Give her check up every year
Behavior Issues: No
Up To Date on Vaccinations: Yes
Gets along with cats: Unknown
Gets along with dogs: Yes
Good with Children?: Yes
House Broken or Litter Trained?: Yes
Crate Trained?: Yes
Accessories Included: All
Isla's Favorite Toys, Foods, Activities?
All
Cute Isla Story:
Cutest young puppy I've ever known
Why is Isla Being Rehomed?
Owner is Sick
Isla's Perfect Adoptive Home Will Be:
Probably middle aged or older
Hope to keep her with her LuLu. Her Mom
---
Isla – Havanese Dog For Adoption in Tucson AZ
Isla is a Havanese dog for adoption by owner in Tucson AZ. Isla is located close to the following towns and cities in AZ, and can be adopted from anywhere within a reasonable distance.
Tucson AZ,
Drexel Heights AZ,
Flowing Wells AZ,
Catalina Foothills AZ,
Casas Adobes AZ,
Oro Valley AZ,
Marana AZ,
Green Valley AZ,
Eloy AZ,
Nogales AZ,
Sierra Vista AZ,
Florence AZ,
Coolidge AZ,
Casa Grande AZ,
Adopt this deserving Havanese dog in Tucson AZ today.
Thanks for your interest in this gorgeous purebred female Havanese dog for adoption in Tucson AZ and area. We look forward to hearing from you.