Cuddly Calico Cat for Adoption in Kawartha Lakes (Coboconk) Ontario – Adopt Tigris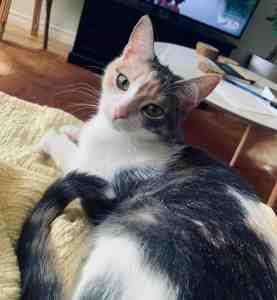 Looking for a Calico cat for adoption in Kawartha Lakes Ontario and area. Are you on the hunt for a heart-stealing, fur-tastic feline friend? May we present the purr-fect candidate for the position of your new family fur-baby – the captivating calico tabby, Tigris.
With her tantalizing tabby stripes and charming calico colors, Tigris is a two-year-old treasure waiting to be discovered. This tiny tabby tips the scales at a petite 5 pounds, but don't be fooled – she is packed full of personality! Tigris is a tantalizingly playful kitty, with a snuggly side that will melt your heart. Her curiosity is as vibrant as her calico coat, making every day with her an adventure.
Our hearts are heavy as we reluctantly rehome this beloved cat due to unforeseen circumstances. We are fervently seeking a family who can love Tigris as we do, providing her with a safe, happy, and healthy environment. Tigris deserves nothing but the utmost care and affection, and we are confident that she will return this love tenfold.
Do you have space in your heart and home for the delightful Tigris? Do you have the capacity to offer this deserving cat a loving forever home? If so, Tigris is ready and waiting to show you the true meaning of unconditional love.
Don't delay! Dive deeper into the details of this darling cat's story and discover how you can make Tigris a cherished part of your family. You won't regret it – after all, nothing compares to the companionship of a captivating calico cat!
---
Meet Tigris – Pre-Loved Calico Tabby Cat For Adoption by Owner in Kawartha Lakes Ontario
Tigris is a Female Calico tabby cat for adoption to a very loving home in or near Kawartha Lakes, Ontario. This very special cat is 2 years old and weighs 5lbs.
5 Amazing Things About Tigris:
Snuggly, affectionate, playful, curious, appearance.
Tigris's owners are very sad to have to rehome their cherished cat, but circumstances beyond their control have made rehoming a must-do.
They are hoping to find the right home where this deserving cat will be loved unconditionally and kept safe, happy, healthy and well-cared-for.
If you have room in your heart and home for Tigris, then please offer a loving, forever home today. Tigris can't wait to show you the true meaning of unconditional love.
---
How To Adopt Tigris
Please fill out our online meeting request form via the button below. Once your application is received and reviewed, our staff will ask the pets owner to reach out to you and arrange a meeting.
[vcex_button url="https://pet-net.net/adopt-a-pet/" rel="nofollow" layout="block" align="center" font_padding="top:15|bottom:15″ font_size="d:18px|tl:18px|tp:18px|pl:16px|pp:16px" font_weight="semibold"]Request to Adopt Tigris Here[/vcex_button]
There is a $40 adoption/rehoming fee. Supplies and veterinary records will be included.
Questions about Tigris?
COMPLETE OUR QUICK QUESTIONS FORM NOW
---
All About Tigris – Calico Cat For Adoption in Kawartha Lakes Ontario
Name of Pet: Tigris
Location: Kawartha Lakes, Ontario, K0M1K0
Type of Pet: cat
Breed of Pet: Calico tabby
Sex of Pet: Female
Age of Pet: 2 years
Spayed/Neutered?: Yes
Health Problems: No
Behavior Issues: Yes Just afraid of babies and young children
Up To Date on Vaccinations: Yes
Gets along with cats: Yes
Gets along with dogs: No
Good with Children?: No, Good With Children aged 8 and up
House Broken or Litter Trained?: Yes
Crate Trained?: No
Accessories Included: N/a
Tigris's Personality
Sweet playful energetic
Tigris's Favorite Toys, Foods, Activities?
Toy on a string, springs, catnip, scratch post, freeze dried chicken treats, likes most cat kibbles, does not like wet food.
Cute Tigris Story:
We had to shave our other cat because his coat was knotted. Tigris wouldn't go near him for a week. It was pretty funny to watch.
Why is Tigris Being Rehomed?
I recently had my first baby this year and the cat is afraid of her and has clawed the baby a few times. I tried giving it time but Tigris' behaviour with the baby has not changed.
Tigris's Perfect Adoptive Home Will Be:
A safe loving home where she gets cuddles and playtime.
---
Tigris – Calico Tabby cat For Adoption in Kawartha Lakes Ontario
Tigris is a Calico cat for adoption by owner in Kawartha Lakes Ontario. Tigris is located close to the following towns and cities in Ontario, and can be adopted from anywhere within a reasonable distance.
Kawartha Lakes ON,
Omemee ON,
Fenelon Falls ON,
Cannington ON,
Bobcaygeon ON,
Port Perry ON,
Millbrook ON,
Peterborough ON,
Beaverton ON,
Lakefield ON,
Uxbridge ON,
Bowmanville ON,
Sutton ON,
Oshawa ON,
Whitby ON,
Port Hope ON,
Adopt this deserving Tabby Calico cat in Kawartha Lakes Ontario today.
Thank you for your interest in this very sweet little Tabby Calico cat for adoption in Kawartha Lakes Ontario (Coboconk)