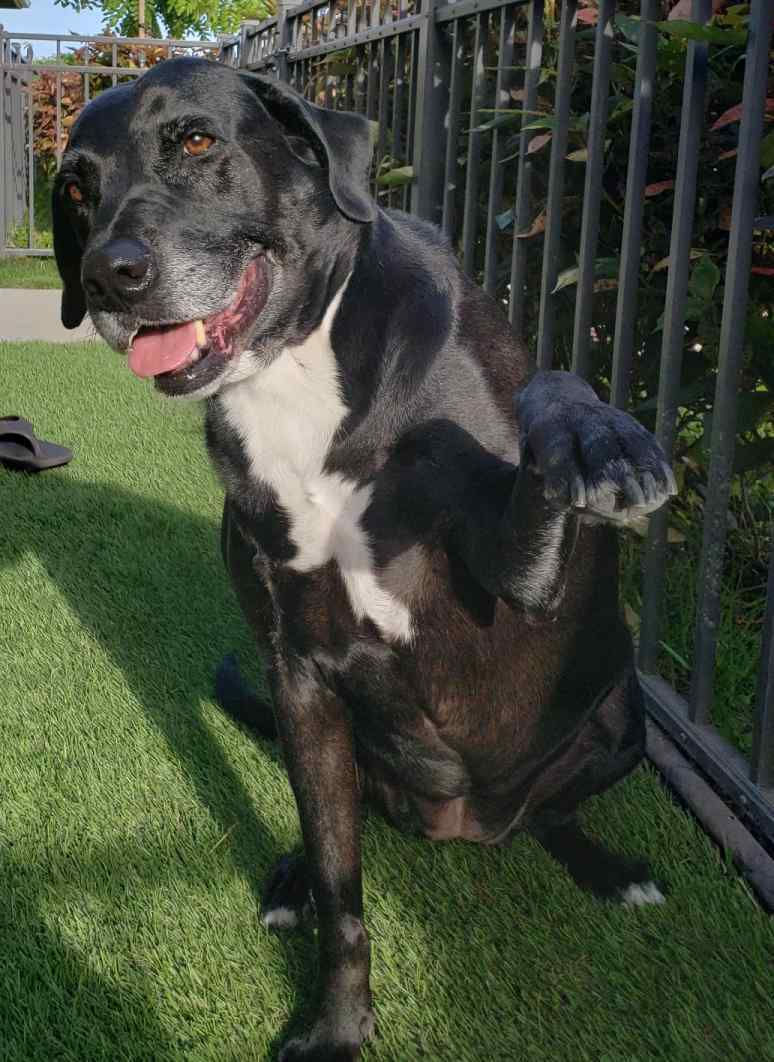 Meet Sophie, Black Labrador Retriever Mix Dog For Adoption in Kapolei HI
Sophie is so sweet!  She is 8 years young and weighs 80 pounds. She is very lovable, super smart and well behaved.  Sophie is spayed, micro-chipped, up to date on shots and house trained. She is great with children. She is best suited to a home where she (and hopefully her best friend, Henry) can be the only pets.
Sophie is being rehomed along with her best friend, Henry, a Lab Beagle mix. The two dogs have been together since they were puppies, and their owners are dearly hoping to place them in a loving home as a bonded pair.
Sophie and Henry's owners are devastated to have to make the very difficult decision to find the dogs a new home. With a parent on the Mainland having fallen ill, they need to relocate to California to help care for her. They have a new baby, and will more than likely have to live in a small apartment.
Bringing the dogs to California and trying to care for them with very sparse time and in a small, cramped space is not an idea situation. They feel it would be far better for the dogs to find them a home on Oahu where they will be cherished and kept safe, happy and healthy for the rest of their lives.
There is a $75 adoption/rehoming fee. Supplies and veterinary records will be included.
Questions about Sophie? Contact our Hawaii dog rehoming team today. Text "Henry" to (888) 833-2128 or email Sophie@Dog-lover.us. We look forward to hearing from you.
---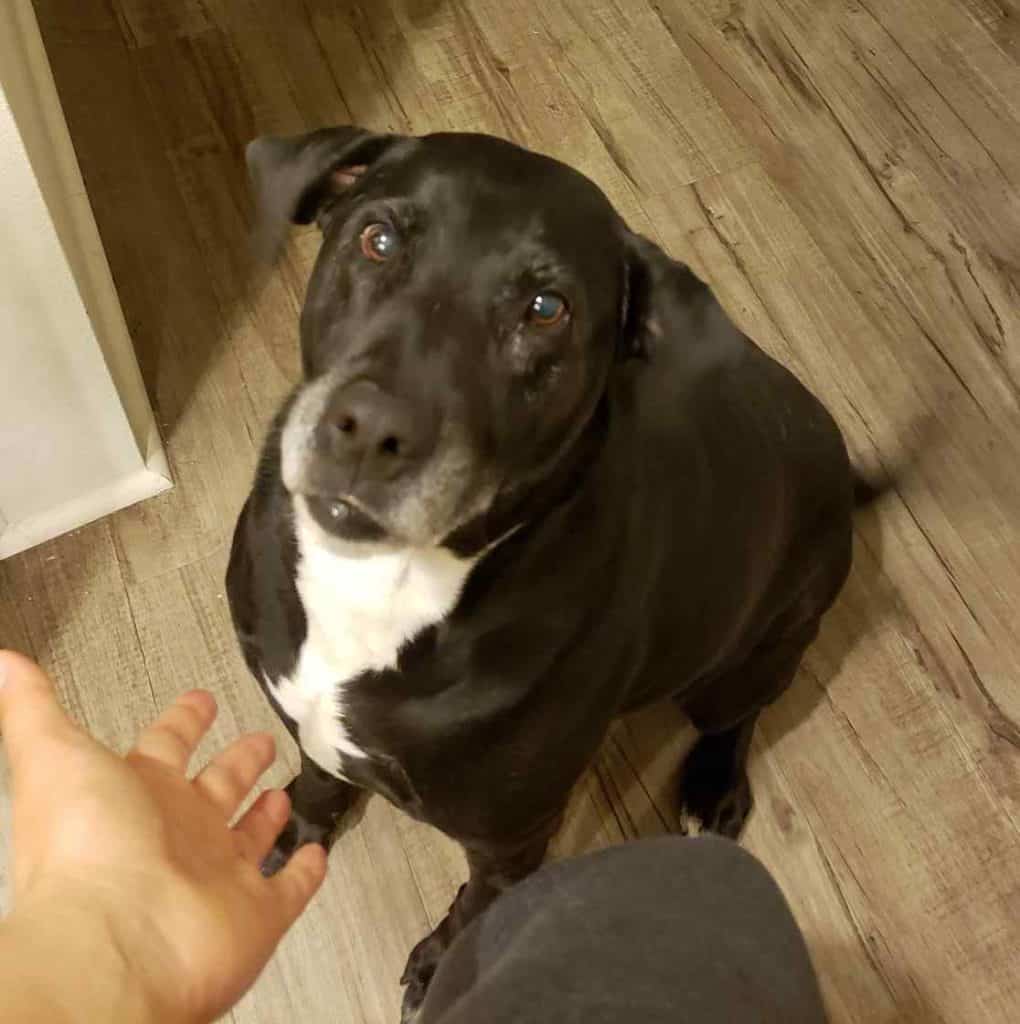 All About Sophie – Black Lab Mix Dog For Adoption in Kapolei HI
Name of Pet: Sophie
Location: Kapolei, HI, 96707

Type of Pet: Dog
Breed of Pet: Labrador Retriever mix
Sex of Pet: Female
Age of Pet: 8.5
Spayed/Neutered?: Yes
Health Problems: No
Behavior Issues: No
Up To Date on Vaccinations: Yes
Gets along with cats: Unknown
Gets along with dogs: Yes
Good with Children?: Yes
House Broken or Litter Trained?: Yes
Crate Trained?: Yes
Accessories Included: Crate, collar, leash, toys, etc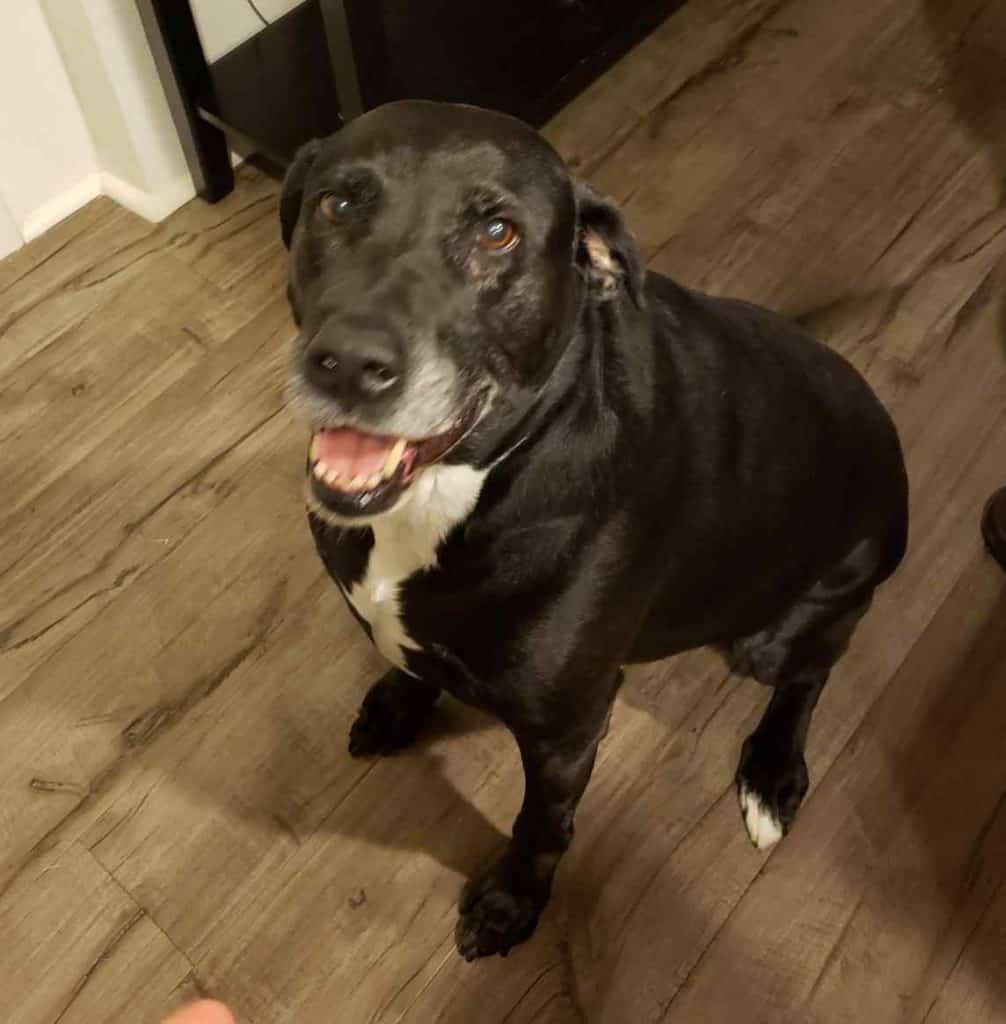 What Makes Sophie Special?
Sophie

 is sweet and loving.

She loves to shake your hand, she loves her belly rubbed, and she loves hugs.

She loves water and loves to swim, when she was a puppy, she taught our other dog Henry how to swim and not be afraid of the water.

She is loving.

And of course she makes you feel special especially after a tough day at work.
Sophie's Current Home Environment
We came from a house with 2 acres of land in Northern California and now they are in Hawaii in a townhome where there is very very limited space.
Sophie's Current Family:
Our dogs live with my husband and I and our 18 month old baby boy.
Since baby's birth our attention has dramatically shifted from the dogs to baby. This was not done purposefully, but with 2 full time working parents and taking care of a child and getting no rest, there is no more of us left to offer and I have come to realize that I really need to do something for their best interest and not be selfish. I want them to be happy.
Sophie's Favorite Toys, Foods, Activities?
Sophie loves to play fetch but typically she will get the ball and keep it, so she isn't very good at bringing back the ball. When we were in Northern California, she loved hikes and swimming. She is surprisingly fast and agile for being 8.5 years old. She has gained weight because of inactivity for which I feel very guilty for of course.
Cute Sophie Story:
My baby grew up with these two doggies and because of that he is not afraid of other dogs when they bark. When he hears any dog barking, my baby starts waving frantically to make friends with them. The doggies really do love our baby boy and he loves them too. I feel he will be sad and miss them when they are no longer living with us.
Why is Sophie Being Rehomed?
We are moving to Northern California to care for mother who is not well. We are already stretched thin with caring for our baby and now a parent that will need our care as well. We are expecting to move into apartment which isn't the best environment for two large dogs with no time and always gone.
Henry's Perfect Adoptive Home Will Be:
I am looking to keep my two dogs together if highly possible. Henry and Sophie have grown up together since they were very little.
I want a loving family for them. My heart is breaking that I have to do this but I have to think of their best interest and not be selfish. They have been sad for quite a long time now and I just kept thinking, I would make time for them, I will make time for them, but never have found the time.
I know people have to work in life but i am looking for a very loving home for these two doggies. I would never forgive myself if they went somewhere where they were neglected or mistreated. My doggies love kids and love activities but maybe kids that aren't too young, don't want them knocked over on accident since they still think they are puppies
I simply want them to feel loved and cherished and cared for. I would like a forever home for them.
How To Adopt Sophie
If you are interested in adopting this special Black Labrador Retriever mix Dog For private rehoming in Kapolei HI, please fill out our online meeting request below. Once received and reviewed, our staff will ask the pets owner to reach out to you and arrange a meeting.
Questions about Sophie? Contact our Labrador Retriever rehoming team today. Text "Sophie" to (888) 833-2128 or email Sophie@Dog-lover.us. We look forward to hearing from you.
Sophie – Black Lab Mix Dog For Rehoming in Kapolei HI
Sophie is a Black Labrador Retriever mix Dog for private adoption by owner in Kapolei HI. This pet is located close to the following towns and cities in HI:
Adopt this sweet Black Labrador Retriever mix Dog in Kapolei HI today.