Awesome Male Lab Pitbull Mix Dog For Adoption in Calgary AB – Supplies Included – Adopt Corvus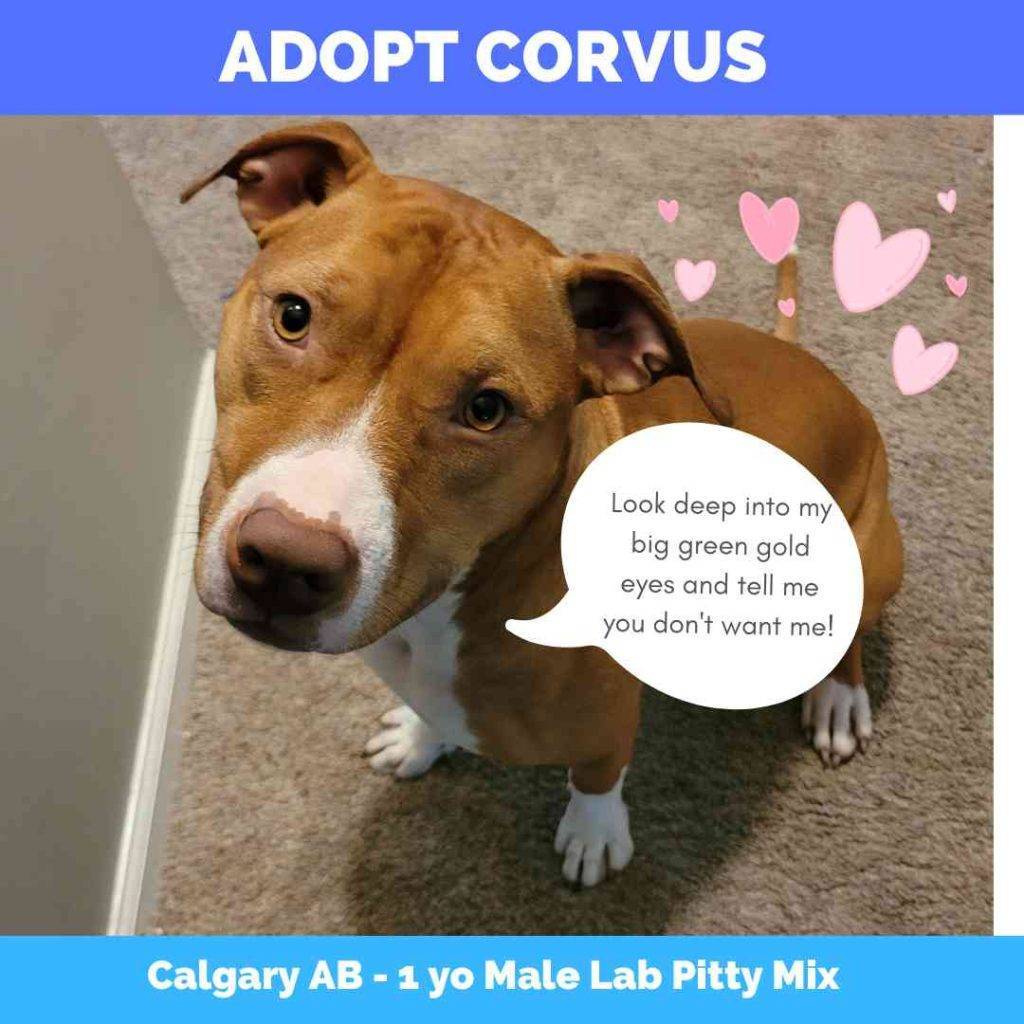 How can you resist a puppy this cute?
From the adorable expression in his beautiful hazel eyes to the extra cute white tip on his ever-wagging tail, Corvus is one of the sweetest large breed puppies you will find in Calgary. A mix of the best qualities of the American Pit Bull Terrier and Labrador Retriever, this energetic and playful young dog is just 12 months old and weighs about 65 pounds – not too big, but not too small.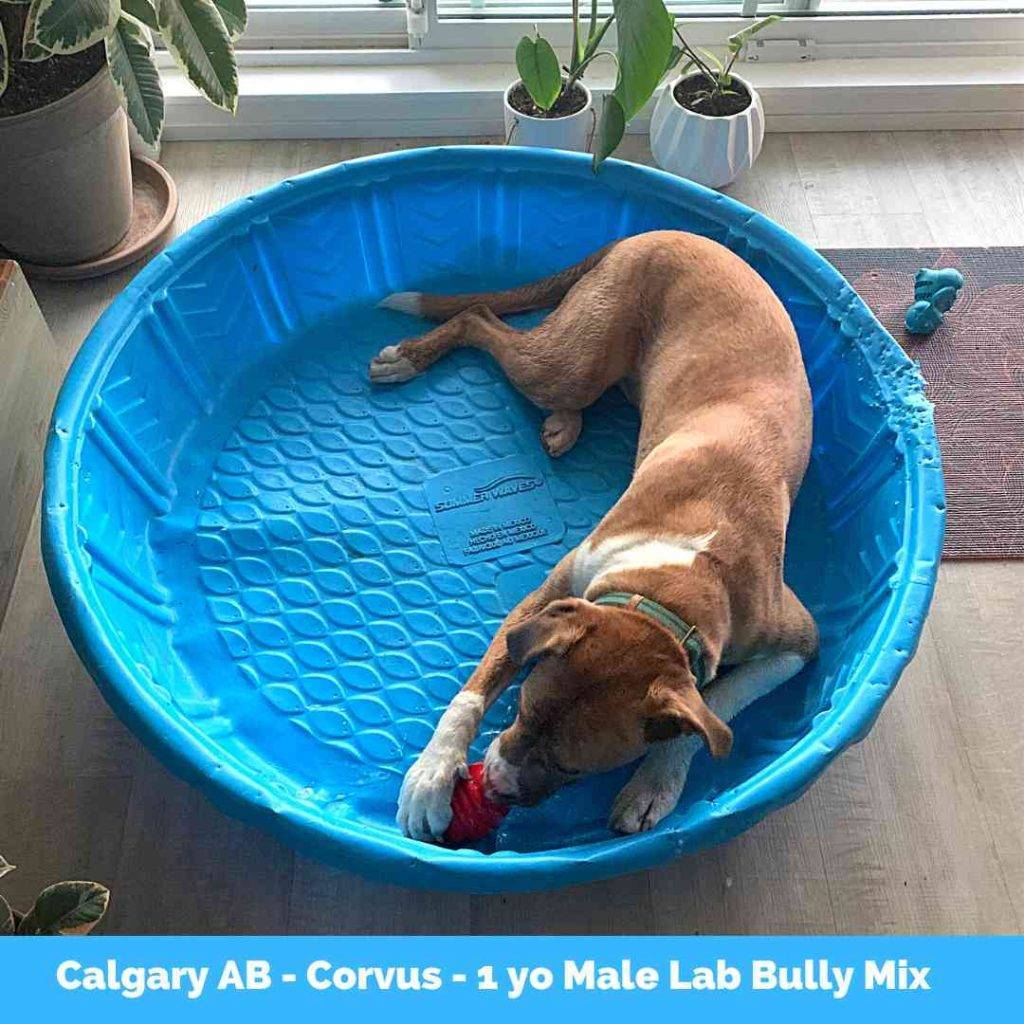 Corvus is what we call a "ready to love" dog. He has had his vet care done up to date, including neutering, full vaccinations, and microchip. Corvus is house-broken and crate trained, and is good with kids big enough not to be accidentally knocked down by Corvus's wiggle-butt (toddlers), as well as dog-friendly cats and dogs.
Corvus has so much joy for life. He is full of enthusiasm, and an excellent motivator for anyone trying be be more active. Like all Labs and Pitties, Corvus is still in his puppy phase, where his need to be active overrules your need for him to be calm and sensible. He will outgrow this phase by around 2 years of age, but needs owners who are active and can give Corvus all the activity, leaping around and playtime that he needs and very much deserves. Playing with other dogs is a great way to burn off plenty of energy.
Corvus has the most amazing personality. he loves to spend time with you and is definitely "best friend material". He's funny, sometimes goofy, and has a very pleasant demeanor. He loves kids and really loves hanging out playing "chase me-chase you" with other high energy dogs.  Trips to an off-leash area are among his favorite activities, particularly given that he currently lives in an apartment, without a yard to play in.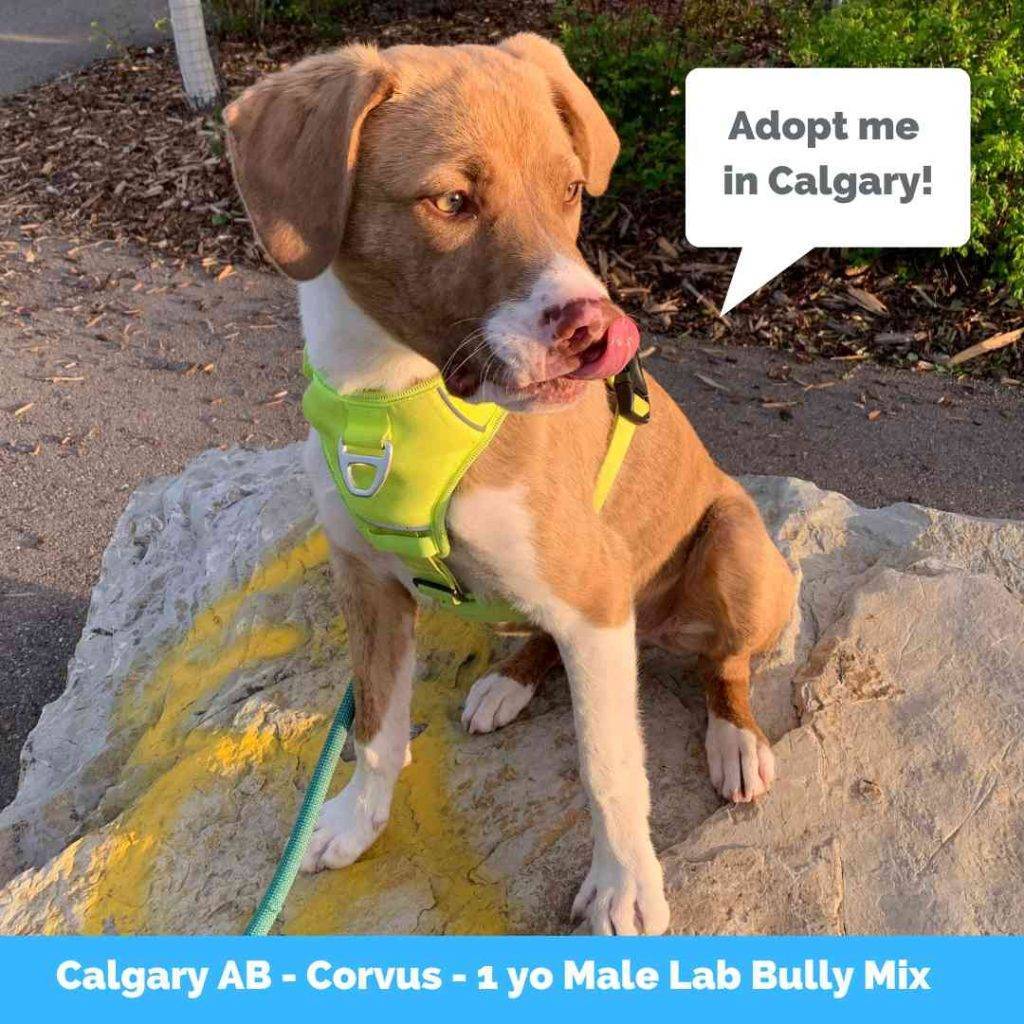 Corvis owner loves him to bits, but the living situation simply is not conducive to Corvus getting enough exercise. He is dearly hoping to find dog lovers who have the right circumstances to care for Corvus in the right way – getting lots of activity and playtime every day.  An acreage with a dog sibling would be ideal for Corvus.  He will need owners who can put the time into training him so that he will grow up to be the excellent family companion that he is destined to become.
Corvus will bring an amazing assortment of "dog stuff" along with him, including a 42 inch crate.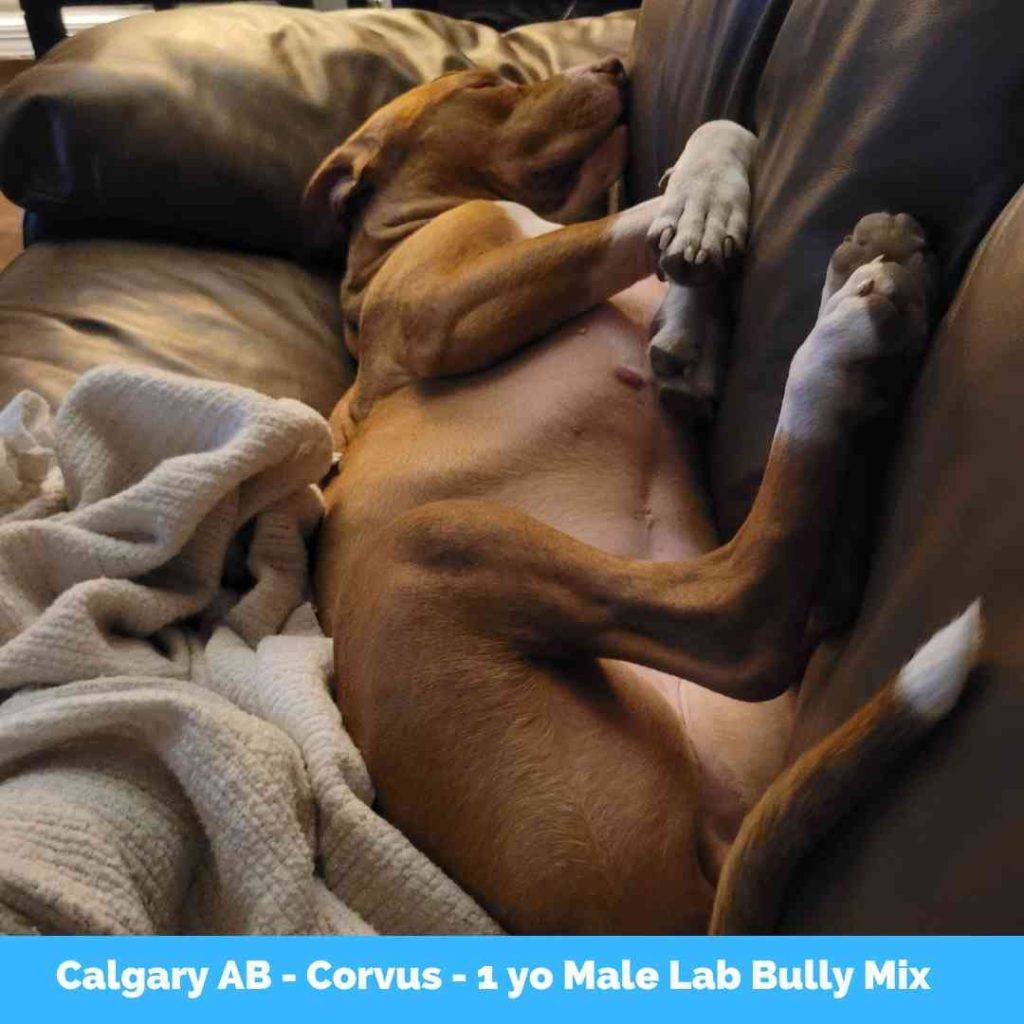 If you have room in your heart and home for this deserving Labrador RetrieverPitbull mix dog, then please offer Corvus his forever home today. Corvus can't wait to show you the true meaning of unconditional love.
How To Adopt Corvus
Please fill out our online meeting request below. Once received and reviewed, our staff will ask the pets owner to reach out to you and arrange a meeting.
There is a $150 adoption/rehoming fee. Supplies and veterinary records will be included.
Questions about Corvus? Contact our Calgary dog rehoming team today.
Text "CorvusCALGARY" to (888) 833-2128
We look forward to hearing from you.

All About Corvus – Bully Mix dog For Adoption in Calgary AB
Name of Pet: Corvus
Location: Calgary, AB, T2X 4A4
Type of Pet: dog
Breed of Pet: American Pit Bull Terrier x Labrador Retriever
Sex of Pet: Male
Age of Pet: 1
Spayed/Neutered?: Yes
Health Problems: No
Behavior Issues: No
Up To Date on Vaccinations: Yes
Gets along with cats: Yes
Gets along with dogs: Yes
Good with Children?: Good With Children aged 8 and up
House Broken or Litter Trained?: Yes
Crate Trained?: Yes
Accessories Included: 42" crate
Food, treats
Collar, harness, leash
Bowls, kongs, lick mats, balls
Nail clippers
Dog shampoo, brush
Corvus's Personality
Corvus is a friendly energetic goofy puppy. He loves to play and run. He is very smart and learns quickly. He likes to be next to you but isn't a big cuddler. Very food motivated.
Corvus is an Amazing Companion Because He She is:
Always excited to see me when I get home.
Barely barks
Very friendly
Likes walks
His spotted nose
Corvus's Favorite Toys, Foods, Activities?
Loves running and swimming
Squeaky balls/Barks toys that have the out layer he can rip off and another toy inside
Loves peanut butter and pumpkin and treats made of duck are his favorite.
Cute Corvus Story:
Taking Corvus for his first walk off leash in the ravine at the back of Legacy was such a great moment with him. The pure joy that he had on his face as he ran into the steam and went swimming coming out and shaking off and looking back like did you see that mom. He was so happy running ahead and sniffing everything. He always stayed close and would come back as soon as he couldn't see me. It was something we could do together that we both really enjoyed as we both got to explore and enjoy each other.
Why is Corvus Being Rehomed?
I live in a 604 sq ft 1 bedroom condo and as Corvus has grown and gotten more confident his energy levels have grown and I unfortunately can't meet his exercise needs as he needs to be on a leash 99% of the time when we go out.
Since I can't meet his exercise needs with multiple walks on leash per day, he is not happy, and I am not happy.
He needs a backyard at a minimum or an acreage where he can have space to run and play and just be a dog. I have seen how wonderful he is when his exercise needs are met when I took him to visit my sister who has a 1.5 acre fenced property and he could be outside and run, play and relax when he was tired.
Unfortunately he is just too much dog for my small apartment, and I want him to be able to have his best life and right now I can't give him that.
Corvus's Perfect Adoptive Home Will Be:
Large fenced yard or acreage
Time to continue his training and socialization
Another dog in the home would help greatly teach him how to be a dog.

Corvus – Labrador RetrieverPit Bull Mix dog For Rehoming in Calgary AB
Corvus is a Bully Mix dog for private adoption by owner in Calgary AB. He She is located close to the following towns and cities in AB:
Airdrie AB,
Cochrane AB,
Crossfield AB,
Okotoks AB,
Irricana AB,
Black Diamond AB,
Strathmore AB,
Carstairs AB,
High River AB,
Didsbury AB,
Olds AB,
Nanton AB,
Sundre AB,
Three Hills AB,
Vulcan AB,
Adopt this deserving Labrador RetrieverPitbull mix dog in Calgary AB today.