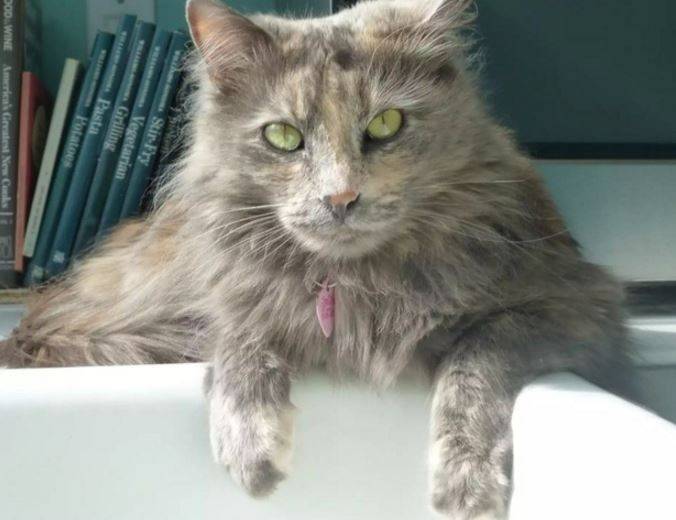 With her silky long coat, angular features and striking green eyes, Macy is clearly a Turkish Angora mix.
Meet Macy and her Friend, Tiki – Turkish Angora Mix and Black DSH Cat Friend For Adoption in San Francisco CA
ADOPTED!
Our names are Macy and Tiki. Macy is the beautiful brains of the operation… a gorgeous tortoiseshell long haired Turkish Angora mix cat, aged 4. Tiki is her happy go lucky sidekick, an adorably fat black cat – his head is way to small for such a round body!
This pair of purrers are about the most cuddly cats you will meet. They love each other and cuddle up regularly, and they also love to snuggle their human. Both cats are very healthy, fixed and are very well behaved and clean. No litter box accidents with these two!
Their owner is a single woman in her fifties who has fallen on very difficult times. After losing her long-term job and being unable to find employment, she has reached the end of her savings, and is destitute. Family members in Europe have sent her a plane ticket home, but she cannot take the cats along with her. These are her babies. They have been her constant, pampered companions for so many years, and she is absolutely devastated – and frantic – about finding them a very loving home.
The situation is extremely urgent, as her flight for Germany leaves tomorrow (Wednesday) afternoon. She is dearly hoping to find a cat lover who will cherish these two together, and who will be willing to stay in touch.
If you have room in your heart and home for Macy and Tiki, please call us ASAP. They are located in San Francisco, but would be well worth the trip from outlying cities – they are very special.
The cats will come with all supplies, including a lovely cat tree, cat litter boxes, beds, a supply of food, cat litter, treats, toys and more.
Please help bring about a happy ending to this very sad situation, and offer Macy and Tiki a loving home today.
---
All About Tiki and Macy – Longhaired Turkish Angora Mix Cat and DSH Black Cat For Adoption in San Francisco CA
Name of Pet: Tiki and Macy
Location: San Francisco, CA, 94115
Type of Pet: Cat
Breed of Pet: Turkish Angora Mix and Domestic Shorthair Black Cat
Sex of Pet: Male, Female
Age of Pet: 8 and 4
Spayed/Neutered?: Yes
Health Problems: No
Up To Date on Vaccinations: Yes
Gets along with cats: Yes
Gets along with dogs: Yes
Good with Children?: Yes
House Broken or Litter Trained?: Yes
Crate Trained?:
Accessories Included: Everything.
Cat Tower
Food and Treats
Litter Boxes and Litter
Cat Beds
Grooming Supplies
Tiki and Macy's Personality
So loving.
Very beautiful.
Well behaved.
Good companions.
Great therapy cats.
Tiki and Macy's Current Home Environment
Single woman living in an apartment. The cats have both been with her since a very young age.
Tiki and Macy's Favorite Toys, Foods, Activities?
Food!
Treats, playing, snuggling, bird watching from a sunny window.
Cute Tiki and Macy Story:
Macy got her name from the Macy's Pet Rescue Event. She was adopted at Christmas time from this organization.
Why are Tiki and Macy Being Rehomed?
After a long career, their owner lost her job and, as a result has fallen on very hard times financially. She is no longer able to afford to live in San Francisco, and has used up all of her savings on trying to get her life back in order. She is destitute.
Her very good friends who live in Europe have invited her to come over, and have sent her a plane ticket, leaving August 2, 2017 to Germany.
She is desperate to find a good home for her beloved cats, as she cannot take them with her and has no choice about having to rehome them.
Tiki and Macy's Perfect Adoptive Home Will Be:
Someone who will cherish the cats as much as their owner has. She is crushed by having to leave them behind, and would dearly love to keep in touch with the new owners, receive photos and updates.
These are 2 cats that would be OK with respectful children and cat-freindly dogs and cats.
Additional Comments:
This is an absolutely URGENT matter. If you can offer these beautiful cats a loving forever home – or if you can give them a safe and happy foster home until a permanent home can be located, please get in touch right away. Call Debbie Moore toll free at (888) 720-3322.
Stunning Longhaired Tortoiseshell Turkish Angora Mix Cat For Adoption (With Friend) in San Francisco CA near San Jose – Daly City – Daly City – Tiburon – South San Francisco – Oakland – Alameda – San Bruno – Albany – Berkeley – Piedmont – Mill Valley – Pacifica – Richmond – Corte Madera – Millbrae – Larkspur – Banneker Homes – Opera Plaza – Frederick Douglass Haynes Gardens – Valencia Gardens – Friendship Village – Thomas Paine Square – Malcolm X Square – Laguna Heights – Saint Francis Square – Little Osaka – Martin Luther King Square – Marcus Garvey Square – Mission District – Loren Miller Homes – Amanico Ergina Village – Victoria Mews – Potrero District – Oakland – Fremont – San Jose – Stockton – Sacramento – Modesto – California CA. Adopt this gorgeous longhaired torbie Turkish Angora mix cat today.