Black Cat Rehoming and Adoption Services
Looking for black cats for adoption near you? Pet Rehoming Network showcases pre-loved black cats being rehomed by their owners.
Home to home black cat adoptions offer so many benefits. They are much less stress for the cat, they allow the adopter to learn all about each cat's history, most privately adopted black cats have been fixed, vaccinated and often come with supplies. Adopt a black cat today.
Need to Rehome Your Black Cat?
We find good homes for pre-loved Black cats throughout the USA and Canada. Contact our cat rehoming coordinator to discuss your rehoming situation.  Call or text toll-free (888) 720-3322 or fill out our information form here.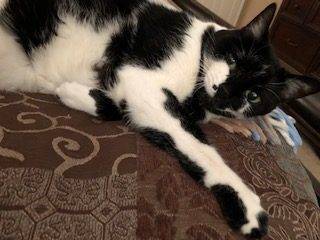 Sweet, handsome and adorable, Sid recently lost his senior owners, leaving him in desperate need of a loving new home where he will be kept safe, happy and healthy for the rest of his life. Sid is 13 years old, but cats generally live long lives, so Sid has still got many good years of love, joy, laughter and companionship to offer. He loves his humans with all his heart, and wants to be near you, cuddled up beside you or on your lap, whenever he can. Sid is very healthy, fixed, up to date on shots and micro-chipped. He will be rehomed with everything he needs. All you need to add is love and a safe, happy and healthy home. Please offer Sid a loving new home today.