Purebred Newfoundland Dog For Adoption in Colorado Springs CO – Supplies Included – Adopt Brady
Newfoundland Dog for Adoption in Colorado Springs, Colorado
Looking for a Newfoundland Dog for adoption in Colorado Springs, Co? Meet Brady, a 125 pound bundle of love and licks looking for his forever home anywhere within a reasonable distance of Colorado Springs.
Brady is just 3 years old and has been fixed, fully vaccinated, housebroken, leash trained, and obedience trained.  Brady LOVES people, and is good with babies, small children, big kids, kids at heart, adults and seniors.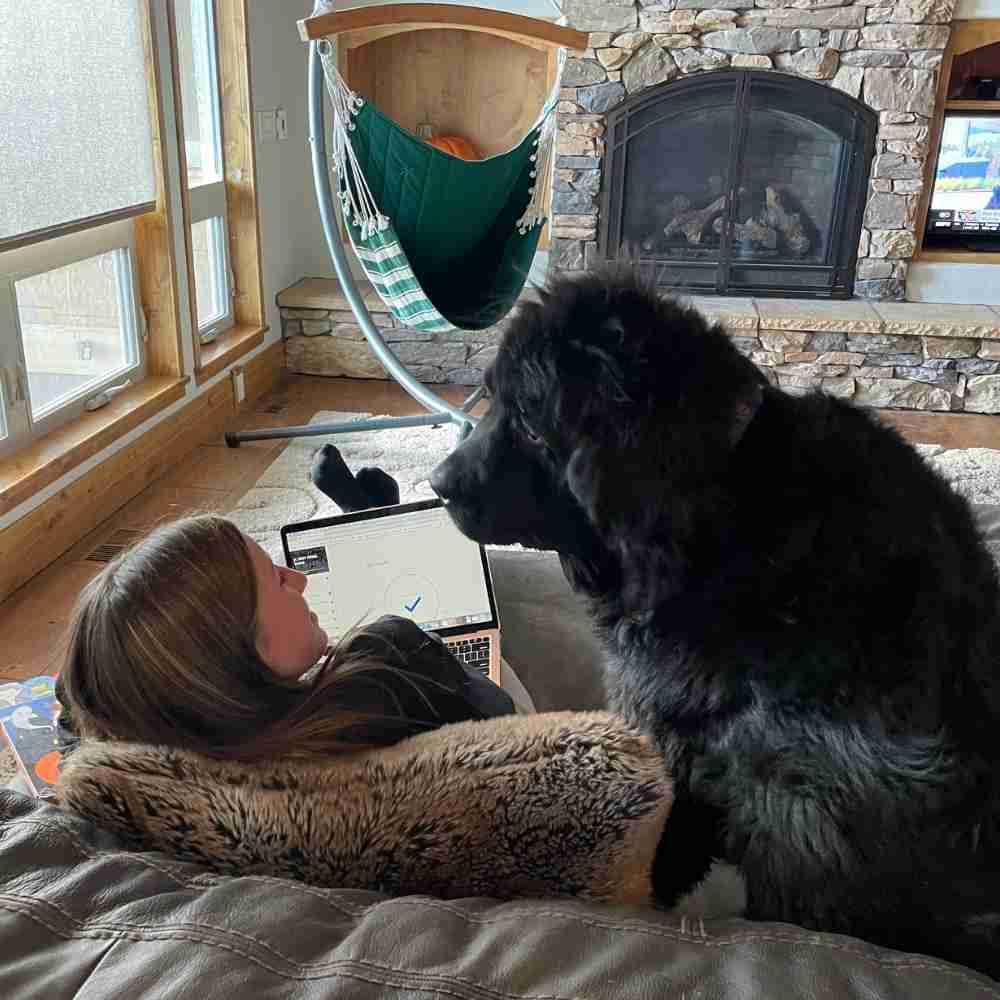 Brady needs a home without other dogs. He has a dominant personality, and with his large size, could harm a dog smaller than he is. The family have 2 other dogs, and they are concerned about the safety and well-being of all three dogs. They feel that finding Brady a loving new home where he can be a cherished only dog will be the best option for all.
Brady's owners are hoping to find a new home for Brady where this special Newfoundland  Dog will be cherished and kept safe, happy, and healthy for life. He needs a home with a large, securely fenced yard (an acreage or rural home would be ideal), and owners who have the time and ability to take care of him properly and give him the attention, companionship and care that he needs and deserves.
How To Adopt Brady the Newfoundland Dog
If you have room in your heart and home for Brady, please complete our online meeting request form. Once received, our Colorado Springs Dog Rehoming team will make arrangements for you to meet Brady and his owners. Adopt Brady today!
There is a $300.00 adoption processing fee. Supplies, accessories, and veterinary records will be included.
Questions about adopting Brady?
Text BradyNEWFOUNDLAND to (888) 833-2128. We look forward to hearing from you!

All About Brady – Newfoundland Dog For Adoption in Colorado Springs CO
♥ Name of Pet: Brady
♥ Location: Colorado Springs, CO, 80908
♥ Type of Pet: Dog
♥ Breed of Pet: Newfoundland Dogs
♥ Color / Coat Type: Black with white spot on chest
♥ Age of Pet: 3.5 years
♥ Size of Pet: 125
♥ Health Problems: No
♥ Behavior Issues: No (Alpha Personality)
♥ Gets along with: Babies, Small Children, Big Kids, Adults, Seniors
♥ Pet is: Fixed, Fully Vaccinated, Housebroken, Leash Trained, Obedience Trained, Crate-trained
♥ Food: Other
2.5 cups a day pro plan large breed
Brady – Newfoundland Dog For Adoption in Colorado Springs Colorado
---
Brady's Personality
He is loveable and loyal. Loves attention and car rides. He needs to be the only pet at home, and with someone who can include him in their adventures. He loves to go on car rides and to be around people.
Brady has a dominant (Alpha) personality. Because of his size, he is best suited for a home as an only dog.
Why is Brady Being Rehomed?
Brady is very dominant towards his dog housemates, especially and mainly during feeding, but at other times as well. I'd never take him to a dog park or a place where other dogs can roam around. Because of his size, if he were to start a fight, he could cause serious harm to another dog.
Nearby Locations
Brady is located in Colorado Springs, Co, close to the following towns and cities:
Fort Carson CO,
Cimarron Hills CO,
Air Force Academy CO,
Fountain CO,
Black Forest CO,
Canon City CO,
Castle Rock CO,
Pueblo CO,
Parker CO,
Highlands Ranch CO,
Centennial CO,
Castlewood CO,
Southglenn CO,
Ken Caryl CO,
Columbine CO,
Thank you for your interest in this deserving Newfoundland Dog for adoption in Colorado Springs, CO.