Oliver has been adopted. He will be an unofficial therapy dog for a 16 year old girl with a severe disability. So far, things are going very well, and the family is optimistic that Oliver is going to be a much needed friend for their daughter.
Hi Debbie,

We met with Tim and Kathy and their family yesterday and decided to adopt Oliver.  We brought him home last night and have had a great time with him so far.

Tim, Kathy, Judy, and I will be evaluating Oliver's placement for a week or two to make sure things work out.  Kathy and Tim are awesome to work with.  They said to bring him back if there were any problems.

-Mike E.
Need to find a good home for your dog or puppy in Utah?
Contact our pet rehoming coordinator, or request Utah Pet Rehoming Services today.
---
Here is how our Utah pet rehoming team presented Oliver to attract many adoption offers for him:
Hi, My name is Oliver!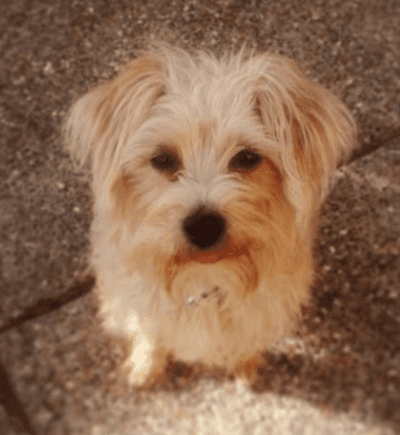 Oliver is all love – all the time! This adorable little terrier mix combines the best qualities of the Yorkshire Terrier and Jack Russell Terrier into one incredibly sweet little body.
Oliver is very healthy. He is up to date on shots, neutered, micro-chipped and housetrained. He is very well behaved.
Oliver's owners have reached the very difficult decision to find him a new home. Not for their own sake – but for his. They are both working very long hours, and worry about Oliver spending so much time alone.
This little guy is so devoted – a real lap dog. He wants human company all the time, and he is just not getting his needs met with his owners due to their work load.
They are dearly hoping to find Oliver a home where he will be cherished, and where he will receive everything that he needs; love, attention, care, exercise and playtime.
Oliver will be rehomed with all his supplies, and the owners will provide information on his veterinarian, along with health records.  Please offer this special dog a special home today!
---
All About Oliver
[one_half]
Name of Pet: Oliver
Location: Alpine, UT, 84004 Salt Lake City
Type of Pet: Dog
Breed of Pet:
Sex of Pet: [/one_half]
[one_half_last]
Age of Pet: Yorkie/jack Russell
Spayed/Neutered?: Yes
Health Problems: No
Up To Date on Vaccinations: Yes
Gets along with cats: Unknown
Gets along with dogs: Unknown
Good with Children?: Yes
House Broken or Litter Trained?: Yes
Crate Trained?: Yes
Accessories Included: Crate, toys, dog food, whatever we have at the time of adoption.
[/one_half_last]
Oliver's Personality
His eyes make you melt!
So cute when he tries to "show off" a skill, like jumping down the stairs three at a time. He does this little sidelong glance to make sure you're watching:)
His beautiful fur (hair) is really multiple beautiful colors
When his "cousin" (a yorkie puppy) visits, Oliver loves to run around and play with him. When puppy gets tired, Oliver stops with and looks at him with great concern and makes sure he's ok (like, "I'll wait for you!"), then they start running around again!
Very loving and sweet – i just so want for Oliver a family who loves the dickens out of him and has time to play.
Oliver's Current Home Environment
As our kids have moved on to college and moved out, and mom (me) has started working, Oliver is alone much of the day, and sometimes evenings. I feel like we are just not able to provide him with the fun and activity he needs. It breaks my heart, he is so sweet and loved, but we feel he would enjoy life more in a home where he gets more attention. He has been well loved, so is a very loving dog. He has adjusted well when he's stayed in friend's homes; he loves us but he's pretty flexible. We initially adopted him at 1 year of age (his family moved to Europe and couldn't bring him, but he had been well taken care of). He lived with us in California in a home with a fence, and he loved to play in the backyard. He loves to spend part time outside and part time indoors. Our new home has an open typed fence, and he unfortunately loves to try to run out to the street to explore. A home with a fence would be ideal if he is to spend some time outdoors.
Oliver's Current Family:
Dad – tech industry
Mom – math tutor at high school (all day)
Two daughters (older & moved out)
One son (17, not home much)
Lots of fun and laughter and play, we're just not home much anymore
Oliver's Favorite Toys, Foods, Activities?
Walks, fetch, chew toys. We have to supply new ones frequently because he chews them up! Loves to have his tummy rubbed and he sticks out his front paw when he wants his leg massaged. He loves to sit in front of the fireplace
Cute Oliver Story:
A couple are above; also he's just so cute and bouncy when he goes down the stairs:)
Why is Oliver Being Rehomed?
He would enjoy life more in a home where he gets the activity and play and "people time" that he used to.
Oliver's Perfect Adoptive Home Will Be:
One word: love. This is so difficult but we know it's best for him.
Additional Comments:
Whatever is best for him and for new owners. We'd be happy to babysit occasionally! I would love to be at peace knowing he is doing well; maybe get a peek at his new digs.