Cute Cuddly Orange Tabby Cat For Adoption in Memphis Tennessee – Supplies Included – Adopt Ballito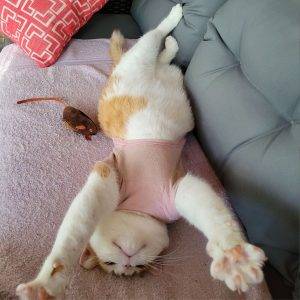 Looking for an Orange Tabby Cat for adoption in Memphis, Tennessee and area? Ballito would love to be considered for the position of cherished family pet.
Meet Ballito, Handsome Orange Tabby Cat for Adoption in Memphis Tennessee
Just 3 years old and weighing an impressive 15 pounds, Ballito is looking for a loving forever home anywhere within a reasonable distance of Memphis.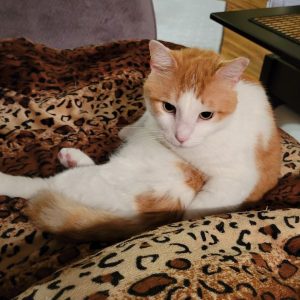 From his cute (and very boop-able) little pink nose to the tip of his tangerine tabby tail, Ballito is an enchanting cat with so much love and laughter to add to his new home.
This handsome cat has affectionately earned the nickname "Bangs" due to the colorful markings on his forehead. Ballito has the most stunning eyes, as well. He is intelligent and  dog-like at times, and will make an amazing companion to his forever family!
Ballito has had all his vet stuff done up to date – he is fixed and fully vaccinated. Ballito is litter-box trained, too. Clean, well- behaved and oh-so-adorable, you won't find a better cat to adopt in the Memphis area.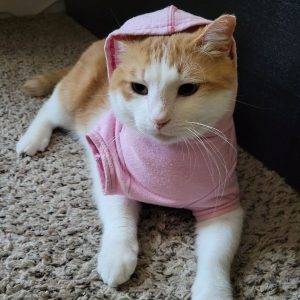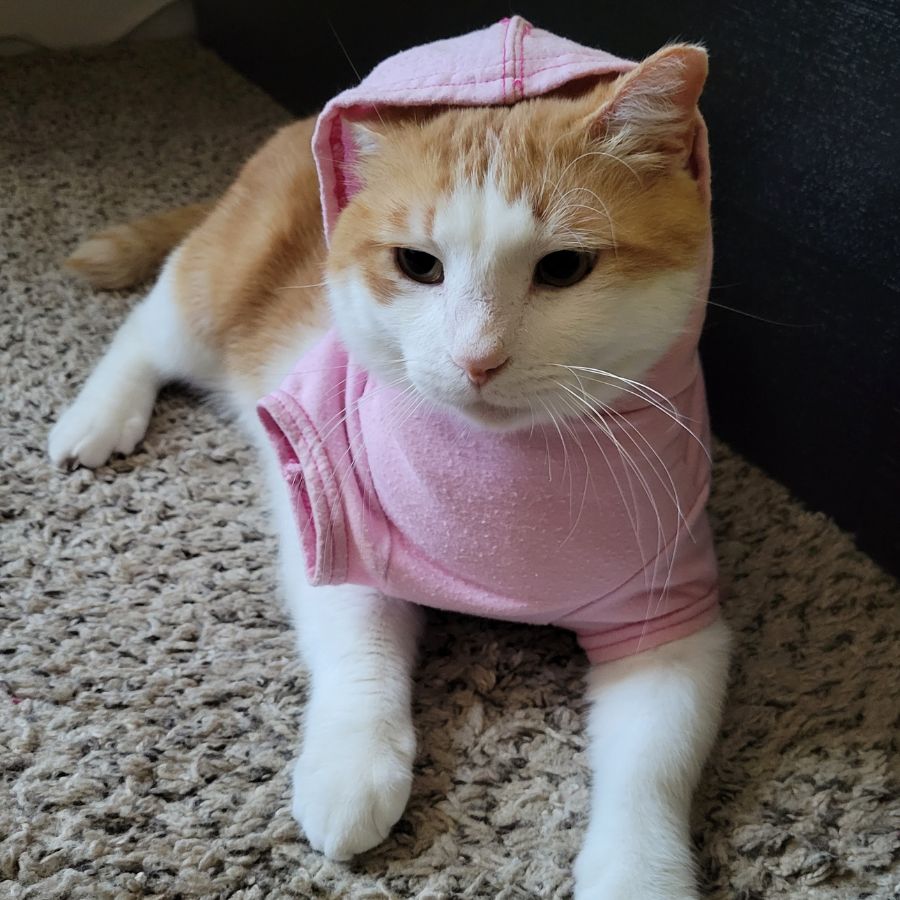 Ballito is looking for a very loving new home where he can be the feline friend to another younger cat. Being around all the other cats in his current home was causing him a lot of stress, however Ballito has blossomed into a sweet and social kitty.  He thoroughly enjoys play time now and his wonderful personality is shining through.
Ballito is best suited to being in a family with older, respectful children or adults only. Ballito is a friendly and affectionate cat with so much love to offer. Adopt this sweet orange bundle of purrs and cuddles today.
How To Adopt Ballito
 Please complete our online meeting request form below. Once received, our Tennessee Cat Rehoming team will make arrangements for you to meet Ballito and the owners. Adopt Ballito today!
There is a $35.00 adoption processing fee. Supplies, accessories, and veterinary records will be included.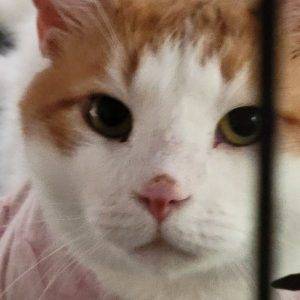 Request to Meet Ballito – Click Here!
Questions about adopting Ballito?
Text BallitoMemphis to (888) 833-2128.
We look forward to hearing from you!
---
All About Ballito – Orange Tabby Cat For Private Adoption by Owner in Memphis Tennessee
♥ Name of Pet: Ballito
♥ Location: Memphis, TN, 38115
♥ Type of Pet: Cat
♥ Breed of Pet: Orange Tabby cat with white
♥ Color / Coat Type: Orange and white short hair
♥ Age of Pet: 3 years
♥ Size of Pet: 15 pounds
♥ Health Problems: No
♥ Behavior Issues: No
♥ Gets along with: Older Children, New People
♥ Pet is: Fixed, Fully Vaccinated, Litter box trained
♥ Food: Other
He eats pretty much anything such as Friskies, Fancy Feast, Blue Buffalo, Purina Pro, etc. to Fromm's. Ballito enjoys CBD calming treats as needed.
Ballito – Orange Tabby cat for Adoption in Memphis Tennessee
---

Ballito's Personality
Ballito is a playful kitty. He has energy like a kitten and loves being talked to, watches TV, and loves hanging out together.
At night, usually starting at 10PM he likes to have his final meal and sleep till about 10am in his sleeping crate. Ballito is one of the smartest cats I have known. He behaves like a cat/dog mix.
I have been able to teach him a few things that he immediately understands like running from one crate to another by cheering him on (so I don't have to carry him running into the risk of one of the 2 male cats coming into the area), calling him by his name and he comes running, etc. He seems to understand human language well and prefers baby talks and full conversations as he is also a talker.
Ballito loves people, he is not shy, and was around sleeping on a chair next to handymen hammering and banging around during construction of my office. He is also very protective and will feed off one's energy (if I wanted a dog out of my yard he would chase him and if I wanted to pet a dog, he would listen to my commands and positive energy and stay away but watching carefully and ready to defend me if necessary). He used to be injured and emaciated when I rescued him 2 years ago and still has a slight limp but he is fully healed from that and doesn't affect him in any way. He is as active as a kitten still!
Ballito does well playing with his feline friends and would do well with another young cat in the new home.  Another kitten,  or even more, would be total fun for him as he is used to being around so many! He loves doting on others as it makes him feel important.

Why is Ballito Being Rehomed?
I have two senior cats and rescued Ballito from neighbors that threw him out of the house leaving him fending for himself.
His ideal new owner will be an experienced cat owner who will be patient as Ballito matures into the best cat he can be. Because of his history of being abused and neglected, Ballito has a couple of behaviors to work on that with love and care will resolve. He is worth the effort; he's an amazing cat that loves attention. If someone is around often and dotes on him, he will be the best buddy (with some dog behavior) that one can wish for!
Nearby Locations
Ballito is located in Memphis, Tennessee, close to the following towns and cities in Tennessee, Arkansas, and Mississippi:
West Memphis AR,
Marion AR,
Bartlett TN,
Southaven MS,
Horn Lake MS,
Germantown TN,
Millington TN,
Olive Branch MS,
Collierville TN,
Atoka TN,
Covington TN,
Forrest City AR,
West Helena AR,
Brownsville TN,
Blytheville AR
Thank you for your interest in this deserving Orange Tabby cat for adoption in Memphis Tennessee.