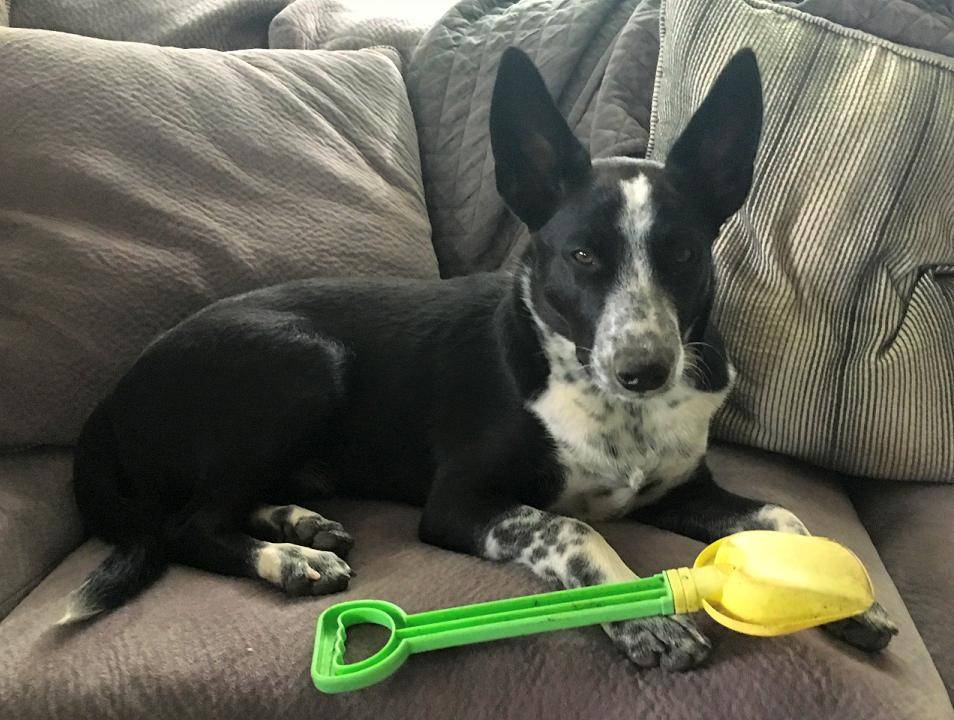 Meet Ozzy – McNab Herding Dog Australian Cattle Dog Mix Dog For Adoption in Seattle WA
[button link="https://pet-net.net/adopt-a-pet/" size="large" variation="hotpink" align="center"]Request to Meet Ozzy Here![/button]
There is a $100 adoption/rehoming fee. Supplies and vet records will be included.
---
Meet Ozzy, an absolutely adorable 6 month old puppy for adoption in Seattle, WA. Ozzy is a very handsome mix of McNab Herding Dog and Australian Cattle Dog (also known as an ACD or Blue Heeler).
Incredibly smart and oh so handsome, Ozzy is fixed and up to date on shots. He has undergone obedience training, and is also crate trained.
Poor Ozzy is like a fish out of water in his current home. With nothing to herd and no job to do, this highly intelligent little man has had to resort to herding people. This means that little kids get gentle elbow nips to point them in the right direction, and guests and visitors to the home are directed towards each other through tiny nips at their heels.
Ozzy doesn't mean to be rude – it's just what he was meant to do… herd!
Because of his herding obsession and incredibly strong work ethic, Ozzy would be so much happier in the type of home where he can practice his skills. He's kind of a "lone wolf" when it comes to other dogs – he can take 'em or leave 'em. He's too intense for small children, but would be OK with older kids and teenagers.
Ozzy's ideal home will be with someone who understands how his little mind works and can give him engaging activities like learning tricks. He would make an awesome farm hand! Ozzy would also excel with an owner interested in dog sports such as agility or flyball, a speedy and amazing running companion, or just as a best friend following you around and helping with chores around the home.
At the very least, Ozzy will need a home with large, securely fenced yard. He will need owners who have lots of time to spend with him, and who are active, as he has plenty of energy, athleticism and drive.
He is not suited for someone who works full time and would have to keep him crated all day – he needs plenty of stimulation and activity for his mind and body. He's also probably not a good fit as a "take me to work" dog, unless your workplace needs a strict canine supervisor! 🙂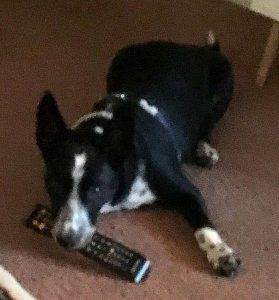 If you would like to meet Ozzy the super-dog, please get in touch. He can't wait to wow you with wiggles and charm his way into your heart and home.
Questions About Ozzy?? Text "Ozzy" to (888) 833-2128 or email AdoptOzzy@dog-lover.us
---
All About Ozzy – Awesome Blue Heeler McNab Herding Dog Mix Puppy For Adoption in Seattle Washington
Location: Seattle, WA , 98115
Type of Pet: Dog
Breed: ACD Blue Heeler Australian Cattle Dog / McNab Herding Dog mix
Age: 6.5 mo
Color/Coat Type: short, black and white
Size: 36 lb
Health Issues: no
Behavior Issues: no
Ozzy is:
Fully vaccinated, Crate Trained, House Broken, Obedience Trained
Ozzy gets along with:
Older Children Adults  Dogs
Personality
Ozzy is astoundingly intelligent and very stubborn. He has a high drive for herding and guarding. He is very silly sometimes and will do 'naughty' things just to get our attention, but he is also very focused at times and loves to play fetch, and do his obedience training. He LOVES learning new commands.
Ozzy really doesn't seek much affection from anyone but my partner and myself. We think that his ideal situation would be just us, no one else. He doesn't really seem to care for dogs much and can be very shy around them.
He does have a couple of close dog friends who he trusts and plays with, but he's not into crowds. He really doesn't love it when strangers pet him and isn't much of a dog for kids. He has no experience with cats or other household pets.
Food and Diet
Ozzy is currently on Other
Ozzy likes Taste of the Wild puppy chow in Salmon and eats about 2.5 cups of food, half in the morning and half in the evening.
He gets lots of treat throughout the day, as obedience training is an ongoing process throughout our days and not something we only do at certain times.
We have given him a lot of different food/treats, and nothing has caused an allergic reaction or made him sick. He seems very eager to eat just about everything!
Reason For Rehoming
Ozzy needs a lot more leadership and structure than we are able to provide in our home. We were prepared for the physical demands of the dog, but as first time puppy owners are not equipped to walk him through the behaviors that are preventing him from being a reliable family dog.
---
How to Adopt Ozzy
If you would like to consider offering Ozzy a loving, forever home, please fill out our Request To Meet A Pet form here:
https://pet-net.net/adopt-a-pet/
Once received, we will contact you to discuss your request and set up a mutually convenient time to meet Ozzy and their owner in their home.
Questions About Ozzy?? Text "Interested In Ozzy" to (888) 833-2128 or email adoptOzzy@pet-lover.us
Ozzy is an ACD (Blue Heeler) McNab Herding Dog mix puppy For Adoption in Seattle WA within a reasonable drive of Victoria, BC
Surrey, BC
Burnaby, BC
Vancouver, BC
Portland, OR and very close to
Mercer Island,
Bellevue,
White Center,
Kirkland,
Burien,
Newcastle,
Tukwila,
Renton,
Shoreline,
SeaTac,
Lake Forest Park,
Redmond,
Kingsgate,
Kenmore,
Sammamish,
Yesler Terrace,
Belltown,
Capitol Hill,
Madrona,
Broadway,
Queen Anne,
Broadmoor,
Mount Baker,
North Broadway,
Madison Park,
South Seattle,
Ross,
Youngstown,
Wallingford,
Edgewater Park,
West Seattle and
Georgetown, Washington.
Adopt Ozzy the McNab Herding Dog mix puppy in Seattle today.