Affectionate Pitbull Labrador Retriever Mix For Adoption in Helotes (San Antonio) TX – Supplies Included – Adopt Bug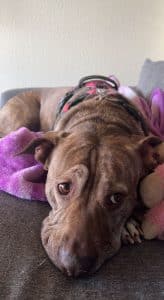 Pitbull Labrador Retriever Mix Dog for Adoption in Helotes, Texas
Looking for a Pitbull Labrador Retriever Mix Dog to adopt in Helotes, Texas? Just 3 years old and weighing 130 pounds, Bug has been fully vaccinated, housebroken, microchipped, obedience trained and crate-trained, and is good with babies and small children, older Children, new people, dogs, cats and small animals.
If you are looking for the ultimate love bug, you've found her – meet Bug, the biggest love bug known to mankind. She gives meaning to the term gentle giant, as Bug is as sweet as can be. Bug loves people and animals alike, no matter their size. She, however, is sometimes unaware of her own size and at times seems to think she is a chihuahua, climbing into people's laps and completely taking over furniture! She is affectionate and cuddly, and especially loves playing with her toy Lambchops, who she carries around like her little baby.
An active girl, Bug absolutely loves going for hikes and swimming. She is happy to run off her energy, but is equally content to relax and snuggle at day's end. Bug will be sure to make you smile with her expressive features. Bug has done wonderful in her training and knows commands such as walk, sit, paw (she even switches to shake hands), stand, and dance. As she is food motivated, she would be happy to learn some more new skills with her furever family. As Bug loves everyone she meets, she is highly adaptable and will make a wonderful addition to any family.
Adopt Bug! by Deborah Moore
Bug's owners are very sad to have to rehome their cherished Dog. They are hoping to find a new home for Bug where this special Dog will be cherished and kept safe, happy, and healthy for life.
If you have room in your heart and home for Bug, please complete our online meeting request form. Once received, our Helotes Dog Rehoming team will make arrangements for you to meet Bug and her owners. Adopt Bug today!
There is a $150.00 adoption processing fee. Supplies, accessories, and veterinary records will be included.
How To Adopt Bug
If you are interested in adopting this special Pitbull Labrador Retriever Mix in Helotes Texas, please fill out our online meeting request below. Once received and reviewed, our staff will ask the pets owner to reach out to you and arrange a meeting.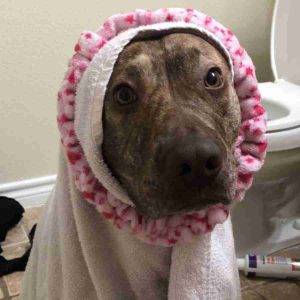 Questions about adopting Bug?
Text BugTX to (888) 833-2128. We look forward to hearing from you!
---
All About Bug – Pitbull Labrador Retriever Mix Dog For Adoption in Helotes Texas
♥ Name of Pet: Bug
♥ Location: Helotes, Texas, 78023
♥ Type of Pet: Dog
♥ Breed of Pet: Pitbull Labrador Retriever Mix
♥ Color / Coat Type: Brindle
♥ Age of Pet: 3
♥ Size of Pet: 130 pounds
♥ Health Problems: No
♥ Behavior Issues: No
♥ Gets along with: Babies and Small Children, Older Children, New People, Dogs, Cats, Small Animals
♥ Pet is: Fully Vaccinated, Housebroken, Microchipped, Obedience Trained, Crate-trained
♥ Food: Other – She usually eats whatever, as long as it's transitioned if switching brands. She usually only gets fed 3 scoops in the morning
Bug – Pitbull Labrador Retriever Mix Dog For Adoption in Helotes Texas
---
Bug's Personality
Bug is very friendly and loving, she always wants to be by your side! She is so sweet, and knows a lot of tricks, genuinely one of the best dogs ever.
Why is Bug Being Rehomed?
My plate is full and she deserves someone who will give her more attention.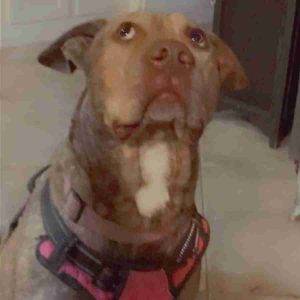 Nearby Locations
Bug is located in Helotes, Texas, close to the following towns and cities:
Leon Valley TX,
San Antonio TX,
Kirby TX,
Live Oak TX,
Converse TX,
Universal City TX,
Schertz TX,
Hondo TX,
Canyon Lake TX,
New Braunfels TX,
Kerrville TX,
Pleasanton TX,
Seguin TX,
Fredericksburg TX,
San Marcos TX,
Austin TX.
Thank you for your interest in this deserving Pitbull Labrador Retriever Mix Dog for adoption in Texas.