Russian Blue Mix Cat For Adoption in Tulare CA – Supplies Included – Adopt Vinchi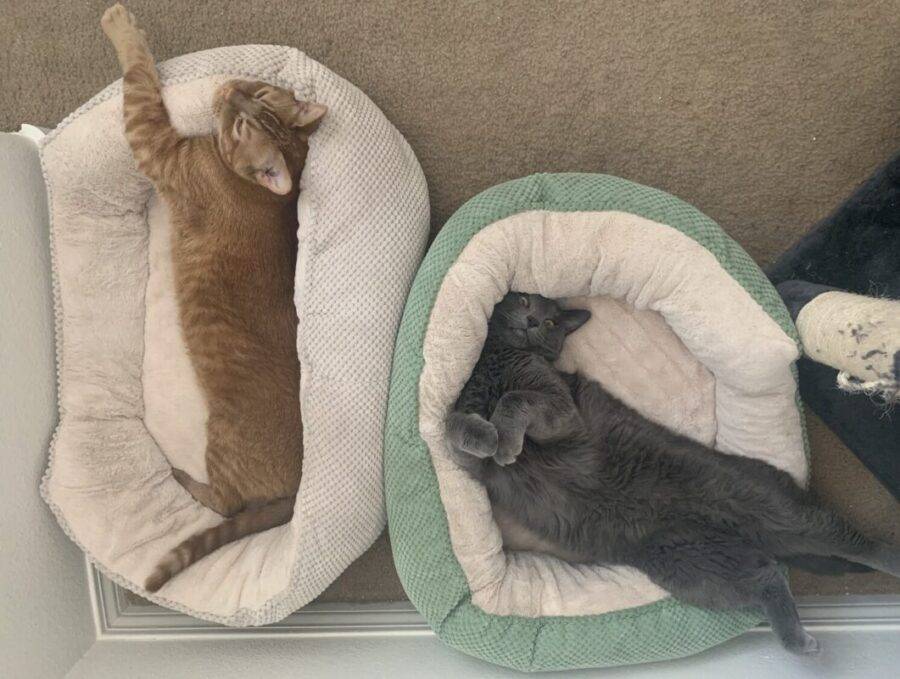 Meet Vinchi – Russian Blue Mix Cat for Adoption in Tulare, CA
Looking for an adorable Russian Blue Mix cat to adopt in Tulare, California? Just 7 years old and weighing 14 pounds, Vinchi has been fixed, fully vaccinated, and litter box trained. He is a very lovable cat – an amazing companion that is cuddly and very cute. Vinchi is best friends with Julius, a cuddly Orange Tabby cat. The cats would love to find a home together, although they can also be adopted on their own.
Vinchi and Julius's happy, care-free lives were disrupted when children were added to their family. Many cats are terrified of babies and toddlers, and J and V are no exception. All of their favorite areas in the home were rudely overtaken by the noisy, pungent and unpredictable presence of first one, then two small humans. The cats don't know where they can hang out safely, and just want things to go back to the way they were. Unfortunately (for the cats), the children are there to stay!
Vinchi's owners are very sad to have to rehome their cherished cats, but they realise how unhappy the cats are. They are dearly hoping to find a new home for Vinchi and Julius where they can be the cherished center of their new owner's world. These cats are so sweet that they are very much deserving of a child free home with a routine they can easily adjust to. All they need is a quiet home with sunny windows and an owner that will cuddle with the cats and give them attention, care, love and kindness.
If you have room in your heart and home for Vinchi (or Vinchi and Julius)  please complete our online meeting request form. Once received, our Tulare Cat Rehoming team will make arrangements for you to meet the cats and their owners.
There is a $50.00 adoption processing fee. Supplies, accessories, and veterinary records will be included.
How To Adopt Vinchi and/or Vinchi
If you are interested in adopting this special bonded pair of cats  in Tulare California, please fill out our online meeting request below. Once received and reviewed, our staff will ask the pets owner to reach out to you and arrange a meeting.
Questions about adopting Vinchi?
Text VinchiJulius to (888) 833-2128. We look forward to hearing from you!
---
All About Vinchi – Cat For Adoption in Tulare California
♥ Name of Pet: Vinchi
♥ Location: Tulare, Ca, 93274
♥ Type of Pet: Cat
♥ Breed of Pet: Russian Blue Mix Cat
♥ Color / Coat Type: short grey
♥ Age of Pet: 7 yes
♥ Size of Pet:  14 pounds
♥ Health Problems: No
None
♥ Behavior Issues: No
♥ Gets along with: Adults, cat friendly dogs
♥ Pet is: Fixed, Vaccinated, Litter-trained
♥ Food: Other
I feed them the meow mix tender centers and sometimes Ian's wet food
Vinchi – Russian Blue Mix Cat For Adoption in Tulare California
---
Vinchi's Personality
Vinchi is a gray haired seven-year-old cat he loves to be loved but he also loves to spend his time in the backyard.
Why is Vinchi Being Rehomed?
I got my cats when I was single I never thought I'd have a family. Now I'm married with two kids and we live in a small house. I also have a dog. I'm having a hard time the dog is being mean to the cats the kids are being mean to the cats. I gave them their own little area so they could be private. But all the things I've tried aren't working. I think it's best if they find a quiet home with a senior cat lover or a couple with no kids.
I'd like my two cats to be happier and I'd like to know that they're going to be OK .
Nearby Locations
Vinchi is located in Tulare, Ca, close to the following towns and cities:
Visalia CA,
Farmersville CA,
Exeter CA,
Corcoran CA,
Lindsay CA,
Hanford CA,
Porterville CA,
Dinuba CA,
Kingsburg CA,
Lemoore CA,
Reedley CA,
Orange Cove CA,
Selma CA,
Parlier CA,
Delano CA,
Thank you for your interest in this deserving Russian Blue Mix  Cat for adoption in Tulare CA.