Siberian Husky Mix Puppy For Adoption in New York NY – Supplies Included – Adopt Eros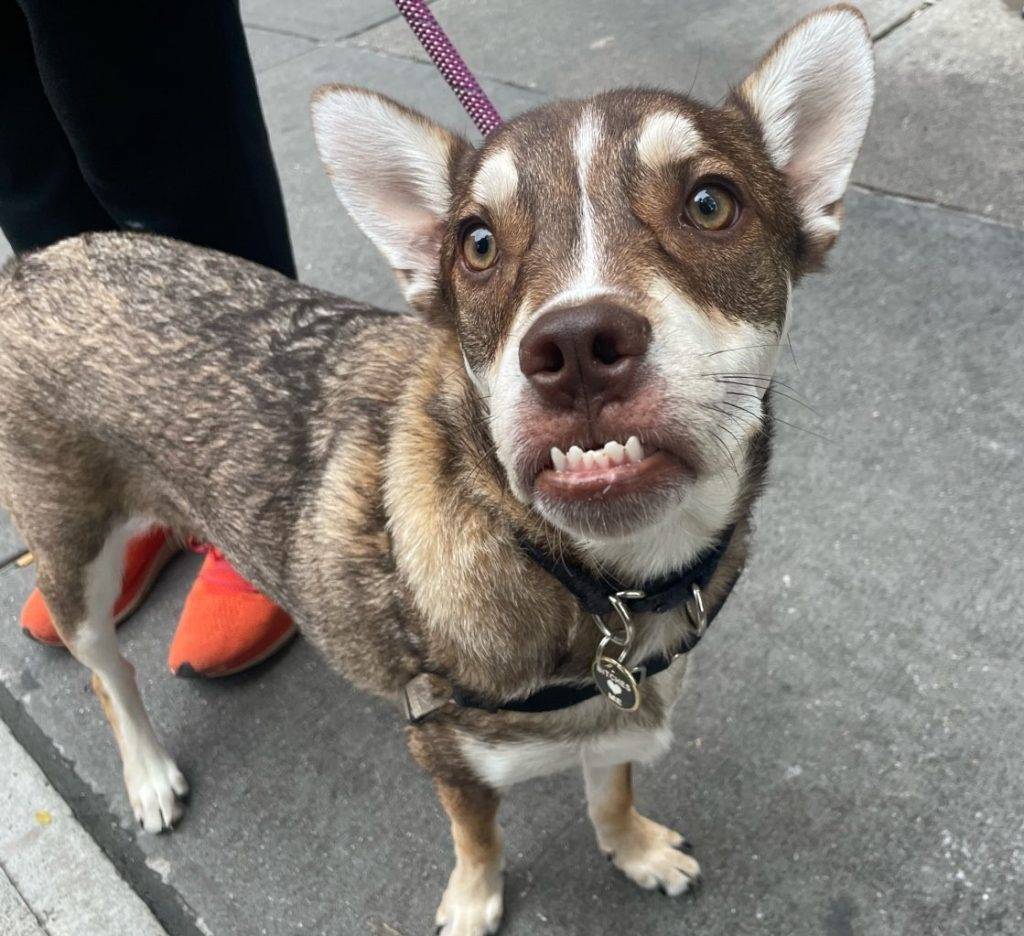 What an adorably imperfect smile! Eros has the makings of an Instagram star!
Looking for a Siberian Husky mix dog for adoption in New York, NY? Eros would love to be considered for the position of your cherished family companion!
top
Meet Eros | About Eros | Personality | Why Rehoming? | Location | Adopter Requirements | How to Adopt
---
Meet Eros – Pre-Loved Husky mix dog For Adoption by Owner in New York NY
Eros is a Male Husky mix dog for adoption to a very loving home in or near New York, NY. This very special dog is 10 months old and weighs 40.
Eros's owners are very sad to have to rehome their cherished dog, but circumstances beyond their control have made rehoming a must-do.
Eros's owners are hoping to find the right home for their cherished dog, where this deserving pet will be loved unconditionally and kept safe, happy, healthy and well-cared-for throughout the remaining years of their life.
If you have room in your heart and home for this deserving Husky mix dog, then please offer Eros a loving, forever home today. Eros can't wait to show you the true meaning of unconditional love.
---
How To Adopt Eros
Please fill out our online meeting request form via the button below. Once your application is received and reviewed, our staff will ask the pets owner to reach out to you and arrange a meeting.
There is a $150 adoption/rehoming fee. Supplies and veterinary records will be included.
Questions about Eros? Contact our Siberian Husky mix dog rehoming team today.
Text "ErosNY" to (888) 833-2128. 
No phone calls at this time, please.
We look forward to hearing from you!
---
All About Eros – Husky mix dog For Adoption in New York NY
Name of Pet: Eros
Location: New York, NY, 10128
Type of Pet: dog
Breed of Pet: Husky mix
Sex of Pet: Male
Age of Pet: 10 months
Spayed/Neutered?: Yes
Health Problems: No
Behavior Issues: Yes He is highly trained! we worked through some of his resource aggression issues. He has some resource guarding tendencies but is doing much better and our trainer assured me that he will grow out of it with proper training. He didn't mean to hurt my toy poodle (7lbs) but he got a little possessive over his bone and nipped her face. She had to get some stitches. He is doing excellent and it breaks my heart but my poodle doesn't feel as comfortable around him anymore. He deserves a loving home where he can be himself. He does excellent with dogs small – large. He shouldn't be in a home with an extra small dog.
Up To Date on Vaccinations: Yes
Gets along with cats: Unknown
Gets along with dogs: Yes
Good with Children?: Good With Children aged 8 and up
House Broken or Litter Trained?: Yes
Crate Trained?: Yes
Accessories Included: Everything. Crate, bag of food, beds, coat, training equipment and toys. I'll even pay for daycare for the first few weeks if local to Manhattan. I am willing to provide food for the first two months as well.
---
Eros's Personality
Eros is HILARIOUS and full of personality. He is extra grumpy in the morning and pretty lazy for a puppy. He will stay in bed with me all day if I want him to. He loves to snuggle and hates getting his feet wet. He doesn't like when its too hot or too cold (prima donna) but will go on walks if that's what you want. He throws "husky tantrums" when he isn't getting enough attention. He has the most insane underbite (must be the bulldog in him). He is most happy at the dog park or in bed with you. He loves meeting new people. highly highly food motivated.
5 Amazing Things About Eros:
so many things, I don't know where to start.
I love his exuberant personality
I love his goofy underbite
I love his pretty green eyes
I love how he snuggles me with his whole body
I love how he lets me kiss his little forehead and watches over me.
He is the best boy and deserves a home that can give him the most attention.
Eros's Favorite Toys, Foods, Activities?
Eros LOVES beef jerky, tearing up paper/cardboard, peanut butter, sneaking food that doesn't belong to him. He loves bully sticks. He loves to snuggle and go to the dog park. He loves doing tricks. He didn't always love being handled but he's grown to accept it now. He loves other dogs, men and women alike!
Cute Eros Story:
When he was younger and attending daycare he would constantly poise for the camera! still, to this day he is the most photogenic dog I've ever met. He loves his sister Nike so much and finally understands that he can be a bit overwhelming. He will lay at a distance and try to paw at her and rub his nose against her until she agrees to play with him.
He also loves to hold weird items in his mouth but doesn't chew them? just walks around with things in his mouth.
---
Why is Eros Being Rehomed?
We had a rough patch a month ago and he got resource possessive over his bone. my toy poodle is is 4x smaller than him and he cut her eye open. He showed immediate remorse but unfortunately my poodle does not feel comfortable around him. she is staying with my mom until I can properly find him a home.
---
Eros's Perfect Adoptive Home Will Be:
Ideally, this would be either 1-2 person home or with children over 8 (he is still a puppy and likes to play with his mouth). Ideally, this family would live someplace with more room but he is fine in a 800 sq ft apartment and proper walks. His home will only have dogs over 15lbs as he doesn't understand how big he is.
All I ask is that the adopters are open to staying in communication with me. I want the occasional pictures and a check in. I would love some meet ups too (and am free to dog sit )
He is the best boy and I love him so so much. It kills me to do this and I absolutely wouldn't if I didn't have to.
You can find more of him at @gibbs.gang on instagram.
---
Eros – Husky mix dog For Rehoming in New York NY
Eros is a Husky mix dog for private adoption by owner in New York NY. This pet is located close to the following towns and cities in NY, and can be adopted from anywhere within a reasonable distance.
The Bronx NY,
Brooklyn NY,
Manhattan NY,
Queeens NY,
Staten Island NY,
Long Island NY,
Jersey City NJ,
Hoboken NJ,
Weehawken NJ,
Union City NJ,
West New York NJ,
Guttenberg NJ,
Secaucus NJ,
North Bergen NJ,
Bayonne NJ,
Fairview NJ,
Cliffside Park NJ,
Edgewater NJ,
Harrison NJ,
Kearny NJ,
Ridgefield NJ,
Adopt this deserving Siberian Husky mix dog in New York NY today.