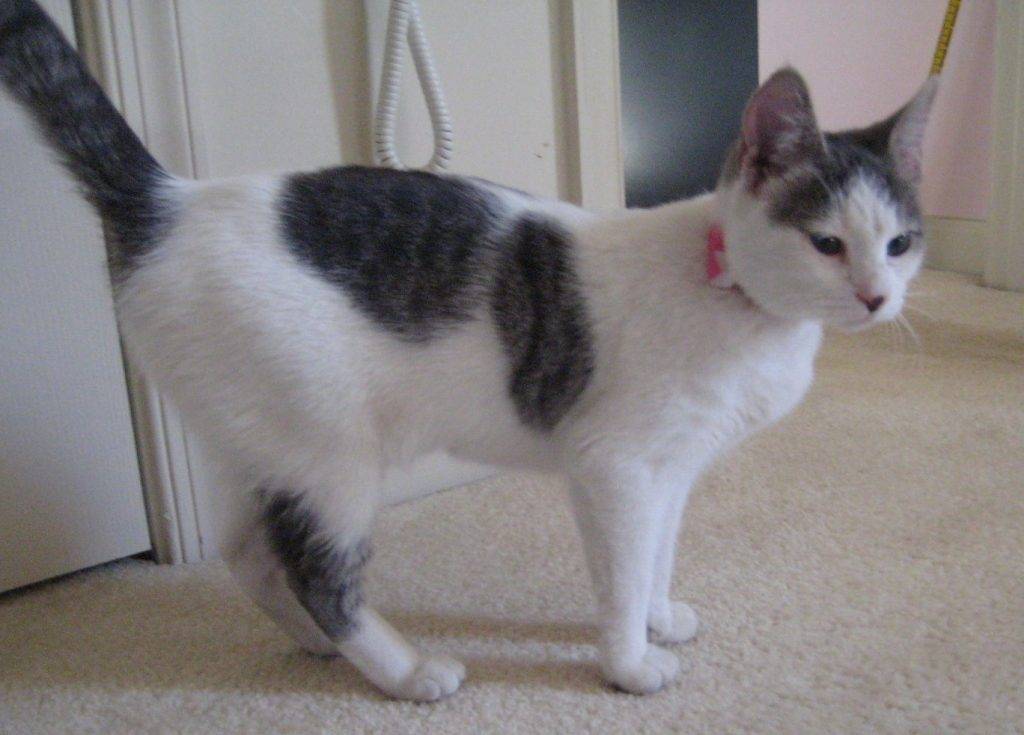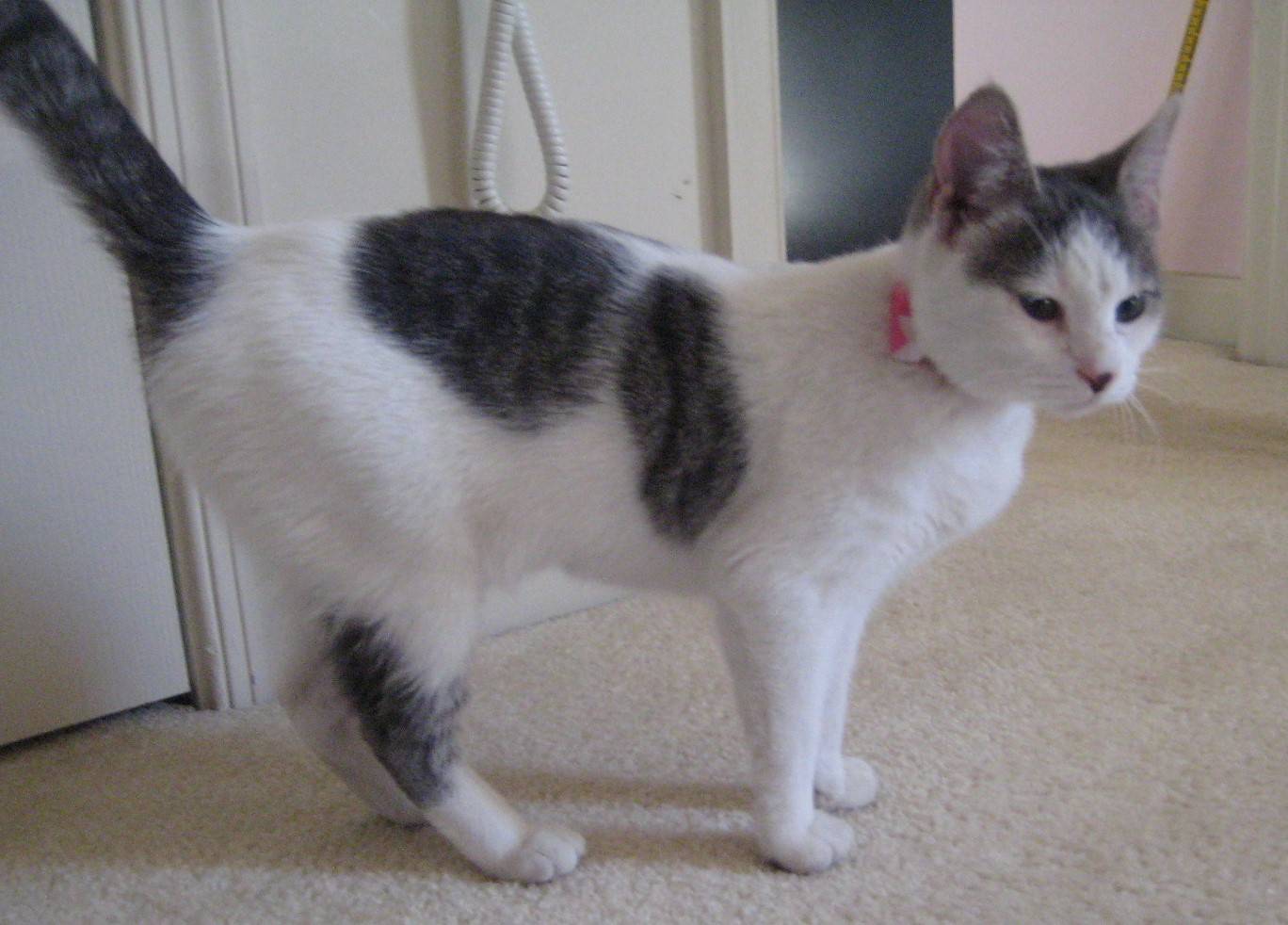 Meet Mona, 3 YO female Tuxedo Tabby Cat For Adoption in Woodbridge VA
Whomever said dogs are "Man's Best Friend" hasn't met Mona. This small female Tuxedo Tabby cat has all the great traits one finds in a dog – in a much smaller and less labor-intensive package.
Mona put the "C" in cute. She is adorable, and her personality is equally endearing. Mona is just 3 years old. She is in excellent health, and has been spayed, fully vaccinated and micro-chipped. She is a very engaging, devoted and well-behaved little cat, and is looking for a loving forever home anywhere within a reasonable distance of her current location – in Woodbridge, VA, close to Washington, DC and Baltimore, MD.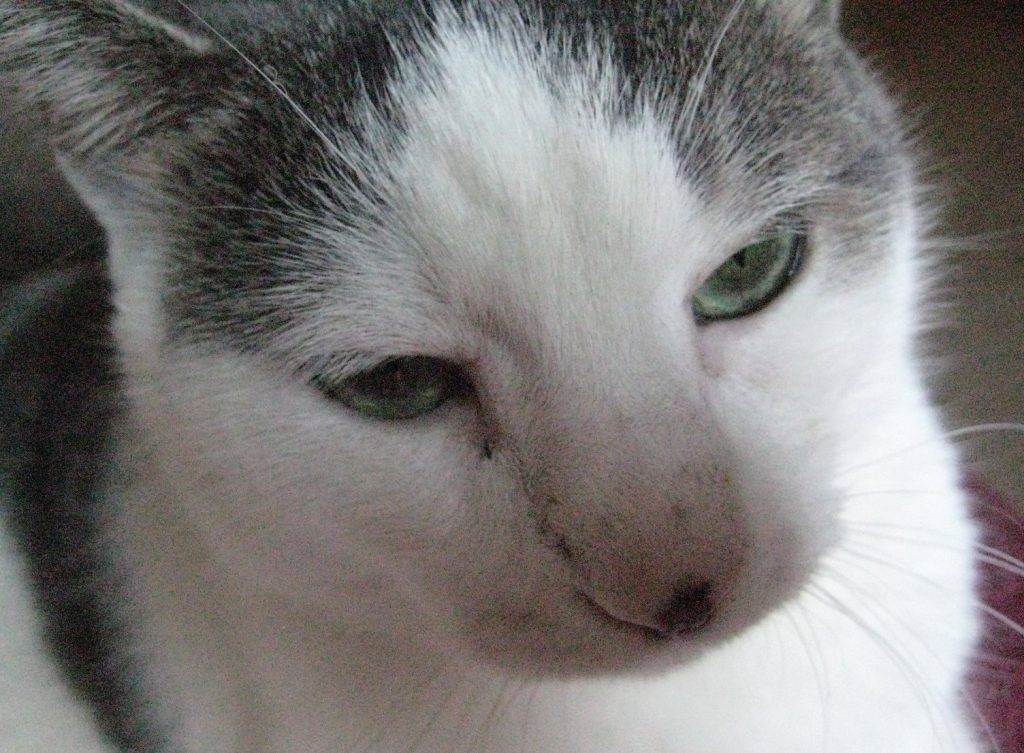 Mona's owner loves her a lot, and is sad that he is having to find Mona and her brother Charlie a new home. her wife passed away a year ago, and at 86 and with spinal problems, he has decided to move across country to a senior living facility. She is dearly hoping to find someone who will cherish Mona as much as he and her wife have done, and will provide supplies and vet records with Mona to her new home.
Mona can be adopted on her own, or as a bonded pair with her brother Charlie, a stunning male orange tabby cat of the same age and health status.
If you have been looking for a sweet, handsome cat to add love, laughter, joy and companionship to your home, please offer Mona and/or Mona a loving home today. They can't wait to meet you and purr their way into your heart.
[toggle_framed title="REQUEST TO MEET / ADOPT Mona HERE!"]
[/toggle_framed]
There is a $30 adoption/rehoming fee. Supplies and veterinary records will be included.
Questions about Mona? Contact our Virginia cat rehoming team. Text or call (888) 720-3322 or email [email protected]. We look forward to hearing from you!
All About Mona the Tuxedo Tabby Cat For Adoption Near Washington DC
[one_half]
♥ Name of Pet: Mona
♥ Location: Woodbridge, VA, 22193
♥ Type of Pet: Cat
♥ Breed of Pet: Domestic short hair
♥ Color / Coat Type: Tuxedo Tabby Cat
♥ Age of Pet: three years
♥ Size of Pet: 8 lbs.
[/one_half]
[one_half_last]
♥ Shealth Problems: no
♥ Behavior Issues: No
♥ Gets along with: Older Children, Adults, Dogs, Cats
♥ Pet is: Spayed, Microchipped, Fully VAccinated, Litter Trained
♥ Food: Other
EACH: Small amount of dry cat food at 7 AM. Half can of Friskies salmon shreds at 3 PM and again at 10 PM
[/one_half_last]
---
Mona's Personality
Both cats were on Death Row at the county shelter. We adopted them as large Cats, together. Mona is the princess, with lovely green eyes. When she wants attention, she will touch me gently. If I don't respond, she pokes me until I give up my chair. She hops on the warm chair, rolls onto her back and guides my hand to where she wants to be petted. After five minutes, she jumps down and walks away. If workers come to the house, she hides underneath my bed quilt. Mona is dignified. Mona has golden eyes. She is all boy. Teenage boy, Likes to get up high, on shelves and tall furniture and look down. She chases Mona until she swats him. Mona accepts petting for a few seconds then runs off. She is not a lap cat and does not like to be picked up. They often groom each other, and sleep curled together
I'm sad at giving them up. With Mona, especially, a real bond.
Why is Mona Being Rehomed?
My wife died a month ago. I'm selling the house and moving to a retirement place in California. I am 86 with spine problems.
How To Adopt Mona
If you are interested in adopting this special Tuxedo Tabby Cat For Adoption in Woodbridge VA, please fill out our online meeting request here. Once received and reviewed, our staff will ask the pets owner to reach out to you and arrange a meeting.
Mona – Tuxedo Tabby Cat For Adoption in Woodbridge VA
Mona is a Tuxedo Tabby Cat for rehoming in Woodbridge, VA. She is located near the following towns and cities in VA:[margin10]
[one_third]20 miles to Washington, DC
56 miles to Baltimore, MD
Lake Ridge, VA
Lorton, VA
Dale City, VA
Montclair, VA
Newington, VA
West Springfield, VA
Burke, VA[/one_third]
[one_third]
Mount Vernon, VA
Springfield, VA
Franconia, VA
North Springfield, VA
Hybla Valley, VA
Fort Hunt, VA
Groveton, VA
Annandale, VA
River Bend Estates, VA
Marumsco Village, VA
Colchester, VA
Marumsco Acres, VA
Bayside Park, VA [/one_third]
[one_third_last]
Marumsco, VA
Harbor View, VA
Marumsco Hills, VA
Featherstone, VA
Occoquan, VA
Featherstone Shores, VA
Agnewville, VA
Gunston Sheights, VA[/one_third_last]
[margin10]Adopt this sweet female Tuxedo Tabby Cat near Baltimore MD today.